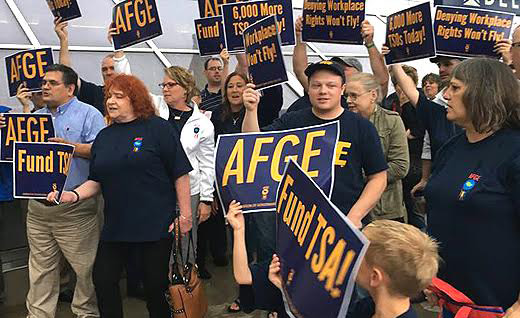 BLOOMINGTON, Minn. (PAI and Workday Minnesota) — Hiring more screeners would shorten lines at airport security checkpoints, Transportation Security Administration workers said at a rally at Minneapolis-St. Paul International Airport. But they also made it clear that turnover won't be reduced until they are treated better.
The Twin Cities rally, one of many nationwide on June 14, came as the TSA screeners' union, the American Federation of Government Employees, announced 70 lawmakers asked their colleagues to lift the cap on how many screeners the government can hire nationwide.
In the last five years, 100 million more passengers are flying, but the number of screeners, officially called Transportation Security Officers (TSOs), has not kept up and an additional 6,000 are needed, AFGE said.
"The long lines are proof positive we can't wait any longer to act," said Celia Hahn, president of AFGE Local 899, which represents some 300 TSOs at MSP and smaller airports across Minnesota and the Dakotas.
In Washington, AFGE reported the lawmakers, led by Rep. Tammy Duckworth, D-Ill., are urging their colleagues to lift the 45,000-screener cap as solons work on a money bill funding the Homeland Security Department. That department includes the TSA.
TSA "must have the authority and resources to effectively protect the nation's transportation systems to ensure freedom of movement for people and commerce," their letter to the House's ruling Republicans says. "Aviation security must never be compromised by irrational or unjustified congressional caps on the number of transportation security officers the agency may employ to best protect American travelers."
The lawmakers also said the artificial cap forces TSA to focus on hiring part-timers, who have the lowest pay and the highest turnover.
"We've already seen the effects such an arbitrary cap can have on the TSO workforce," said AFGE National President J. David Cox. "Our officers have low pay, are treated like second-class citizens, forced to do mandatory overtime, and then jump ship as soon as a full-time job opportunity comes along elsewhere. No one can support a family on part-time pay."
"Low morale and a revolving-door policy" are aggravating the TSO shortage, Local 899 President Hahn said. Rather than work with employees to resolve problems, the TSA pushes them out the door and hires new people, who then need to be trained, the union said.
AFGE Regional Vice President Vaughn Glenn cited the case of one worker who failed a computer-administered test because the machine was malfunctioning. But rather than give her another chance, rigid TSA rules required her manager to fire her.
Another stress on employees is mandatory overtime, Hahn said. Workers are being forced to work extra hours, work through breaks and have seen scheduled vacation time cancelled. Meanwhile, the section of U.S. law that covers federal workers denies TSOs the same workplace rights and protections as many other workers, including overtime pay.
According to federal law – Section 5 of the U.S. code-TSOs are not covered by the Fair Labor Standards Act, which mandates the minimum wage and overtime pay, nor by the Family and Medical Leave Act. HR4488, introduced earlier this year by Reps. Bennie Thompson, D-Miss., and Nita Lowey, D-N.Y., would grant TSOs full worker rights.
And AFGE adds Congress needs to appropriate more money to fund more screeners. One solution, airline industry observers say, would be for Congress and the White House to stop diverting $12.6 billion in ticket taxes, known as passenger security fees. That money, added to ticket prices after the Sept. 11, 2001, terrorist attacks, has been diverted to other programs rather than aviation security.
At the Twin Cities rally, St. Paul Mayor Chris Coleman told the group, "The cost to our communities of these increased wait times is significant" and called on Congress to act to "provide more resources and a fair working environment."
But one proposed solution – turning more airport security over to private contractors – should be off the table, said Bill McCarthy, president of the Minnesota AFL-CIO. Private contractors employ the TSOs in at least six airports in the U.S. "We should never put our safety in the hands of for-profit companies," McCarthy said.
Barb Kucera is editor, Workday Minnesota
Photo: TSA Officers from AFGE Local 899 rallied at Minneapolis-St. Paul Airport June 14 to amplify the call for the hiring of 6,000 additional security screeners at airports nationwide. AFGE TSA Union, Facebook