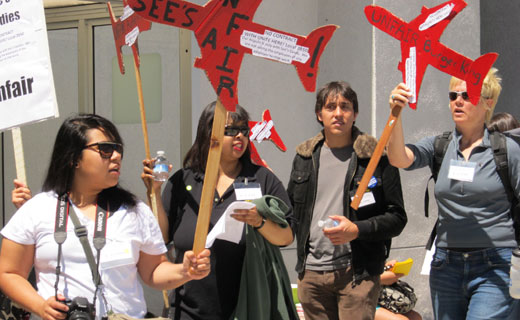 OAKLAND, Calif. – Workers at several Oakland Airport concessions and their supporters held an informational picket outside the terminal July 6, to tell the flying public they need a fair process for workers to decide about joining a union.
Workers at companies leasing concessions directly from the airport already have the right to organize when a majority sign cards saying they want to join a union, under an agreement with Unite Here, the union representing some 29,000 airport concession workers in North America. As part of the agreement, commonly known as "card check neutrality," the union has agreed not to cause labor interruption.
Some 240 Oakland Airport workers have joined Unite Here Local 2850 under this provision.
But the pact does not apply to workers at concessions subcontracting from the main food service provider, HMS Host. And the workers employed by these subcontractors notice the difference.
"Every day we see other workers who have benefits we deserve, too, because we are working just as hard," Rachel Penelton said as she briefly stepped aside from her place in the 200-strong picket line.
Penelton, who works at the Jamba Juice concession, said union rights and benefits for workers will benefit the company, too: "Happy people give good service!"
Her co-worker, Mesha Adams, added that she and the other workers "are the face of the business, the people customers encounter face-to-face."
Adams, who is also a student in a post-baccalaureate pre-professional health program, warned that workers' lack of paid sick days, and the resulting need to work even when they're sick, "can compromise our customers' well-being."
"But if we take days off," she said, "we're penalized."
Adams urged the City of Oakland and the Port of Oakland, which operates the airport, to support the workers' campaign.
Workers at Jamba Juice and other non-union subcontractors, including Burger King, Subway, Duty Free and See's Candy, were on the picket line July 6. Joining them were members of Unite Here! Local 2850 and other unions including the Service Employees International Union and the International Longshore and Warehouse Union.
Unite Here! says none of the eight subcontractors provides affordable health or retirement benefits, and workers complain of part-time employment, last minute schedule changes and inadequate rest periods. The union adds that dozens of workers have filed complaints with the Port of Oakland alleging that their employers are even violating the port's living wage law.
After the concessionaires learned workers were circulating a petition asking for a fair process for deciding about the union, many workers have been subjected to aggressive anti-union campaigning.
Photo: Marilyn Bechtel/PW