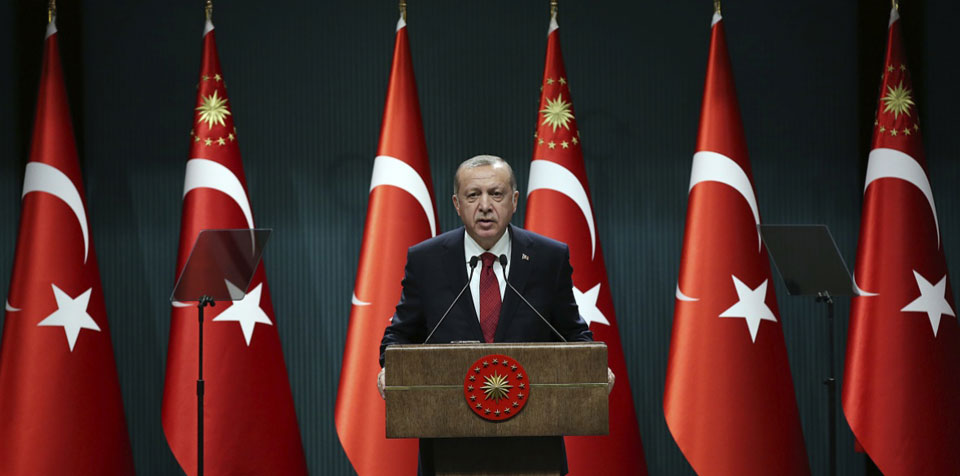 Turkish President Recep Tayyip Erdogan dealt a bitter blow to the cause for a united Cyprus when he called for a two-state solution to the crisis during a recent visit to the island, communists warned today.
Cyprus's Progressive Party of Working People (Akel) said "the definitive partition of our country has never been more visible" after Mr. Erdogan's remarks earlier this week.
The party urged the Republic of Cyprus to counter "Turkish aggressiveness" and restart stalled negotiations on reunification, which Akel initiated when it was in power but which subsequently stalled in 2017.
Mr. Erdogan arrived in northern Cyprus on Monday to mark the 47th anniversary of the Turkish invasion of the island and its subsequent division.
It left Cyprus partitioned into two main parts: the Republic of Cyprus, located in the south and west of the country, and the Turkish Republic of Northern Cyprus, which is not recognized by the international community.
A UN buffer zone separates the two entities, with the north of Cyprus considered to be occupied territory and subject to an ongoing political dispute.
Mr. Erdogan promised a new parliament building in a press statement during his controversial visit, where he was flanked by the leader of Turkey's neo-fascist Nationalist Movement Party Devlet Bahceli.
The authoritarian president inflamed tensions further by stating that he was going to reopen the abandoned resort of Varosha in the southern quarter of Famagusta, whose inhabitants fled a Turkish invasion in 1974.
Mr. Erdogan has rejected talks mediated by the United Nations, insisting that third parties cannot intervene in the process as he outlined his position on a two-state solution.
Akel said in a statement: "We have been and still are of the opinion that this dangerous course can be halted and reversed only with the solution of the Cyprus problem, with the liberation and reunification of our country and people."
The party's general secretary Stefanos Stefanou met with Britain's high commissioner to Cyprus Stephen Lillie and Foreign Office director for Cyprus affairs Ajay Sharma to discuss the issue on Wednesday.
He said Mr. Erdogan's pronouncements "constitute a flagrant violation of the resolutions of the UN Security Council and at the same time undermine the prospect for a solution of the Cyprus problem and the reunification of Cyprus."
Akel confirmed that it will never accept a two-state solution and called on the international community to condemn Turkey's actions, which Mr. Stefanou said "are part of the occupying power's strategy for the final partition of Cyprus."
This article was reposted from Morning Star.