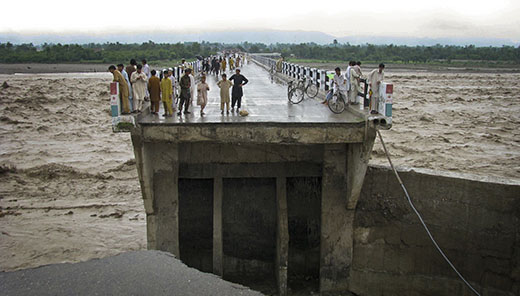 Former Vice-President Al Gore says in order to truly address climate change in the U.S., "We need a movement."
In a post on his personal blog Gore is calling for major rallies and mass protests against congressional inaction on the issue, which supporters argue is very serious.
"Around the world, when politicians fail to act to solve the climate crisis, people are taking action," wrote Gore.
"It is my hope we see activism like this here in the United States," he writes.
Gore, who has become a leading environmental justice activist says that Americans should follow the lead of Australians and take it to the streets.
In the post Gore quoted from an Australian wire service report that "tens of thousands of protestors … have taken action to the streets across Australia to urge the major political parties to take action on climate change."
Australia is holding national elections this week and the question of climate change is a front-and-center issue.
Gore cites that trained activists in Australia helped to deliver the slideshow that formed the basis of his Academy Award winning documentary.
Last week the New York Times ran a story suggesting the recent chaos in weather climate probably has something to do with global warming.
The Times refers to recent floods in New England, Nashville, Arkansas, and Oklahoma which were followed by the deluge in Pakistan that has upended the lives of 20 million people.
"The summer's heat waves baked the eastern Unites States, parts of Africa and eastern Asia, and above all Russia, which lost millions of acres of wheat and thousands of lives in a drought worse than any other in the historical record," says the Times.
Jay Lawrimore, chief of climate analysis at the National Climatic Data Center in Asheville, N.C. told the times, "Extreme events are occurring with greater frequency, and in many cases with greater intensity."
He described excessive heat, in particular, as "consistent with our understanding of how the climate responds to increasing greenhouse gases."
Theory suggests, notes the Times, that a world warming up because of those gases will feature heavier rainstorms in summer, bigger snowstorms in winter, more intense droughts in at least some places and more record-breaking heat waves.
These circumstances are already occurring, according to scientists and government reports.
Although some scientists are reluctant to say that recent weather events are directly related to climate change, most would agree the rising temperatures are a growing concern and potentially due to global warming.
Thermometer measurements show that the earth has warmed by about 1.4 degrees Fahrenheit since the Industrial Revolution, when humans began pumping enormous amounts of carbon dioxide, a heat-trapping greenhouse gas, into the atmosphere, notes the Times.
The National Oceanic and Atmospheric Administration reported last week that from January through July of this year, average temperatures were the warmest on record. Experts believe the immense amount of added heat is only the beginning of a trend that will worsen substantially. And climatologists have long theorized that in a warming world, the added heat would cause more record highs and fewer record lows.
In the U.S. about two record highs are being set for every record low and research suggests that global warming will worsen climate extremes across much of the planet.
A U.S. government report published in 2008 showed that "in recent decades, most of North America has been experiencing more unusually hot days and nights, fewer unusually cold days and nights, and fewer frost days. Heavy downpours have become more frequent and intense."
An estimated 50,000 people died in Europe after a deadly heat wave in 2003.
In recent weeks Gore has stepped up his criticism of the Senate for its inability to pass a comprehensive energy and climate bill that would put a price on carbon emissions.
Last week during a conference call with environmental activists Gore reportedly said, "The United States government in its entirety, largely because of the opposition in the U.S. Senate to taking action on clean energy and a solution to the climate crisis, has failed us."
Photo: In this Sunday, Aug. 8, 2010 picture, people stand on the remnants of a bridge washed away by heavy flooding in Bannu in northwest Pakistan. The World Meteorological Organization (WMO) says the weather-related cataclysms of July and August fit patterns predicted by climate scientists, although those scientists always shy from tying individual disasters directly to global warming. (AP Photo/Ijaz Mohammad)