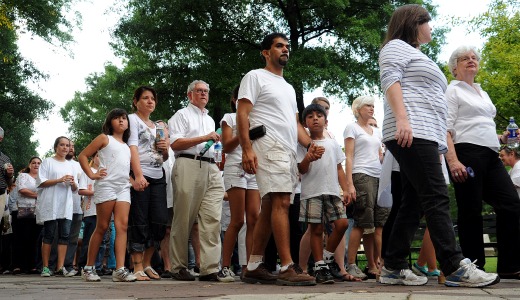 Several civil rights, women's rights, faith-based and education groups recently joined an amicus brief supporting a lawsuit filed by a coalition of similar groups challenging Alabama's anti-immigrant law, HB-56, passed earlier this summer.
Alabama's Republican Gov. Robert Bentley signed the measure into law in June, which is set to take effect Sept. 1. It's the latest in a series of anti-immigrant laws that have been modeled after Arizona's SB 1070.
Utah, Indiana, Georgia and South Carolina have all passed Arizona-inspired laws that have been challenged by civil and immigrant rights groups in courts.
Earlier this month the Department of Justice filed a lawsuit against the Alabama law, arguing it conflicts with federal immigration policy.
The Alabama law authorizes local law enforcement to investigate the immigration status of non-criminals. It also requires that school officials collect information about the citizenship of their students and makes it a crime to transport, harbor or rent to undocumented immigrants.
During an Aug. 11 press call, several speakers expressed their reasons for filing the amicus brief against a measure they argue is problematic and extreme.
The law is a sweeping attack against the Latino community in Alabama and opens the door to racial profiling, said Elena Lacayo, immigration field coordinator in the office of research, advocacy and legislation with the National Council of La Raza.
"The law aims to regulate every aspect of a person's life, including Latino citizens and lawful residents. It is an affront to who we are as a nation and who we are as human beings, and our country must choose to stand up for American ideals and reject those that appeal to our worst instincts," she said.
Lacayo called the law dangerous and said it makes communities less safe from real crime. It has little to do with immigration and is politically irresponsible, she said, adding Latinos make up 3.5 percent of Alabama's population.
"But this law sends the message that Latinos are not wanted in Alabama," said Lacayo.
Also on the call was Rev. Andrew Dawkins with the Montgomery Improvement Association, the group, he says, that was instrumental in that city's bus boycott 50 years ago.
"We're totally against this bill," said Dawkins, "because it's an abuse of political power." The law infringes on the rights of people of color and on the moral ethics of religious and faith-based groups, he said. It also aims to make municipal and state officials immigration officers, he said. "And it's even more dehumanizing than the segregation laws under the Jim Crow era."
Dawkins said he's extremely disappointed in Gov. Bentley and state officials who approved the measure. He likened the law to how Jewish families were persecuted under Nazi Germany during World War II.
"It's a hateful law and doesn't respect people," said Dawkins. In fact, it's a ploy to undermine the Obama administration, he said.
Bernard Simelton, president of the NAACP Alabama State Conference, said the law is mean-spirited, enforces discrimination and legalizes racism.
According to Leslye E. Orloff, vice president and director with Legal Momentum Immigrant Women Program, the law does not take into consideration immigrants that are victims of crime.
"Every victim of child abuse, domestic and sexual assault or human trafficking are almost all at one point living in the U.S.," notes Orloff. Such victims have been repeatedly protected under immigration laws but the Alabama law undermines these protections, she said. Alabama's police do not have the proper training or resources to address these types of issues, said Orloff. Victim support counselors, health workers and state offices could all be prosecuted under the new law for assisting immigrants that need vital services, she said.
Alice O'Brien, general counsel with the National Education Association spoke about the impact the law would have on children.
"All students are entitled to a quality public education as ruled by the Supreme Court decades ago," said O'Brien. "The inevitable effect and clear purpose of this law is to drive immigrant students out of Alabama schools. And it is clear that this ignorant venture is shortsighted and misguided."
Speakers on the call agreed every avenue must be exhausted to stop the law from taking effect, including their united effort in supporting the civil rights lawsuit. That lawsuit was filed last month by a coalition of civil and immigrant rights groups, including the American Civil Liberties Union and the Southern Poverty Law Center and others, asking the court to bar the law from taking effect.
More recently, a coalition of Roman Catholic, United Methodist and Episcopal bishops and religious leaders also filed suit challenging the legality of the law.
Meanwhile, a hearing is scheduled for Aug. 24, when a judge will consider and hear arguments in all three lawsuits together.
Photo: Protestors against Alabama's new immigration law march through Linn Park, June 25, in Birmingham, Ala. (AP Photo/ The Birmingham News, Mark Almond)