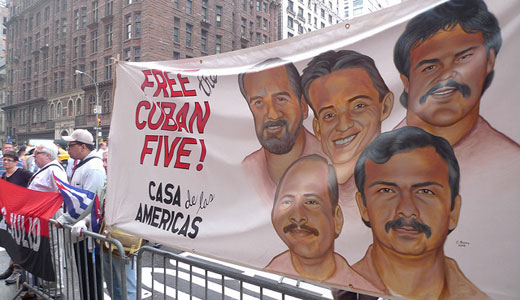 There has been a media flurry over Mr. Alan Gross, a U.S. government consultant serving a 15-year jail sentence in Cuba. Cuba strongly hints that it would be receptive to a "humanitarian exchange" of Mr. Gross for five Cubans imprisoned in the United States (Gerardo Hernandez, two life terms plus 15 years; Ramon Labañino, 30 years; Antonio Guerrero, 21 years & 10 months; Fernando Gonzalez, 17 years & 9 months, and Rene Gonzalez, 15 years).
The U.S. has said it will not consider such an exchange. Some politicians and media, including the Washington Post, demand punishment for Cuba instead of any negotiations. Mr. Gross's wife has sued the U.S. government for getting Gross into this situation.
The U.S. is raising the alarm about Mr. Gross' health. He has lost much weight since his arrest, and has a lump on his shoulder. Cuban doctors say that the weight loss is healthy, as he was overweight before, and a biopsy shows the lump is not a tumor but an accumulation of subcutaneous blood, which should go away by itself.
Mr. Gross was arrested in 2009 and convicted for illegally smuggling sophisticated electronic equipment into Cuba; equipment that was normally possessed only by military forces, whose purpose is avoiding government detection mechanisms. Gross did this for Development Alternatives Inc., which contracts with the U.S. government to do work to undermine Cuba's socialist government. Gross did not register with the Cuban government or ask for any permit; he simply came in as a tourist with the items in his baggage, or induced others to smuggle them. He claims that he was helping Jewish communities in Cuba to connect to the Internet. Cuban Jewish leaders say they don't know him and that they already are connected to the Internet.
Gross and his employers ignored the risks and penalties. Cuba has fought a 53-year struggle against U.S. efforts to topple the 1959 Cuban Revolution. The Cuban parliament has passed specific legislation forbidding its own citizens or foreigners on its soil from cooperating with precisely the kind of U.S. government program for which Mr. Gross was working.
The Cuban Five were members of the "Wasp Network," which monitored potential attacks on Cuba from South Florida right-wing Cuban exile groups. The fear of terrorist attacks is not exaggerated. A year before the Cuban Five were arrested (in 1998), terrorist groups headed by former CIA agent Luis Posada Carriles had set off bombs in Havana which killed an Italian traveler, Fabio de Celmo. These were the latest of a string of deadly and destructive terrorist attacks on Cuba. Repeated Cuban pleas to suppress this activity are regularly ignored by the U.S. government, which has historical ties to some of the terrorist groups through the CIA and FBI.
The Cubans continued to hope the U.S. administration would act against the Miami terrorists. Ironically, the Cuban government had given the FBI information collected by the Wasp Network, in the belief that U.S. authorities might suppress exile terrorism. Instead, the U.S. used the information to arrest and prosecute the Five.
After a trial in Miami, during which the exile-controlled media created a circus atmosphere (a request for a change of venue was refused), the five were convicted on 26 counts in June 2001. Later, it was discovered that the U.S. government was paying some of the media whose agitation had made a fair trial impossible.
One of the five, Gerardo Hernandez, was given two consecutive life sentences for supposedly having helped the Cuban armed forces to shoot down two small aircraft in 1996. The aircraft had been illegally (under both U.S. and Cuban law) penetrating Cuban air space to drop anti-government leaflets. The Cuban government warned that if these illegal flights were not stopped by the U.S., it would take action, and it did. Hernandez credibly denies having anything to do with this, and is fighting his case in the U.S. legal system.
Since the conviction, a worldwide campaign to "Free the Five" has attracted the support of many distinguished individuals and groups, including Nobel Peace Prize winners Desmond Tutu, Rigoberta Menchu, Adolfo Perez Esquivel, ex President Jimmy Carter, Amnesty International.
The latest controversy over Gross' health is a propaganda response to the Free the Five campaign. That the Cuban government would try to undermine Gross' health staggers the imagination. This would hand the United States a great propaganda weapon and if Gross should die in prison, all efforts to get the Five back through a "humanitarian exchange" would go down the drain.
Although the U.S. government has been saying "no exchange," Mr. and Mrs. Gross are not, because it is not in their interests to shut off the possibility of an exchange.
Gross is beginning the fourth year of a 15-year sentence. With one exception, the Cuban Five are in the 14th year of much longer sentences. Rene Gonzalez who was released from jail last year but is required to stay in the United States for two years more.
The United States could move beyond the rigid Cold War parameters of its endless campaign against socialist Cuba to view such an exchange, which has precedents, as a reasonable deal to reduce tensions between the two countries while restoring six families. But it won't do this without pressure. Various petitions are circulating, including one on the White House petition site.
In Cuba, like in much of Latin America, gift giving is traditionally done on January 6, Three Kings Day. Here we do it in December: Hanukah, Christmas, and Kwanzaa. How about a joint celebration of all these holidays with a gift of freedom and peace?
Thanks to Ismael Parra and Henry Lowendorf for help with this article.
Photo: Mario Carvajal/Flickr