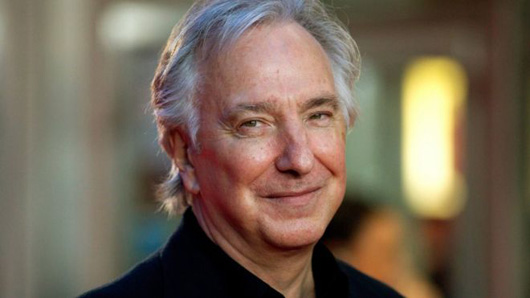 LONDON (AP) – British actor Alan Rickman, a classically trained stage star and sensual screen villain has died. He was 69. Rickman's family said Thursday that the actor had died after a battle with cancer.
The highly respected star and Labour Party supporter was born to a working-class London family in 1946 and trained at the prestigious Royal Academy of Dramatic Art. He once said in an interview that he "was born a card-carrying member of the Labour Party." Labour leader Jeremy Corbyn said Mr. Rickman was "one of the greatest actors of his generation."
Rickman was often cast as the bad guy; with his rich, languid voice he could invest evil with wicked, irresistible relish.
His breakout role was as scheming French aristocrat the Vicomte de Valmont in an acclaimed 1985 Royal Shakespeare Company production of Christopher Hampton's "Les Liaisons Dangéreuses."
Film roles included the psychopathic villain Hans Gruber who tormented Bruce Willis in Die Hardin 1988; a deceased lover who consoles his bereaved partner in 1990's Truly Madly Deeply; the wicked Sheriff of Nottingham in Robin Hood: Prince of Thieves in 1991; and a wayward husband in 2003 romantic comedy Love Actually.
Millions know him from the Harry Potter films, in which he played the potions and defense against the dark arts teacher Severus Snape, who was either a nemesis or an ally – possibly both – to the titular teenage wizard.
Harry Potter creator J.K. Rowling tweeted that "there are no words to express how shocked and devastated I am to hear of Alan Rickman's death. He was a magnificent actor (and) a wonderful man."
Mohammed Saghir, the present-day Sheriff of Nottingham – now a ceremonial role in the English Midlands city – paid tribute to Rickman's version of Robin Hood's famous foe. "His sheriff was a gloriously nasty character who it was easy to love to hate and who he appeared to have great fun playing," Saghir said.
Rickman's villains were memorable, and included an Emmy-winning turn as "mad monk" Rasputin in a 1996 TV biopic.
But Rickman's screen roles were remarkably varied, and included the upright Col. Brandon in Ang Lee's 1995 film version of Sense and Sensibilityand Irish political figure and a leader of the 1916 Easter Uprising Eamon de Valera in the 1996 historical drama Michael Collins.
He had a sideline in comic sci-fi, bringing knowingness and fun to the spoofGalaxy Quest in 1999 and delivering existential ennui as the voice of Marvin the Paranoid Android in The Hitchhiker's Guide to the Galaxy in 2005.
Rickman appeared frequently onstage, earning Tony Award nominations for "Les Liaisons Dangéreuses" in 1987 and Noel Coward's "Private Lives" in 2002.
Rickman was also a filmmaker, directing and co-starring opposite Kate Winslet in the 2014 costume drama A Little Chaos. Seventeen years earlier, he'd directed Emma Thompson and her mother Phyllida Law in The Winter Guest.
Frequently charming in person, Rickman was, by his own account, uncompromising as an actor. "The animal in me takes over," Rickman told the Associated Press in 2011 when he appeared on Broadway in Theresa Rebeck's play "Seminar.""You're as polite as possible, but it's not always possible."
Guardian journalist Katherine Viner worked with Rickman on a play called "My Name is Rachel Corrie," which he directed, about a U.S.activist killed in Gaza by an Israeli army bulldozer while trying to protect a Palestinian family's home from demolition.Ms. Viner described him as "the most loyal, playful and generous of friends."
Rickman is survived by his partner of 50 years, Rima Horton, whom he married in 2012. Rima Horton was Labour party councillor for the Kensington and Chelsea London Borough Council from 1986 to 2006.
Morning Star contributed to this article.
Photo: Alan Rickman. | AP