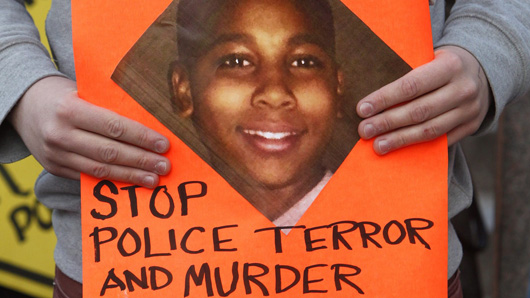 CLEVELAND – With alarm growing that a serious miscarriage of justice may occur in the Tamir Rice case five prominent clergy sent a letter to Cuyahoga County Prosecutor Timothy McGinty Nov. 12 asking that he step aside and allow an independent prosecutor to take over. Previously, the Rice family and their attorneys made the same request after McGinty took no action since police gunned down the 12-year-old black child last November, but is publicly releasing reports from experts he hired claiming the police acted reasonably.
The attorneys have raised serious questions about the validity of the reports since the police involved were not interviewed and there was no way to determine their state of mind. In addition, over 50,000 have signed a petition posted at colorofchange.org for McGinty to step aside.
The clergy, including prominent Protestant ministers and Jewish rabbis said they were especially disturbed by comments McGinty made at a recent public forum that the Rice family were "strange people" with "economic" motivations as they demanded justice for Tamir. The religious leaders also noted that while McGinty had publicized pro-police opinions, he had shown "disregard" for the June 11 finding of Cleveland Municipal Judge Ronald Adrine, based on the widely seen video of the incident that probable cause exists to charge the officers involved with crimes including murder, manslaughter, negligent and reckless homicide and dereliction of duty.
After his speech at the forum McGinty refused to say whether he would provide the Grand Jury with Adrine's opinion telling this writer that the judge had not given it to him and the grand jurors "read the newspapers."
Organized labor has also gotten involved in the issue. At its meeting Nov. 11, the executive committee of the North Shore AFL-CIO Federation of Labor agreed to send a request to McGinty that he provide the Grand Jury with Adrine's opinion as well as that of Cleveland Marshall Law School Professor Jonathan Witmer-Rich.
Professor Witmer-Rich, an expert on police law, argued in an Oct. 25 Plain Dealer opinion piece that the case must go to trial since legal experts can explain the law, but are no better in judging whether police act reasonably and in fear for their lives than ordinary citizens seated in a jury panel.
The shooting of Tamir Rice occurred on the afternoon of Nov. 22 after a resident saw him waving a toy gun in the park outside Cudell Recreation Center. The resident called police with the information that it could be a child with a toy.
However, the police dispatcher, who has since resigned, alerted a nearby squad car only saying that there was a black male with a gun in the park. The patrol car swooped down on Tamir, then standing alone in a picnic shelter, and rookie officer Timothy Loehman jumped out and immediately fired his gun. Tamir was left bleeding on the ground while the officers tackled and handcuffed his 14-year-old sister, who came running from the rec center. They then forced her into the squad car. They also restrained his mother, but administered no first aid to Tamir. Eventually an ambulance arrived and took the child to the county hospital where he died the next day.
McGinty has thus far refused requests that he step aside and ignored a letter from over 100 public officials, clergy, labor and community leaders as well as petitions with over 60,000 signatures that he seek charges in the case. The Tamir Rice Justice Committee has asked that messages to McGinty be emailed to tmcginty@prosecutor.cuyahogacounty.us The committee urges that he be asked to step aside or to recommend to the Grand Jury that they file charges or at least be given opinions advocating a trial.
Photo: AP