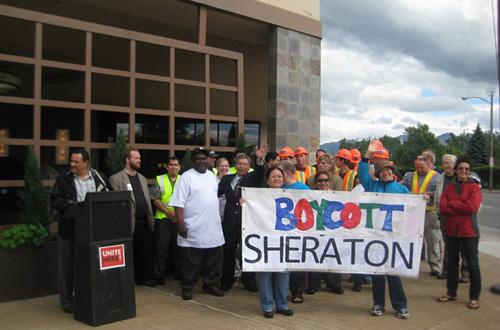 ANCHORAGE, Alaska – Like most Alaskans, hotel workers here demonstrate their toughness, skill and tenacity daily, which are all necessary characteristics to live in a state called the "Last Frontier." However, for Anchorage Hilton and Sheraton workers, instead of battling the weather and wilderness, they have been locked in a lengthy campaign for decent wages and rights at work in the face of fierce corporate union-busting attacks. In 2009, workers called for boycotts on the two hotels, which continue to this day.
Since 2008, Hilton workers here have had to confront hostile hotel and casino giant Columbia Sussex to maintain their union, wages and working conditions. At the Sheraton, the union filed more than 40 unfair labor practice charges against hotel owner Ashford-Remington, a Texas-based hospitality service and asset management company. Ashford has an unprecedented two federal injunctions against the corporation, UniteHere 878 President Marvin Jones said in a Sept. 11 interview here. A combination of employer intimidation and increased workload puts the workers in a "tough" position.
"It's tough up here," Jones said. Housekeepers in particular go through a lot of stress and "experience more injuries than miners." They don't take lunch or breaks because they are so afraid of not finishing their workload, Jones said.
Jones, a St. Louis native, has been in Anchorage for 33 years and part of the union for 27 years. Jones comes from a union family and started out in the hospitality industry at Sheraton Anchorage working as a bellman, at the front desk and PBX – a phone operator position.
Jones, who is African American, was on his way to an NAACP father-daughter bowling event. "I still get calls," he said chuckling, where the caller will say to me incredulously, "'There are black people in Alaska?!'"
Anchorage hospitality workers mirror the city's demographics – white, black, Native – he said, but Mexican and Filipino workers make up the majority of the hotel workers at Sheraton and Hilton.
Federal judges – in 2012 and then in 2014 – ruled against the Sheraton Anchorage. In the first ruling, the judge found that the hotel violated numerous labor laws and issued an injunction that required the hotel to restore the workers' collective bargaining rights that management had declared unilaterally null and void.
"The GM came up to me and said, 'We are no longer a union hotel and I have to ask you to leave.' I said, 'There has to be a vote' and told the workers we were leaving but what they were doing was illegal," Jones said.
The second decision found that the management corporation, Remington, unlawfully:
interrogated and surveilled its employees,
threatened to call the police on its own employees if they exercised their rights,
disciplined numerous employees for exercising their rights, including unlawfully firing three employees in retaliation for their having supported of Local 878,
maintained and enforced unlawful policies restricting worker rights,
banned union representatives from its property, and
unilaterally implemented numerous changed policies without first bargaining about those changes with the union, among many other violations of the law.
Sheraton worker Dexter Ray was forced in what amounted to an "illegal interrogation" when he was placed in an office and threatened until he signed a decertification petition. Four workers were fired for handing out leaflets outside the hotel. Three were hired back but the fourth had lost her home and moved out of state.
"People's lives were ruined and disrupted," Jones said, "because of management's aggressive union-busting behavior."
Sheraton management falsely accused union organizers of sexual harassment, death threats and theft. "They claimed we broke in and stole video equipment; that we issued death threats," Jones said, and that an invitation to an Our Lady of Guadalupe event was deemed sexual harassment.
The Hilton Anchorage has its own management-induced hostile work environment that is bad for workers and hotel guests alike: mold, among other workplace health and safety violations. In 2014, management made multiple claims that it had cleaned up the unhealthy and potentially dangerous fungus. But time and again the union found more problems, including flooding in the laundry room.
The union urges all Alaska residents and visitors to sign the boycott pledge and refuse to meet, eat or sleep at the Sheraton or Hilton in Anchorage.
Photo: Unite Here 878