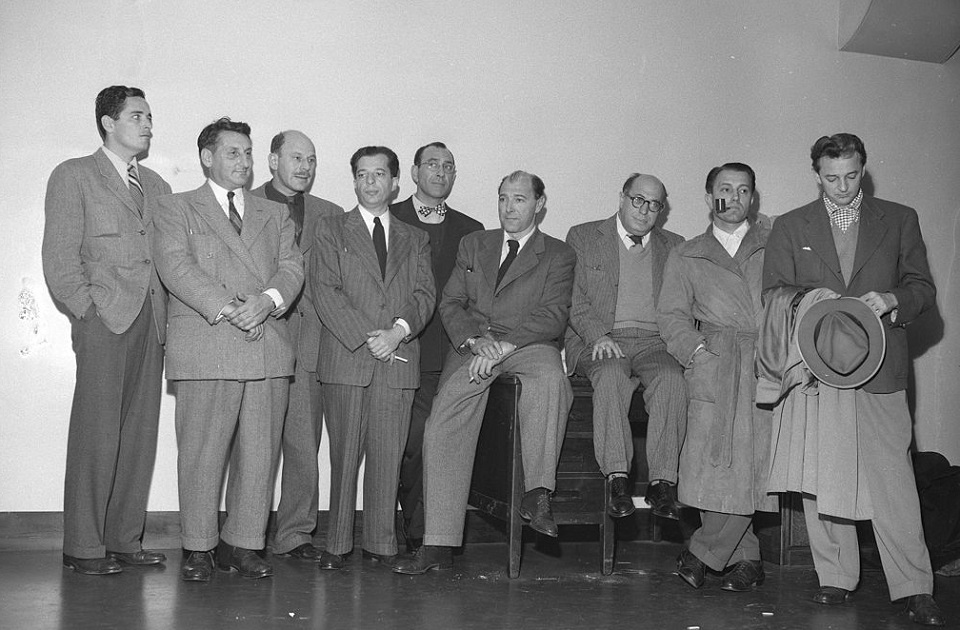 To celebrate the rediscovery of Albert Maltz and the republication of A Tale of One January, Alma Books caught up with literature professor Patrick Chura, University of Akron, who is writing the introductions to its new editions of Maltz's novels.
Alma Books: Dr. Chura, your research has involved a handful of American writers including Henry David Thoreau and Eugene O'Neill. What drew you to Albert Maltz?
Patrick Chura: Initially it was because he was a radical progressive whose sympathies were always with the oppressed. His first plays of the early 1930s were brave and controversial. One of them exposed corruption to the extent that local politicians tried to shut it down. Maltz's 1933 drama Peace on Earth was probably the first American play to present modern war as the inevitable result of capitalism. He was only 24 when he wrote this.
During the Depression Maltz's short stories were in the muckraking tradition—they drew attention to dangerous working conditions in mines and mills and factories. One of them, "Man on a Road," resulted in a congressional investigation into the effects of silicosis, a deadly lung disease. I also like the fact that, though Maltz wrote "proletarian literature," he did not oversimplify. As a student at Columbia, his first love was philosophy; his books are accessible but they're also carefully crafted and complex.
Alma: When did Maltz's career as a screenwriter begin? How did he become one of the "Hollywood Ten?"
Chura: He moved to Hollywood in the early 1940s and adapted quickly to screenwriting work. It's ironic that he was later deemed "un-American," because some of his early credits were for patriotic films. His screenplay for the film Pride of the Marines was premiered in 28 cities under the auspices of the U.S. Marine Corps. Another film, Destination Tokyo, premiered aboard a U.S. submarine and was adopted by the Navy as an official training film.
My favorite Maltz screenplay is the 1945 short film called The House I Live In, which starred Frank Sinatra [featuring the classic popular front song by Earl Robinson and Lewis Allan]. The purpose of this film was to strike a blow against antisemitism and to argue for religious tolerance and inclusion. For its pro-democracy messages it won a special Academy Award. When I share this charming film with my university students, I let them know that five years after it was made, the man who wrote it was in prison.
This is where the Hollywood Ten part comes in. The Ten were a group of film industry figures who challenged the constitutional legitimacy of the House Un-American Activities Committee during the Cold War. Among this group Maltz was the most accomplished in literary terms. For refusing to cooperate with the 1947 congressional investigation into alleged communist subversion, he was blacklisted, fined, sentenced to a year in prison, and thwarted as a writer for almost twenty years at the peak of his career.
Alma: That brings us up to the time he finally published A Tale of One January, right?
Chura: Yes, such an immensely interesting novel, a unique collaboration between a Jewish-American writer and a Holocaust survivor. It is Maltz's final novel and maybe his most unfairly treated work of fiction. I want to add that, though Maltz was a gifted artist who proved himself in multiple genres, he always said that the writing of novels was his highest priority. This was the art he wanted to be remembered for, his most passionate self-expression.
Alma: What makes A Tale of One January special or unusual?
Chura: For one thing, the real events that inspired the story have gone largely undocumented, but they are as important as the novel itself.
In 1960, while Maltz was living in Mexico City to distance himself from FBI harassment, he met Dounia Wasserstrom, a Ukrainian Jew born in Zhytomyr. She had been a political prisoner in Auschwitz, where she worked as an interpreter for the S.S. In January of 1945, when the Russian armies were approaching Auschwitz, the prisoners remaining there were marched out under guard for an unknown destination. During the first day of the march Dounia and a close friend of hers escaped.
In Mexico, Wasserstrom came to know Maltz and trusted him well enough to share with him, in several interviews, a detailed account of her Holocaust ordeal. The notes from these interviews form the basis of A Tale of One January. And while Maltz accurately related an important Holocaust testimony, he also altered certain facts, transforming the story of "Dounia's Escape" into literary art.
When A Tale of One January was completed in 1962, the blacklist was still operating. No U.S. commercial publisher would touch the book. Maltz held the manuscript for four years. Ultimately it fell to Calder and Boyars to champion Maltz for the English-speaking world, which it did by publishing the novel in the UK in 1967. To this day A Tale of One January has not been issued in the United States, which truly shows what a society loses when it starts blacklisting. The new Alma Books edition helps repair that loss.
I'm also glad that the rescue of A Tale of One January will be followed by the republication of another Maltz novel of the blacklist period, A Long Day in a Short Life. This book emerged from Maltz's experience in prison in 1950-51. It is set in the Washington, D.C., jail, and it's a remarkable story of the early civil rights movement, addressing the institutional racism of the American justice system.
I understand we just reached an agreement with the executor of Maltz's estate to publish at least two more of Maltz's works, The Cross and the Arrow and The Journey of Simon McKeever. These are both great reads, worthy of renewed attention. I'm looking forward to writing the introductions to these as well!
From Alma Books:
Poland, January 1945. Two women and four men escape from a Nazi death march. Each is from a different background and a different country, but all have endured the horrors of imprisonment in Auschwitz. They find refuge in an abandoned factory, and suddenly they realize that they are no longer mere numbers. Even in their wild euphoria at being free, however, they can have no certainty about their future.
This is a tale of exploding joy within a hothouse of fear, a tale of human beings erupting into life after breaking free of the embrace of death—an unusual and moving tale that cements Albert Maltz's reputation as a compassionate observer of character and one of the finest storytellers of his generation.
In Albert Maltz's own words (November 1967)
In 1960, when I was living in Mexico City, I met a Frenchwoman whose name is Dounia Wasserstrom. She had been a political prisoner in Auschwitz, where she worked as an interpreter for the S.S. On Jan. 18, 1945, when the Russian armies were approaching Auschwitz, the prisoners remaining there were marched out under guard for an unknown destination. During the first day of the march Dounia and a close friend of hers escaped. The notes in this folder are her account of the escape and subsequent events as she related them to me in a number of interviews which were conducted in Spanish since she did not speak English nor I French. They form the basis of my novel.
In 1964 Mrs. Wasserstrom went to testify at the trial of Auschwitz S.S. men in Frankfurt, Germany. Her testimony was used by Peter Weiss in his play, The Investigation. She appears there as the "Fifth Witness." On page 75 of the U.S. edition of the play (Atheneum), she is quoted in testimony concerning "the child and the apple" that also appears in my novel. Although I completed my novel in the spring of 1962, it was not until January 1967 that it received its first publication in English, in Great Britain.
Pre-order information can be found here: A Tale of One January.