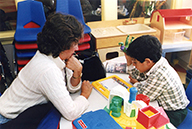 In a major effort by the Albuquerque Teachers Federation backed by New Mexico labor unions and parents, the federation is planning a huge march and rally at the state capitol to prevent a second round of budget cuts. The march and rally planned for Friday, October 9th, has as its main theme reversing tax cuts for the wealthiest.
In an op-ed piece in the Albuquerque Journal, Ellen Bernstein, president of the Albuquerque Teachers Federation, stated: "Educational employees and parents have been appalled to learn that lawmakers already cut the dollar value of children in the last session. Now we're angry because they plan to do it again. We're asking them to make the right choices during tough times."
She further stated that "unfortunately, some lawmakers appear to be more interested in protecting the wealthiest New Mexicans and out-of-state corporations than funding our school children."
It appears that Santa Fe lawmakers cut student funding last January in order to balance a $500 million deficit. In doing so, they also reduced the amount of tax revenue flowing into the public treasury, creating another $433 million deficit.
Bernstein chided the lawmakers by stating, "What's the definition of insanity? Doing the same thing over and over again, expecting different results."
In attacking two long-time enemies of proper school funding, Senators John Arthur Smith and Tim Jennings, Bernstein stated that the second round of education cuts, if approved by the legislators during the special session, would raise unemployment numbers and make this year's school children worth less than they were last year.
In contrast to state lawmakers' claim of having little choice to further cut school funding in order to balance the state budget, Bernstein stated: A program that's far superior than cutting the value of school kids, would be: 1) roll back tax cuts for the wealthiest New Mexicans, which would produce an estimated $450 million in tax revenues; and 2) close tax loopholes for big box out-of-state corporations that would produce another $100 million.
She further pointed out that rolling back tax cuts granted during a time of huge state budget surpluses is not the same as raising taxes. In response to criticism of the far right, the op-ed piece states that the state must cut spending on tax breaks and corporate favoritism. Tax cuts for the wealthiest and corporations such as WalMart would save the state $1 billion.
The rally, backed by the NM Federation of Labor AFL-CIO and also NM Alliance for Retired Americans, will protest the further education cuts of 5% of the state budget on top of the previous 8% cuts. Since the New Mexico state constitution requires that 50% of any state budget be devoted to education, Bernstein called upon the lawmakers to meet their constitutional obligation to sufficiently fund children's education.