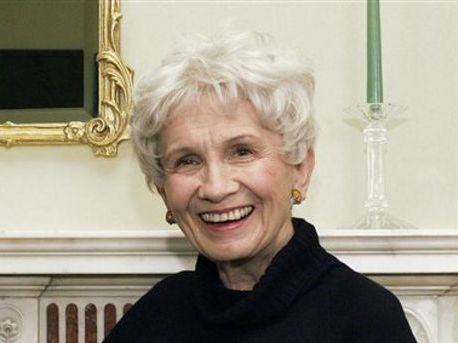 STOCKHOLM – Canadian writer Alice Munro won this year's Nobel Prize in literature today. The Swedish Academy, which selects Nobel literature winners, called her a "master of the contemporary short story."
Often compared to Anton Chekhov, the 82-year-old writer has attained near-canonical status as a thorough, but forgiving, documenter of the human spirit.
Her published work often turns on the difference between Munro's growing up in Wingham, a conservative Canadian town west of Toronto, and her life after the social revolution of the 1960s.
"She is a fantastic portrayer of human beings," said Peter Englund, permanent secretary of the Swedish Academy in an interview immediately after the announcement, adding that Munro's consistent depiction of the rural Canadian landscape proves that "she has everything she needs in this small patch of earth."
The Nobel Prize revealed via its Twitter account that it wasn't able to get hold of Munro, but left a phone message. CBC World Report said that Munro's daughter woke her up to share the news. "I knew I was in the running, yes, but I never thought I would win," Munro told the Canadian Press.
Alice Munro is the 17th literature laureate born in Canada and the 27th literature laureate writing in English. She is the 13th woman awarded the Nobel Prize in literature so far. She is also the 110th literature laureate in total.
In an interview with Associated Press in 2003, she described the 1960s as "wonderful." It was "because, having been born in 1931, I was a little old, but not too old, and women like me after a couple of years were wearing miniskirts and prancing around," she said.
Munro's writing has brought her numerous awards. She won a National Book Critics Circle prize for "Hateship, Friendship, Courtship, Loveship, Marriage," and is a three-time winner of the Governor General's prize, Canada's highest literary honor.
The Nobel Prize may very well be the last award of the 82-year-old author's career, as she told Canada's National Post earlier in the summer that she was "probably not going to write anymore."
Her recent books include "Dear Life," "Something I've Been Meaning to Tell You," and "The View from Castle Rock."
In 2008, Munro's daughter Sheila wrote the intriguing memoir, "Lives of Mothers & Daughters: Growing Up with Alice Munro." A review in Booklist, published by the American Library Association, praised the memoir: "The book seems in many ways a typical family story, replete with abundant photographs from the family album, images from the 50s through the 90s. What makes the book extraordinary are the extraordinary accomplishments of the mother under consideration – Alice, a woman who somehow managed to integrate domesticity with a writer's life and who did it, by Sheila's account, with considerable grace and intelligence. Alice Munro's readers will be especially interested in Sheila's descriptions of family events that worked their way into her mother's stories.
In 2006 the Canadian film "Away from Her" debuted at the Toronto International Film Festival. The film, directed by Sarah Polley, is based on Alica Munro's short story "The Bear Came over the Mountain," from the 2001 collection "Hateship, Friendship, Courtship, Loveship, Marriage."
The film stars Gordon Pinsent and Julie Christie as a couple whose marriage is tested when Christie's character begins to suffer from Alzheimer's and moves into a nursing home, where she loses virtually all memory of her husband and begins to develop a close relationship with another nursing home resident. The film received universal acclaim from critics.
Karl Ritter and Malin Rising of the Associated Press contributed to this article.
Photo: Canadian writer Alice Munro, who won this year's Nobel Prize in literature on Thursday, Oct. 10, 2013. AP