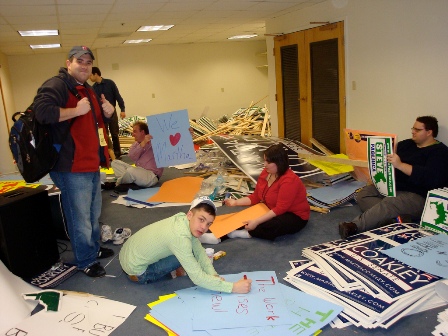 How the Democrats got into such a position in the Massachusetts Senate race will be a question for after the Jan. 19 special election. Right now, Democrats are saying "all hands on deck" to get out the vote to elect Martha Coakley to fill the late Ted Kennedy's seat.
President Obama visited Massachusetts yesterday to fire up the Democratic base to go out and vote. That is the Democrats' main concern: turnout, turnout, turnout. They are worried Democratic voters will stay at home since special elections attract less voters, and many consider the seat "safe."
Yet, Republican Scott Brown has surged in the polls recently, playing to voter anger, some of it tinged with racism, and the anti-Obama Tea Party crowd. Trying to craft himself as a moderate to make himself palpable for "independent" voters, Brown's campaign and his personal style, including portraying himself as the "working-class underdog," has had a significant resonance among some voters.
Republicans nationally have targeted this race. Former Bush White House adviser Karl Rove used his Twitter account to link to a phone-bank site for Brown, while Sen. John McCain, Obama's rival in the 2008 presidential contest, is promoting Brown on his political action committee's web site.
Polls say it is too close to call.
A Brown victory would give Republicans their 41st vote in the Senate, enough to prevent ending a filibuster, thereby threatening the health care reform bill and the entire Obama agenda for 2010.
But it seems the high-profile visits, and grassroots efforts from union members, women's groups and Organizing For America phoning Massachusetts voters may pay off. Yesterday's event in Boston with President Obama drew an overflow crowd, with a few thousand being redirected to another venue to watch the president on a big screen.
Obama underscored the national significance of the Senate race. "Understand what's at stake here, Massachusetts. It's whether we're going forward or going backwards," Obama said. "I can't do it alone. I need leaders like Martha by my side so we can kick it into high gear, so we can finish what we've started.
"Martha's opponent already is walking in lockstep with Washington Republicans. She's got your back; her opponent's got Wall Street's back," he told the crowd.
Organizing for America is going all out for Massachusetts, and there's some reports the efforts and urgency of the situation are genuinely animating the Democratic base. In one day, according to a Democratic official, OFA members placed more than 93,000 calls into the state.
A big turnout from African Americans, Latinos, union members and women is necessary, analysts say, for a Coakley win since these voters largely make up the Democratic base.
At a largely Black church service on Sunday, Boston Mayor Thomas Menino urged congregants to call at least 10 friends and make sure they planned to vote on Tuesday.
Phone banks hosted by unions with large buildings like IBEW and Teamsters in Boston and SEIU's government employees, NAGE, in Western Mass., and get-out-the-vote labor walks in places like New Bedford are all taking place.
In the city of Lawrence, with its majority Latino population, Labor Secretary Hilda Solis spoke to a get-out-the-vote rally there, emphasizing Coakley's commitment to working-class and immigrant families and their values.
Emily's List, a group that focuses on electing women to Congress, warned women what a potential Brown victory would mean for women's health care.
"GOP darling Brown is a solid Republican loyalist who recently filed legislation that would allow the elimination of mandated coverage for critical health services for women — including mammograms and maternity care," wrote Emily's List President Ellen Malcolm in a recent e-mail.
Calls can be made to Massachusetts voters all day Monday and Tuesday from Organizing For America's website, barackobama.com.
Mitch Stewart, director of OFA, wrote, "We're getting last-minute reports of right-wing groups flooding the state with attacks ads and robo-calls. They're hoping to defeat Martha Coakley and elect an extreme Republican who has promised to use Ted Kennedy's seat to stop health reform and oppose President Obama's efforts to recoup our money from the nation's biggest banks.:
"This is an 'all hands on deck' moment," he wrote. "So while we're still fighting hard for health reform, OFA organizers and volunteers are putting together a massive program to make sure every Coakley supporter gets to the polls on Tuesday – and we need your help to keep it up."
Photo: http://my.barackobama.com/page/content/hqblog