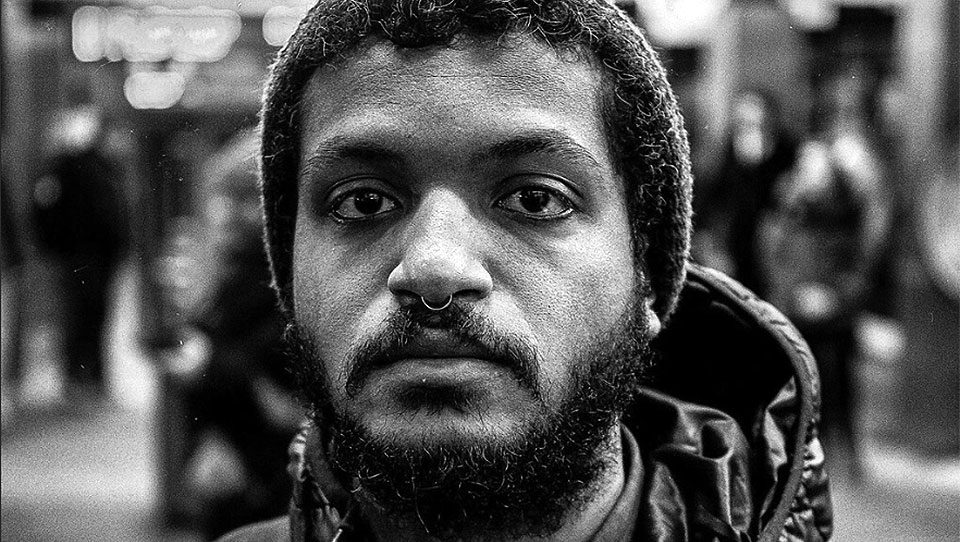 Imagining a free world without prisons, confining bars, or militarized borders between communities is a process that "can be done only collectively," author, activist, and teacher Elias Rodriques recently told a workshop hosted by the Michigan Writers Club. The idea of collective shaping of a clear vision of how the world is and how it ought to be is a central theme of Rodriques's first novel All the Water I've Seen Is Running.
The story is set over a two-day period of Daniel's return to his hometown of Palm Coast in North Florida. Interwoven with historical memory, family stories, and flashbacks to high school, the events of this 48-hour sliver of time become the stuff of great literature.
Daniel's best high school friend, a "redneck" girl who got along with few people, has died in a car crash. Brandon, the driver, her ex-boyfriend and racist antagonist to Daniel and his friends, was drunk at the wheel. Daniel's return, several days after having missed the funeral, creates his chance to mourn his lost friend, confront Brandon, and reconnect with close friends after eight years away at college in California and in his new life in New York.
Daniel had been a track star in high school. His athleticism was the ticket to a college scholarship and the foundation for escape from the working-class town that offers its residents only a bleak future of menial jobs, poverty, violence, and racist hostility and division. The escape allows him to make a break with Palm Coast, and Daniel seizes it, even to the point of falling out of touch with his most intimate friends.
The death of Aubrey, his cherished high school friend and "sweetheart," compels his return. Her death demands he confront the truth about his relationship with her, about his sexuality, and to open up truthfully with his friends. In this plotline, we see the influences of the grand narrative of Homer's Odyssey, to which our narrator alludes at least once, and to the detective fiction of Walter Mosley. Daniel returns home, under the apparent guise of amateur sleuth aiming to uncover the truth about Aubrey's death, to extract some sort of confession from her killer, as Daniel sees it. Instead, Daniel must reveal his own secrets if he is to ever find peace.
The truth is much more painful—and freeing, as it turns out. In high school, Daniel had not yet recognized his queerness and had wanted to date Aubrey. Like many teenagers, however, they communicated their real feelings and desires for each other poorly, remaining best friends without romantic intimacy. But Daniel had lied about this last part to his male friends. He convinced them that he had slept with her and that they were madly in love. His return to Palm Coast forces a confrontation with the truth about Aubrey, his sexuality, and his father's arbitrary violence. These revelations, hidden for many years out of fear, deepen his relationships and intimacies with friends.
Our hero's journey is deeply embedded in a transhistorical interaction with memory. Not just his own, but the stories his mother and grandmother shared about family—ancestors and immediate—about Jamaica, the place of his birth, and about Jamaica Queens, the site of his mother's first home in the U.S. The stories are not always completely truthful, as his grandmother and mother occasionally tell competing versions of the same events. But Daniel is always able to return to the source of the stories, to peel away layers of bad memories, forgotten episodes, perhaps deliberately hidden details.
A pattern emerges. Black women are story bearers who construct and hold family, community, and history together with narrative—even when it changes or requires revision. Thus, Daniel's mother and grandmother are central to the story, even though in the real events of the two days, only the grandmother, who lives in a senior care facility suffering from dementia and fails to recognize Daniel, makes an appearance. This role of Black women as storytellers, truth bearers, and world builders is borne out by Daniel's friends Egypt and Tati in the closing pages of the novel, in pivotal scenes that will touch your heart. This profound element of Rodriques's work bears thematic traces of the works of John Edgar Wideman, James Baldwin, Jesmyn Ward, and Zora Neale Hurston.
On the second day of his return to Palm Coast, Daniel and his friend Desmond drive to a remote town named Espanola, a place—which might be "a sundown town"—known to be dangerous for Black people, to confront Brandon. On the way, they discuss Aubrey and Daniel's relationship with her. He recalls that she had a way of cutting through the b.s. that high school kids deployed in their daily efforts to appear popular and cool to expose the truth. Ironically, in this celebration of Aubrey's honesty, Daniel still harbors his secrets and knows that Aubrey would have been a source of objective truth, would have forced him to be truthful.
Indeed, Daniel's own grasp on the fine line between imagination and straightforward memory is lost due to her death. "It's just what happened with me and her done happened so long ago I can't tell if what I think happened is what happened," he confides to Desmond. "If you been thinking you said something for so long, you think that's what happened." Her death seems to deny a needed encounter with truth. "Maybe if she was here, she'd tell you something different," he partially confesses. Her death seems most painful because the link to the truth of real history has been cut off.
The contradictions of personal experience, memory, desire, imagination, especially when they are confined to our own brains, our insular constructions of reality, may distort the truth of actual experiences. If we lose connections to the people with whom we have most intimate contact, whose world views we can trust, whose best interests we hold in mutual regard, then we have no access to objective reality, or at least to its potentiality through larger, shared pictures of that reality. Perhaps human intelligence, senses, or memory cannot fully and entirely grasp objective reality. Perhaps careful construction of collective memory, bonds of community, and imagination about a better future are our greatest human tools.
An enlightening interview with the author can be viewed here.
Elias Rodriques
All the Water I've Seen Is Running
New York: W.W. Norton, 2021
288 pp., $26.95
ISBN 978-0-393-54079-6