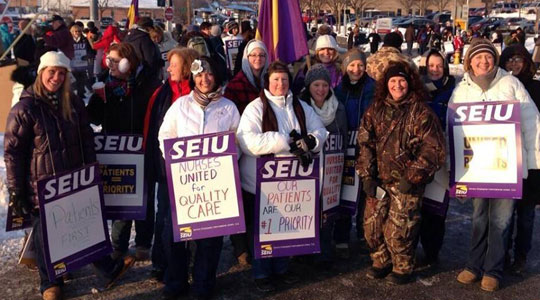 ALTOONA, Pa. – Hundreds of nurses, hospital workers and supporters hit the picket line in the bitter cold here, Feb. 11. That evening, they held a candlelight vigil. The nurses, members of the Service Employees union, SEIU, went on strike against UPMC (University of Pittsburgh Medical Center) Altoona, formerly the Altoona General Hospital. The SEIU Healthcare Pennsylvania nurses say that UPMC rejected their proposals to improve staffing ratios, which is shown to improve patient outcomes, decrease the length of hospital stays, and increase patient satisfaction scores, among other issues.
The strike was to be for only one day, as the nurses were concerned about the welfare of the patients. However, the nurses and others walked the picket line again the next day. At one point, they marched to the hospital entrance but were prevented from entering. It was announced that day that a protest rally would be held at the UPMC headquarters in Pittsburgh and this was carried out. One nurse, who asked to remain nameless, said that the bosses might be trying to bust the union and that the sentiment of the strikers could be summed up in the slogan: Patients Before Profits.
After the one-day strike, many of the nurses were locked out for several days because of UPMC's contract with a scab agency, a union official said.
The nurses are now back at work, but without a contract. At this point, there has been no agreement between the union and the company. Still nurses and their supporters say it is uplifting to see the workers fight back against the bosses' offensive against their union and hard-won rights.
Meanwhile, locked out utillity workers here, employed by Pennsylvania electric power utility Penelec and its parent company FirstEnergy, continue to walk the picket line and are demonstrating that they will not back down.
Corrected 2/26/14: The nurses at UPMC are back at work following their one-day strike and subsequent lockout of many, but still without a contract. We apologize for incorrectly stating the current situation in an earlier version of this article, due to an editing error.
Photo: Altoona Nurses' strike. SEIU Healthcare Pennsylvania Facebook page