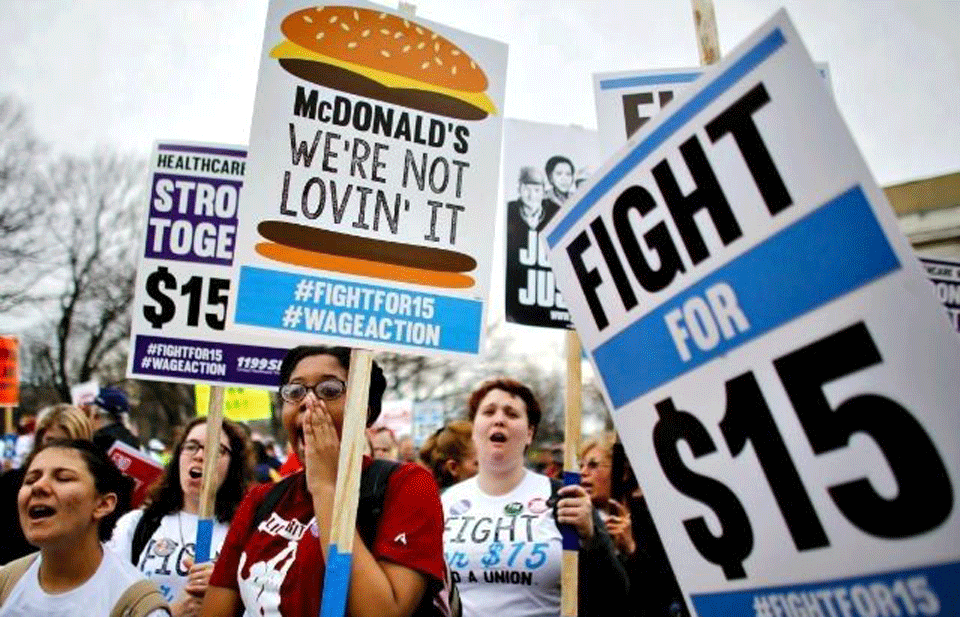 Two of the nation's largest, most-powerful and most-well-known corporations, Amazon and McDonald's, are among the "Dirty Dozen" firms on the latest list of job safety and health lawbreakers unveiled April 25 by the National Council on Occupational Safety and Health (NACOSH).
And, not coincidentally, both are fiercely resisting current union organizing drives and by the Fight for 15 and a Union movement at Amazon warehouses and McDonald's eateries.
NACOSH released the Dirty Dozen list just before Workers Memorial Day, April 28. That day, workers in the U.S. pause to remember the 5,147 colleagues killed and the tens of thousands more injured on the job in 2017, the latest year for which data are available, as well as 95,000 workers who died from work-caused illnesses.
And workers also will learn the underfunded and understaffed Occupational Safety and Health Administration has only enough inspectors to visit every one of the nine million U.S. workplaces it covers once every 158 years. That's not counting state OSHAs, which are slightly better.
"We can make our workplaces safer – if we listen to workers and take action to reduce hazards on the job," NACOSH Co-Executive Director Marcy Goldstein-Gelb said in a telephone press conference. "There is no reason to tolerate irresponsible behavior by employers who fail to provide a safe workplace, and force workers and families to pay the price."
And that doesn't count another category of injuries. For the first time, NACOSH discussed the emotional and physical trauma of workers who suffer sexual harassment, violence, and rape.
That sexual harassment drove former St. Louis McDonald's worker Barbara Johnson to join the call. She's also a leader in Fight for 15 and a Union against the notoriously anti-union giant fast-food chain.
Johnson described how her shift manager took her into a back room, after she had been on the job for only a short while, "and exposed himself."
"He later told me I had good boobs," she said. The harassment "made me feel very uncomfortable," and she asked the overall supervisor for a shift change, away from the night shift. She got it – for two weeks.
More than 24 other workers nationwide have filed similar sexual harassment complaints against McDonald's. "I want to assure that other workers don't suffer like I had," Johnson said. The sexual harassment, along with McDonald's low pay, led her to become an outspoken proponent of Fight for 15 and a Union. "Unions can hold McDonald's accountable," Johnson said.
David Jamel-Williams, a former Amazon warehouse worker in Edison, N.J., described an environment there that not only was unsafe – he lost an eye in an industrial accident – but also a common phenomenon at Amazon and elsewhere: Bosses pressuring workers to minimize or not report injuries and retaliating against those who do.
Amazon, with six worker deaths in the last seven months at its warehouses, is a repeat offender on the Dirty Dozen list, Goldstein-Gelb said. It's also had 13 deaths since 2013 and high rates of suicide attempts.
"Amazon definitely cared more about the speed of pushing out products and services than the health and welfare of its employees," he said. "We worked 10-hour days with little break time – and they (managers) even infringed upon that." The report notes Amazon workers got so little time off for basic needs that many are forced to urinate in bottles while on the job.
Jamel-Williams explained Amazon workers who load bins with goods "are under tremendous pressure for high numbers" and often forced to cut corners on safety. As a result, in Edison, a hazardous chemical was leaking from the rear of one product in one bin. When Jamel-Williams pulled out the bin, the chemical splashed his face. It cost him sight in one eye.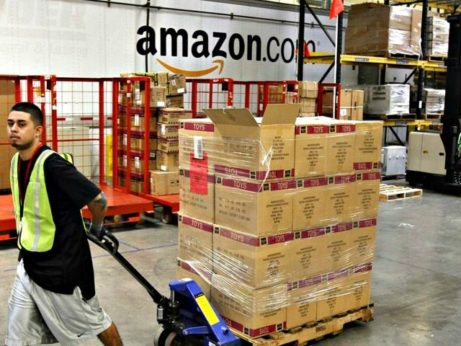 "I reported it to my manager. He wanted me to wash my face and go back to work." The manager "reluctantly" let Jamel-Williams go down to the Human Resources Department to report the injury, and to get treatment. Then the manager demanded that he return to work – and "sign a form saying the case is closed, and they're not responsible."
Jamel-Williams refused, demanding a copy of the original medical report, to document his injury He finally got it, along with a renewed demand he sign the second form. He refused, later started talking to fellow workers about unionization, "suffered a negative backlash," and has since been fired "for misusing my allotment of unpaid leave."
"Not only do I believe a union would be beneficial to us, but it would be beneficial to the company as well," he said. That's because the union could argue for, and get, a labor-management safety and health committee to discuss and stop job safety hazards before they kill or injure workers.
Besides Amazon and McDonald's, the rest of the Dirty Dozen were:
Atlantic Capes Fisheries And BJ's Services, of Cape May, N.J. and Fall River, Mass., due to unwanted touching, solicitations for sex and crude comments aimed at woman workers. "Two women who complained were fired. The U.S. Equal Employment Opportunity Commission (EEOC) reached a $675,000 settlement with both companies," the report says.
Bedrock Detroit, fined $3,500 for safety violations. Its billionaire owner waged a six-year campaign to avoid OSHA regulation. "Corporate officials told safety inspectors "how to do their jobs and who they were allowed to inspect."
Beiza Brothers, a Moultrie, Ga., farm, cited by OSHA for exposing worker Miguel Chavez to high temperatures and hot direct sunlight. After one week in the U.S. and one week on the job, Chavez died from heat exhaustion.
Facebook, Accenture, Cognizant, Prounlimited and Tech Solutions, of Menlo Park, Calif., Phoenix and Austin, Texas. "Low-paid moderators spend hours each day watching hate speech, pornography, and images of suicides, murders, and beheadings. Facebook and contractors provide inadequate mental health support – and none after workers leave their jobs," the report said.
Genan of Sheldon, Texas, fined $100,000 and cited for 20 OSHA violations, after 26-year-old Byron Jones was pulled into a tire shredder and killed on his fourth day on the job.
Integra Health Management of Owings Mills, Md., but named for its 7-year battle – which it finally lost in March 2019 – against responsibility for the 2012 murder, by a disturbed client in Dade City, Fla., of social worker Stephanie Ross, then 25. She reported safety concerns after a prior visit.
Johns Hopkins Hospital of Baltimore, cited as "four of five nurses report they have been victims of workplace violence. One out of four says Hopkins ignores the dangers." Nurse safety and health issues are big planks in National Nurses United's organizing drive among Hopkins's hundreds of nurses.
Purdue Pharma, a leading maker of opioids, and the industry in general. "Workers, suffering in pain from preventable injuries, are among the primary victims of America's opioid crisis. To sell painkillers, Purdue targeted patients with workplace injuries – and their doctors," NACOSH said of the Stamford, Conn., firm.
Tooma Enterprises of Sterling Heights, Mich., named because a trench with no shoring or trench box collapsed and killed Jason Holmes, 39.
XPO Logistics and its now-closed warehouse in Memphis. One female worker collapsed and died and six suffered miscarriages due to high heat and stress. XPO ships cellphones and similar devices nationwide. The 400 workers –most of them African-American women — organized with the Teamsters after the death and miscarriages.
"Instead of them trying to correct their wrongs, they closed the building," former worker Tasha Murrell said on the conference call. "That's the type of company it is – it's horrible."
Her solution: Unionize. "Everybody should have the opportunity for collective bargaining," Murrell said.