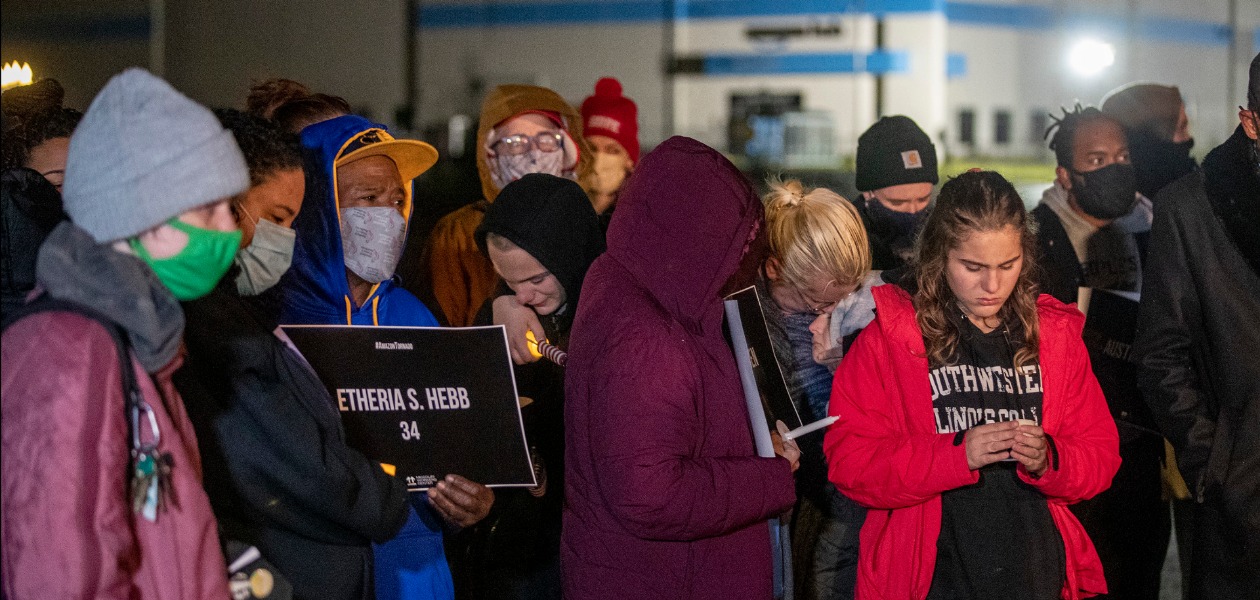 BESSEMER, Ala.—Shoving merchandise around Amazon's giant warehouse in Bessemer, Ala., isn't easy, Isaiah Thomas says. It also isn't safe.
And, according to the AFL-CIO's 31st annual Death On The Job: A Toll Of Neglect job safety and health report, it's not unusual either, nationwide.
That's because federal fines against bosses for job safety and health violations are still too low "to be a deterrent" to lawbreakers on safety, the report adds.
"I'm 20 years old, and I already have back problems," says Thomas, a lead advocate in the Retail, Wholesale and Department Store Union's unionization drive at the monster facility. And since Bessemer opened two years ago, six of his co-workers have died.
"The company I work for, Amazon, puts profits above safety of its workers," Thomas told an April 26 zoom press conference the AFL-CIO hosted to release the report, honoring Workers Memorial Day, which is tomorrow, April 28.
"Every day, we're standing 12 hours" on the job, with only one 30-minute break, Thomas explained. "Working in a warehouse in this heat is absolutely insane. People become delirious.
"We're moving packages weighing 100 pounds" each by driving piled packages on pallets across the warehouse floor. "If I hit a wood chip," a common occurrence, "that pallet could tip over and fall on me.
"And we're working in the middle of a virus pandemic, but the company doesn't tell us who was infected."
Incomplete information about how many workers the virus infects, and how many die, by industry, is one big job safety problem workers face, according to AFL-CIO President Liz Shuler and the federation's safety and health director, Rebecca Reindel.
"Every single day, 340 people die from work-related injuries and illnesses," an angry Shuler said. That includes deaths of former workers from ailments such as black lung disease. But not all the Covid-19 illnesses.
Using data from all sources, including cases where employers actually reported coronavirus cases to the feds, "other sources" i.e. not specific reasons, such as falls, cost men 169,260 days away from work in 2020, and were the leading cause of such missed days for men. For women, health care was the worst occupation for illnesses, causing them to miss—in three sectors—341,700 days.
Other summary figures are stark:
In 2020, the most recent year data are available, 4,764 U.S. workers died from hazardous working conditions. Deaths declined by 569, compared to 2019, but Reindel noted the coronavirus pandemic skewed the data. The number of hours worked at job sites in the U.S. declined by almost 10% in 2020, compared to 2019. The data omits workers who worked at home. And 40% of 2020 deaths were in construction, transportation, and warehousing.
There were 3.4 on-the-job deaths per 100,000 workers in 2020, down from 3.5 per 100,000 in 2019. The death rate was 5.2 deaths per 100,000 workers in 1992, dropping to 3.5 per 100,000 in 2009. It's stalled at between 3.3 and 3.6 deaths ever since.
2020 death rates for Latino workers (4.5 per 100,000) and Black workers (3.5 per100,000) were higher than the national rate. The death rate for Latino workers has risen 15% in the last decade, after declining from a peak of 6 per 100,000 in 2001.
An estimated 120,000 workers died from occupational diseases. That's past diseases, such as black lung, silicosis—even aftereffects from toxic gases that, 20 years later, still kill former workers who toiled on "The Pile" in Manhattan after the 9/11 attacks.
Job injuries and illnesses cost women workers more days away from jobs (585,540) than they cost men (577,990). More than half the women's losses were in health care.
Employers reported almost 3.2 million work injuries and illnesses in 2020, and the report repeated that's an undercount. Outside studies, including those of state workers' comp claims, show the actual rate is much higher.
The federal Occupational Safety and Health Administration still lacks enough resources and people to inspect the whole country. It would need 236 years to inspect every current workplace. And about half the states perform their own inspections, taking over from OSHA.
Some, notably Arizona, have fallen down on the job. After the AFL-CIO's report went to press earlier this month, OSHA announced it is considering yanking Arizona's certification to do its own inspections, given a decade-long track record of resistance.
But the biggest resistance comes, still, from business and its Republican political allies, said Reindel. "They try to block and stall worker protections," she noted.
There's one other big difference, Shuler noted: The injury and illness rates decline drastically when union contracts protect workers. Contracts both mandate safety coverage, and protect workers when bosses take revenge against those who complain.
"Everyone should have the right to speak out without fear and without retaliation," she declared.