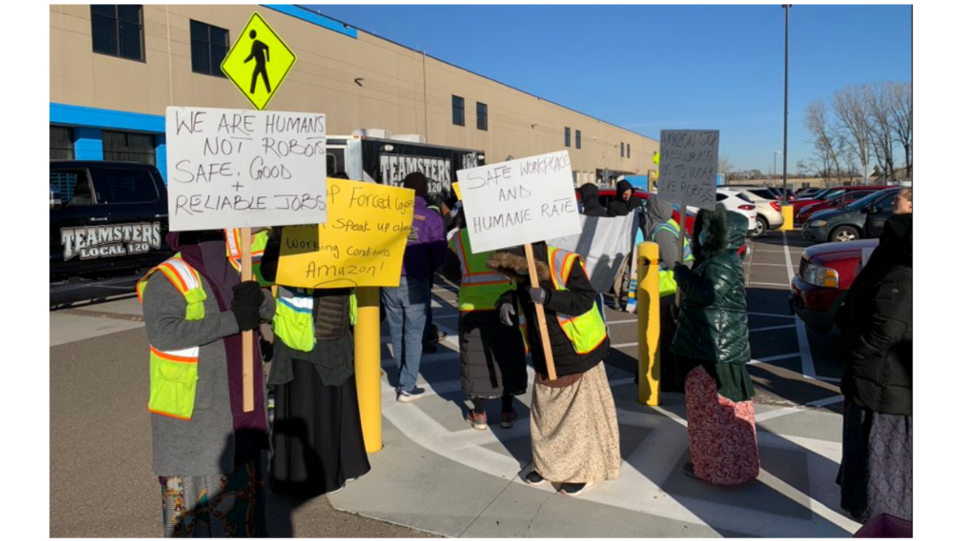 EAGAN, Minn. (PAI)—Amazon's demand that 29 workers, many of them migrants from Somalia, at its Eagan, Minn., warehouse, either change from day to overnight shifts or get laid off prompted two walkouts there in one week in early November.
The protests—reported by a news site for migrants, The Sahan Journal, the pro-worker Athena Coalition, and the More Perfect Union website—revealed Amazon's plans to the Twin Cities area and beyond. Workers faced a Nov. 12 deadline to decide what to do.
Besides opposing the "switch shifts or else" company demand, the workers also demanded Amazon make religious accommodations, not harass, punish, or fire workers who speak out, and end both the "unfair work schedules" and "inhumane workloads," the Athena Coalition reported. Many of the workers are Muslim migrants and refugees.
The two forced walkouts were the latest in a line of worker protests against Amazon in the Minneapolis-St. Paul area. The first, more than a year ago, occurred when Somali-born workers went public because Amazon would not let them take off for key Muslim holidays. With community support and publicity, they won that fight.
But the Amazon workers in Eagan are also part of the spreading nationwide movement of low-paid, mistreated, exploited, and sometimes endangered workers who are rebelling against corporate greed and repression. Others include adjunct professors, port truckers, and retail fast food workers, especially at Starbucks.
Those workers, aided by workers centers and unions, are either forming independent unions, voting to join unions, or staging their own organized protests. That's what happened at Amazon's DMS2 warehouse in Eagan.
Amazon gave the 29 day shift workers, who now toil from 9 a.m. to 1 p.m., a choice: Switch to the 8 p.m. to 1 a.m. night shift, or be cut loose on Nov. 12 with two months of severance pay, but at a lower rate than they now earn within the warehouse.
The workers responded with the walkouts to let the community know what Amazon demanded. "We are humans, not robots," one handwritten sign at one of the two walkouts said. "Safe, good + reliable jobs."
Ethan, a worker who declined to give his last name, and who is being forced to leave because he could not change shifts, told the Athena Coalition: "We were told there would be no more day shift, but we would have opportunities to go overnights here or at a different location.
"Every day we've asked management, 'What are we going to do?'…All we hear is 'There is not much we can do.'
"I just want to work. I take care of my two daughters while my wife works, and that's what's important to me…. They say they understand, but if they do, then why lie to us?"