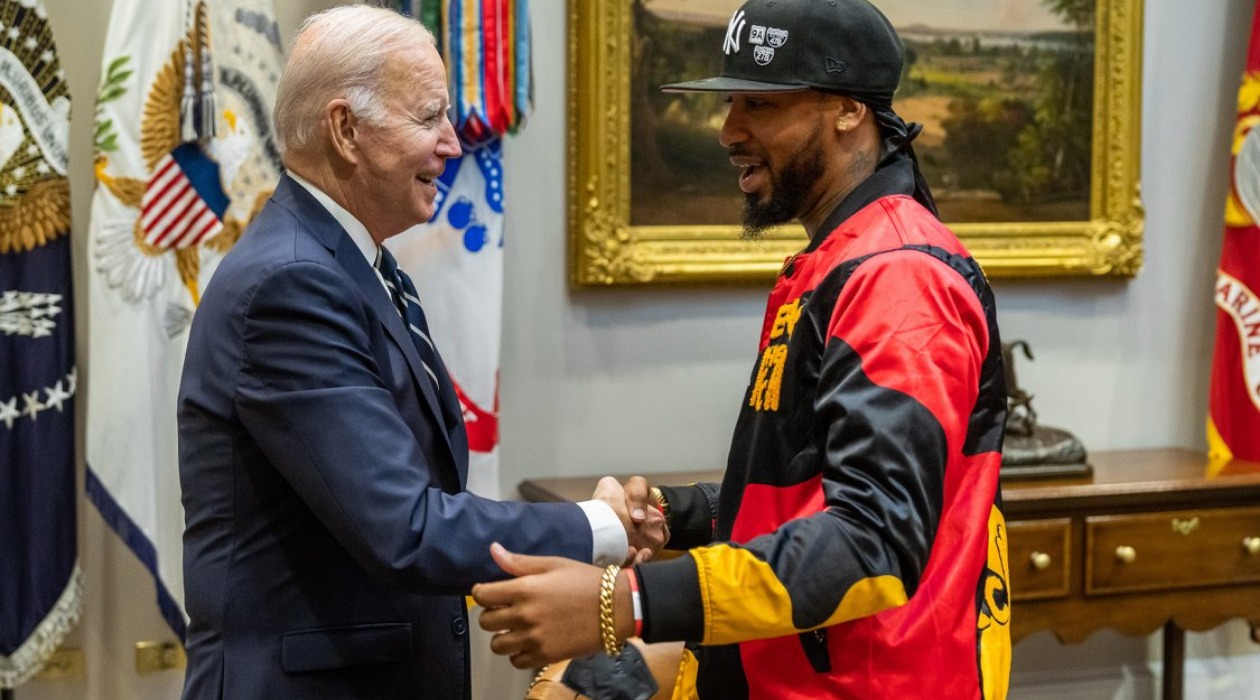 WASHINGTON (PAI)—Organizing, union wins, and corporate greed were the top topics of both workers and labor leaders in a whirlwind round of a White House meeting and a Senate hearing on Capitol Hill. And Amazon, both how to beat it and what to do about it, was a top topic of the sessions on May 5.
The worker-organizers met with Democratic President Joe Biden's task force on encouraging unionization nationwide. Amazon Labor Union President Chris Smalls detailed how his independent grassroots union beat the retail and warehouse monster in the union recognition vote almost a month ago at its JFK5 warehouse on Staten Island, N.Y.
With co-chairs Vice President Kamala Harris and Labor Secretary Marty Walsh—a Laborers Local 223 member—listening, "The workers talked about fair pay, paid leave, and health care benefits, their commitment to co-workers, and the desire for basic dignity and respect as important motivators for their organizing efforts," a White House fact sheet said.
Smalls and the other workers "also described some of the anti-union tactics deployed by some of the employers." The tactics, which failed at JFK5, included lies from expensive union-busters which Amazon, owned by Jeff Bezos, one of the nation's three richest men, hired.
Biden dropped in to chat—and to congratulate Smalls for the Amazon win and Machinist Jaimie Caldwell for both the win at the Baltimore County Public Library and for their first contract, ratified May 1, covering the library's 480 workers. The pact features raises, paid family and medical leave, and work-rule improvements, the Machinists said in their release about the meeting.
At the Senate Budget Committee, chairman Sen. Bernie Sanders, Ind-Vt., listened to Smalls, new Teamsters President Sean O'Brien, and Good Jobs First Executive Director Greg LeRoy detail how ALU beat Bezos, even though millions of dollars in federal, state, and local subsidies and contracts flow to that firm and other anti-union employers.
Sanders vehemently opposes such subsidies, and Biden has issued an executive order setting up labor standards that firms must meet to get federal contracts. O'Brien, whose union has set up an entirely new division to organize Amazon nationwide, agreed with Sanders' stand.
"To put it plainly, it is wrong for our government to be giving taxpayer dollars in the form of federal contracts to companies like Amazon," said O'Brien. "There is no excuse to reward employers who repeatedly, knowingly, and purposefully violate federal labor laws, drive down wages and standards across the supply chain, including in core Teamster industries, and create dangerous working environments."
In one example he gave, warehouse wages had risen for three years in Mercer County, N.J., until Amazon entered in 2014, O'Brien said. They fell 18% in the next four as its low pay forced competitors to drive their salaries down, too.
LeRoy, whose union-backed non-profit has compiled an extensive database of years of federal, state, and local loans, grants, tax forgiveness, and outright subsidies for hundreds of firms, laid out the extent of Amazon's government largesse: At least $4.2 billion in the last decade, including $700 million last year.
And that doesn't count utility tax and sales tax abatements and property tax rebates, he added. "Amazon is one of the most aggressive, if not the most aggressive company in America today seeking economic development subsidies," LeRoy commented.
Over that same time, Amazon has paid $62 million in fines for wage theft alone and broken job safety and health laws at least 20 times. "Why should we pay a company to make inequality worse?" LeRoy asked.
"As Chairman Sanders has said, we have the power to completely stop companies that break labor law from receiving federal contracts. So why aren't we doing it?" O'Brien added.
The feds are guilty, too, LeRoy said. In 2013, the CIA tried to award Amazon a 10-year $600 million cloud computing contract. IBM challenged and stopped it. That deal was dwarfed in 2020 when the super-secret National Security Agency awarded cloud contracts worth "tens of billions of dollars" over multiple years to Amazon, Microsoft, IBM, Google, and Oracle.
All this government cash helped fuel Amazon's anti-union campaign, Smalls testified.
"From our Staten Island campaign alone, there are over 40 unfair labor practice charges pending before the NLRB concerning everything from unlawful coercion to retaliation and wrongful termination," he told the senators. The National Labor Relations Board already cited Amazon for illegal union-busting. His own case of illegal firing is pending in New York state.
That's important. Amazon received $400 million in New York state tax abatements "and we're fighting to get this money back." A condition for such subsidies is to obey labor laws.
"We cannot allow Amazon or any other employer to receive taxpayer money if they engage in illegal union-busting behavior and deny workers' rights. We cannot provide federal contracts to these employers. We cannot allow them to receive taxpayer subsidies from our state and local governments," said Smalls.
But government subsidies to corporate labor law-breakers aren't organizers' sole roadblocks, Smalls said. Companies and Congress have so weakened labor law that organizing—much less getting a first contract—is a constant uphill battle.
He testified that can be lessened if lawmakers pass the Protect the Right to Organize (PRO) Act, labor's #1 legislative priority. The Democratic-run House has passed it, twice, but Republican filibuster threats have prevented Senate debate from even starting on it.
"We cannot allow employers like Amazon to flaunt federal law by delaying certification and bargaining processes for years on end," Smalls said. "Amazon spent tens of millions of dollars to interfere with our organizing efforts and we still won. They must recognize us and come to the table. In the end, our victory must mean something—for ourselves and for others.
"I cannot understate the importance of the PRO Act. To organize Amazon, the workers in our union had to make incredible sacrifices. They had to put their livelihoods on the line.
"Organizing should not be this difficult, and it should not be dangerous. The provisions of the PRO Act will transform the way that working-class people in this country build power. We must pass this bill no matter what," Smalls concluded.
Besides ALU's Smalls and the Machinists' Caldwell, other worker-organizers at the White House session were Laura Garza of Starbucks Workers United, Alex Speidel of the United Paizo Workers/ CWA, Rachel Gitlevich at Titmouse Productions for the Theatrical and Stage Employees, and Damien Sowell, who helped organize Manhattan retailer REI for the Retail, Wholesale, and Department Store Union.