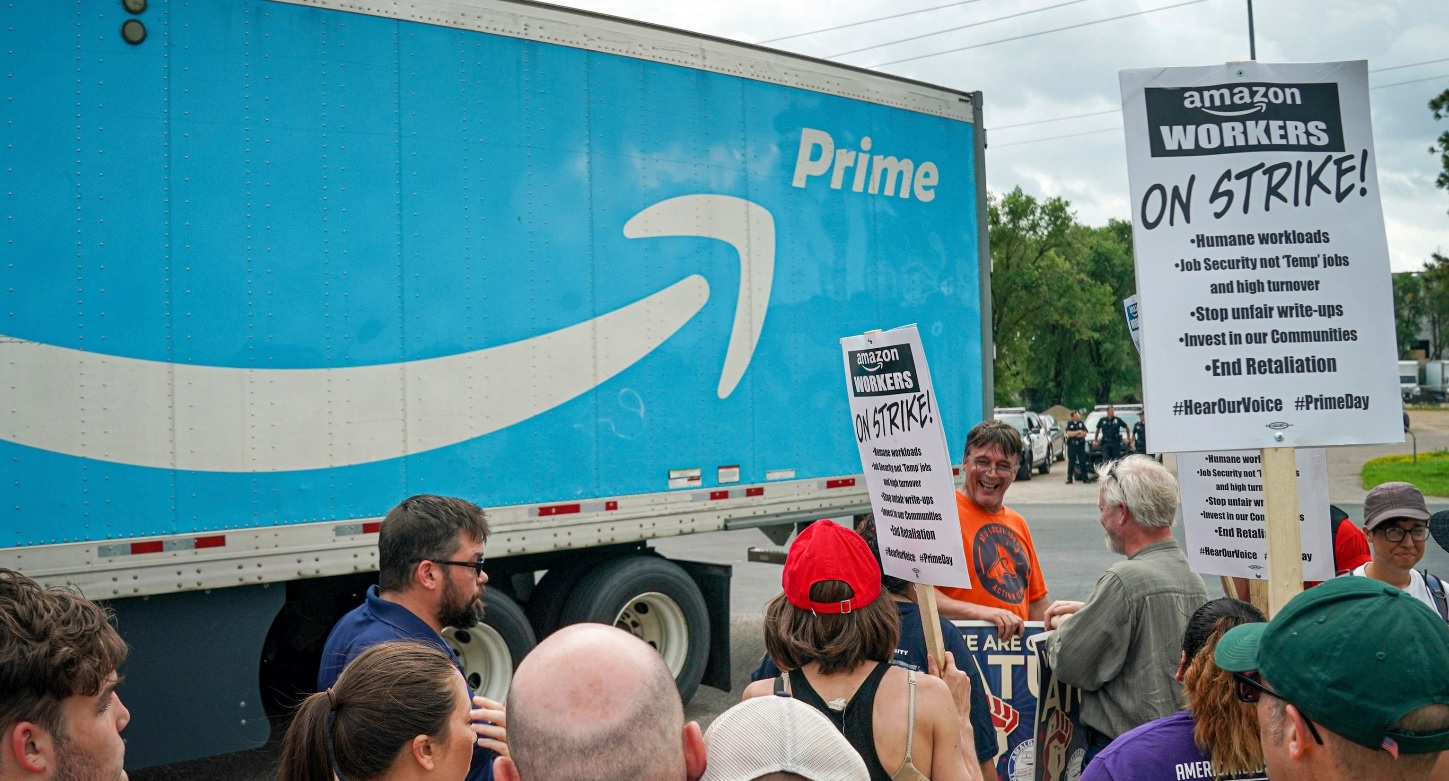 BESSEMER, Ala.—Exploited Amazon warehouse workers in Bessemer, Ala., have gone beyond walkouts on Black Friday. They filed for union recognition there with the National Labor Relations Board.
The 1,500 warehouse workers there are among the million-plus Amazon workers in the U.S., and hundreds of thousands more worldwide. In the U.S., the retail giant not only represses workers but has refused, since July, to give them hazard duty pay for their continuing exposure to the coronavirus pandemic.
Amazon's actions on all those fronts led to worldwide walkouts, most prominently led by the Ver.di union in Germany, on Black Friday, Nov. 27. Other protests occurred at Amazon facilities in Brazil, Mexico, the U.S., the United Kingdom, Spain, France, Belgium, Italy, Poland, India, Bangladesh, the Philippines, Australia and at Amazon's European headquarters in Luxembourg.
Meanwhile, NLRB Field Examiner Lanita Cravey scheduled a Zoom teleconference hearing for Dec. 11 on the workers' petition to organize with the Retail, Wholesale and Department Store Union, a UFCW sector.
RWDSU's Amazon organizing drive in Bessemer is important for several reasons:
The monster retailer, owned by the world's wealthiest person, Jeff Bezos, is viciously anti-union and anti-worker, and a breakthrough at Bessemer would encourage other exploited Amazon warehouse workers to unionize. The organizing drive is occurring in the notoriously anti-worker anti-union Southern state of Alabama, although the Steelworkers have unionized tire plants there.
Unions have faced not just Southern government and class hostility but also constant divide-and-conquer tactics from bosses, manipulating racial tensions and class conflicts.
Amazon has constantly mistreated its workers, even before the coronavirus pandemic hit. Examples include denying time off for Muslim holy days to warehouse workers in the Twin Cities, most of whom are Somali refugees.
Workers who have spoken up have been fired. Amazon also refuses to officially disclose how many workers have tested positive for the coronavirus and how many have died.
RWDSU had no official comment specifically on the Bessemer organizing drive, but it posted two tweets on Black Friday criticizing the monster retailer's exploitation of workers—a theme of the worldwide MakeAmazonPay campaign that day.
"Amazon takes too much and gives back too little," the first said. "Amazon has grown into a trillion-dollar corporation while Amazon warehouse workers risk their lives on low pay.  We all know this is wrong. It's time to #MakeAmazonPay!"
But in a Black Friday statement, RWDSU President Stuart Applebaum criticized Amazon and declared its workers need pandemic protection.
"Retail workers experience heightened stress and pressure during the holiday season, even in normal times. However, this year that stress is exponentially increased because of the serious health and safety risks resulting from the pandemic. Workers are in public-facing jobs; and they interact with larger numbers of customers during the holiday season, risking their own exposure to COVID-19 as well as possibly bringing it home to their families," he said.
"Customers can limit the exposure workers face by wearing a mask at all times while shopping, sanitizing their hands before and after entering a store, staying 6-feet apart from workers and other customers and most importantly, treating workers with dignity and respect while they shop. This holiday season, retail workers need customers to do everything they can to help keep everybody safe."
MakeAmazonPay, an international federation of unions, public interest groups, religious groups and at least one scientific group, posted a five-goal statement explaining the worldwide protests. Demanding unionization was one of the five.
Specifically, the campaign demands Amazon " end union-busting, respect the workers right to organize and unions' rights…and stop all spying on workers and organizers."
It also demands union access to Amazon worksites, a ban on retaliation, and bargaining with unions "wherever they are present to reach collective agreement" on wages, benefits and working conditions. And Amazon should recognize workers' rights throughout its supply chain, and implement ways for more-democratic decision-making, including offering stock to workers.
"During the Covid-19 pandemic, Amazon became a trillion dollar corporation, with CEO Jeff Bezos becoming the first person in history to amass $200 billion in personal wealth," the statement said.
"Meanwhile, Amazon warehouse workers risked their lives as essential workers, and faced threats and intimidation if they spoke out for their rights to a fair wage."
On Oct. 2, some 35 Amazon workers at its Shakopee, Minn., warehouse in the Twin Cities suburbs walked out after the firm fired worker Farhiyo Warsame for complaining about lack of personal protective equipment against the virus and forced speedups at the warehouse, Workday Minnesota editor Filiberto Nolasco Gomez reported. It was the second such firing-then-walkout sequence in Shakopee in the last seven months.
"Workers at MSP1," the Shakopee warehouse, "and around the country have voiced growing fears that Amazon is using its 'time off task' policies to target and retaliate against workers for raising safety concerns. Amazon uses 'time off task' to enforce productivity rates," rather than protecting themselves, by, say, washing their hands to protect against the virus, Workday added.
The Make Amazon Pay statement also slammed Amazon's refusal to pay its fair share of taxes in the nations it operates in. "Amazon is not alone in these bad practices but it sits at the heart of a failed system that drives the inequality, climate breakdown and democratic decay that scar our age. The pandemic exposed how Amazon places profits ahead of workers, society, and our planet," it added.