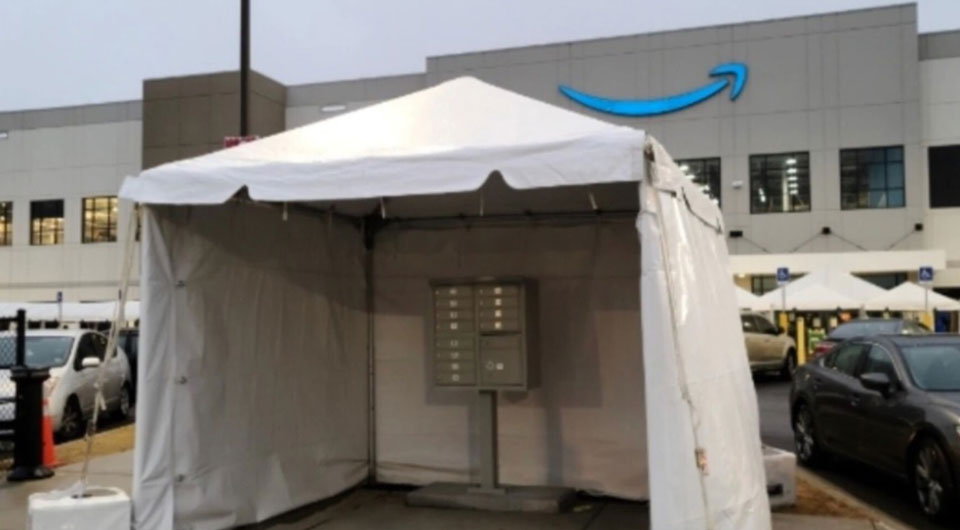 STATEN ISLAND, N.Y.—The Amazon Labor Union marches on. The independent from-the-bottom-up worker-organized union has filed enough National Labor Relations Board union recognition election cards to qualify for votes at two of the monster retailer-distributor's four warehouses on Staten Island, so far.
If it wins the elections at JFK8, the warehouse where the whole drive got started, and LDJ5, the union would represent a total of 6,500 workers, NLRB records show.
The filings are further indications of the mounting unionization drive at Amazon, fueled by low pay, terrible working conditions, line speedups, and company refusal to protect—or even inform—workers against the coronavirus pandemic.
Meanwhile, the Retail, Wholesale and Department Store Union, a sector of the United Food and Commercial Workers, has been campaigning, a second time, to ensure the 5,000-plus workers at the Amazon warehouse in Bessemer, Ala., vote union this time.
RWDSU lost there a year ago after rampant Amazon labor law-breaking and a multi-million-dollar company campaign featuring union-busters, constant monitoring, and an illegal mailbox which made it look like Amazon, not the NLRB, was running the show.
The offending mailbox led the board to set aside the first vote and ban Amazon from stationing the box in the parking lot at the Bessemer warehouse's front door. The mailbox was moved elsewhere in the lot for the second vote. That upset the union, which felt it should have been yanked.
The board also ordered Amazon to post a notice saying it would not break labor law again. But, as is usual, there were no fines or penalties for corporate anti-worker crimes.
The Amazon organizing drive is similar to those by warehouse workers, fast food workers, Starbucks baristas, port truckers in Los Angeles-Long Beach—who, working through the Teamsters, just filed an NLRB election authorization petition there covering one big trucking firm—adjunct professors and graduate student resident assistants and teaching assistants.
The difference in Staten Island, says Chris Smalls, whose illegal firing by Amazon two years ago, for leading a lunchtime walkout at JFK8 over lack of coronavirus information and protection, is they're not relying on existing unions, top politicians, or prominent supporters.
"We didn't fall into those rabbit holes," Smalls told a February 5 panel sponsored by the CPUSA's New York City club and Friends of the People's World. The session discussed the Protect The Right To Organize (PRO) Act and other workers' issues, campaigns, and causes. "This is going to take the people to get it done," he said.
"We're not going to fall into or policy or politicize it. None of that s— energizes the workers."
"There's no AOC," he said, referring to Rep. Alexandria Ocasio-Cortez, D-N.Y., a leader of the anti-establishment, pro-worker "Squad," in the U.S. House. "There's no Jamal Bowman," he said of another first-term New York Democratic House member, Squad member, New York school principal, and member of the School Administrators.
"They have yet to give us support because we have no political ties. We are misfits—and we don't even need it."
"And when you're a third party or an established union, you can't just go in a building and get the percentage you need" of workers to sign union election authorization cards.
The organizing drives by the Amazon Labor Union and RWDSU, plus a plan by the new insurgent Teamsters leadership to expand a recently launched multi-year national drive to unionize the monster are part of a mass movement by underpaid exploited low wage workers from coast to coast to take matters into their own hands and unionize.
All are confronting Amazon owner Jeff Bezos—one of the three richest men in the U.S.—who spent millions of dollars on union-busters, and broke labor law,  to beat RWDSU the first time around, a year ago. Then, they drew union active and vocal support from Democratic President Joe Biden, Sen. Bernie Sanders, Ind-Vt., civil rights leaders, actor Danny Glover and others.
And the Teamsters are organizing a new entire department, and plan to dedicate millions of dollars, to organizing Amazon. The union views the retail monster as "an existential threat" to its members at UPS and other delivery services, incoming President Sean O'Brien of Boston says. He takes over in March.
In the talk to the group in Manhattan, Smalls also emphasized other advantages he believes the Amazon Labor Union has. One is that it is member-run and not bound by traditional, often top-down union structures.
Another is the four Amazon warehouses in Staten Island have been operating for four years, while Bessemer had been open for only a year when workers there first approached RWDSU. The longer time in New York gives organizers more weeks to talk with their colleagues on the warehouse floor, Smalls said.
It also provides a bigger target for Amazon' union busters. The NLRB's Brooklyn regional office, which covers Staten Island, arranged a February 18 meeting between the union and the company to discuss which workers are eligible to vote, NLRB Press Secretary Kayla Blado said. Amazon could use that meeting to try to "define" the voters to its advantage.
There are more in-the-warehouse pro-union workers trying to organize their colleagues, Smalls claimed. He said RWDSU had only two lead in-plant organizers in Bessemer.
That's important "because Amazon has a 150% turnover" in its workforce. "You have to have workers organizing workers," Smalls declared.