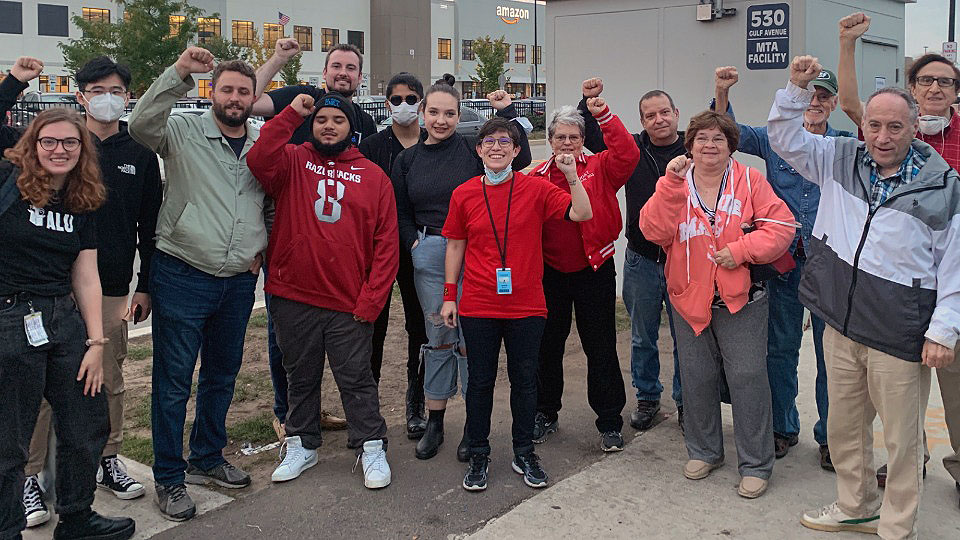 STATEN ISLAND, N.Y.—"Billionaires have gotta go!" chanted the crowd outside the Amazon Fulfillment Center here at a rally Monday, Oct. 25. The cheers came following the announcement by Amazon Labor Union (ALU)—the workers' group attempting to organize the facility located in the northwest corner of the island—that it had collected well over 2,000 union cards and successfully filed its petition to call a union certification vote.
Chris Smalls, a former Amazon employee who was laid off in March 2020, told those assembled, "We planned this rally without the Amazon management knowing because, otherwise, they would reroute the busses so nobody could see all of this. This is a surprise attack that you all showed up today to stand in solidarity with us. Now, let's take our victory lap."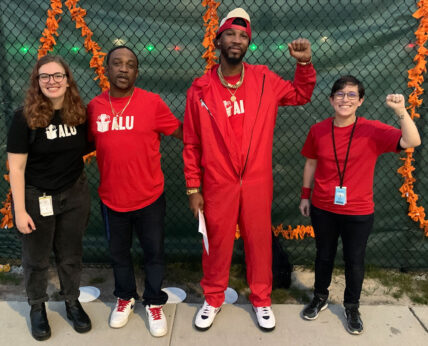 The crowd responded with: "What do we want? A union! When do we want it? Now!"
ALU representative and former Amazon worker Gerald Bryson asked the rally, "What more evidence do you need to see that a union is necessary here? I was fired on my day off, but I'm still out here every day to stand up against their crimes."
Speaking about the on-the-job experience inside an Amazon warehouse, Justine Medina, who's been with ALU since September, testified:
"This job is hell on your body, it's the most physically demanding work I've done in my whole life. It has insane and unrealistic performance standards and quotas that are set to be impossible. Co-workers get into accidents or get injured every day. I have colleagues who are pregnant and are not allowed to sit down. If you take too long to go to the bathroom, you get written up."
Medina continued:
"I live in Harlem, but I stay with a friend on Staten Island and it still takes me an hour by bus to get here. People coming from Uptown Manhattan or Bronx commute over 2 hours each way. If you're late to work, you can get fired, since they commodify your unpaid time in a 'time bank.' So if you're six minutes late, they take away one hour of unpaid time. You get 10 hours to start with, and your shifts are 10 hours long. Once your unpaid time bank is up, you're fired. One worker I know injured his foot and was about to be sent home, but when they realized he had no more time in the time bank they told him to go back to work."
In an interview with People's World, Medina said, "There's something enjoyable and fulfilling about doing inventory work." However, "since all the dignity is taken out of it and they don't pay us a living wage, it's just not worth it."
It doesn't have to be that way, though, according to Medina. "The ability to sit down, take a bathroom break when you need it, and perhaps a $30-an-hour wage—which Amazon could well afford—might make this all worthwhile."
Workers at Amazon facilities regularly describe the work as "modern-day slavery conditions." Amazon is known for shortening breaks, taking away access to cellular devices, and having a lack of windows in its fulfillment centers.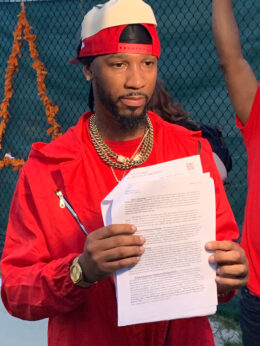 "We feel like robots," one worker at the Monday rally said. "You move too fast and you can hurt yourself. There is no downtime and we are scared to do anything outside of our stations so that we don't get written up."
Another worker revealed, "There are elderly people who aren't allowed to sit down and avoid using the restroom all day to not get in trouble."
At the height of the coronavirus pandemic, Amazon provided a hazard pay wage supplement. It was gradually taken away starting in early 2021 and was completely gone by the summer, despite the ongoing dangers of COVID-19 and even while workers were receiving emails from management warning of infected employees on the floor.
One 22-year-old worker stated, "My doctor told me to quit due to the wear and tear on my body, but I can't quit or even reduce my hours because I need this job to survive."
Another former Amazon employee said, "Around the beginning of the pandemic, I noticed a lot of workers stopped coming in and I've never heard from them again. They could have died. We were 'essential' workers sending necessary items out to the world according to management."
The next steps on Staten Island are up to Amazon management, which has yet to react to ALU's announcement. Workers still need to be convinced to vote yes when the certification election happens, and ALU members are calling for solidarity from fellow workers, other unions, and community members They want to push for unionization on Staten Island but also build turnout for a Black Friday event at Jeff Bezos's New York City residence after Thanksgiving.