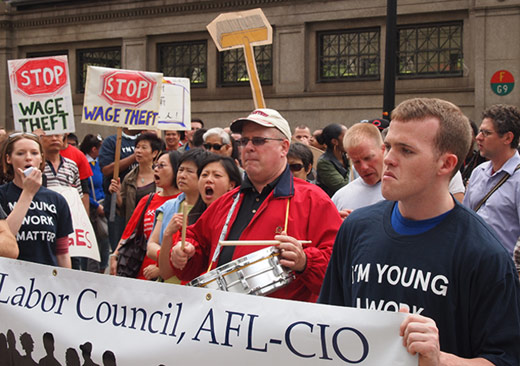 BOSTON – If you need proof that America has a problem with wage theft, look no further than the AMC Loews movie theater in downtown Boston. Several years ago, six janitors contracted to work at the theater hadn't been paid for their work in months. When they finally spoke up, the contracting company fired them all.
Nationwide, wage theft costs workers billions of dollars every year. After joining the Chelsea Collaborative in assisting the AMC Loews workers, the Greater Boston Labor Council, Community Labor United and their allies were able to win more than $29,000 in back wages for the workers. After the settlement, the GBLC and CLU decided that more action was needed, so they launched a campaign to fight for an end to wage theft in the city of Boston. They found an outspoken ally in Boston Mayor Marty Walsh, who had been the former head of the Boston Metropolitan Building Trades Council prior to his election in 2013. After months of hard work, negotiation and collaboration, Walsh passed one of the strongest wage theft executive orders in the country in late October.
"Right now, too many workers are on their own when faced with wage theft," said Darlene Lombos, executive director of Community Labor United, a coalition of community and labor organizations. "This ordinance will allow Mayor Walsh, Boston's progressive community and labor movement to fight for our most vulnerable residents and tackle the issue of income inequality head-on. Wage theft is rampant, but now we can even the playing field with another tool to root out employers who are cheating workers out of their hard-earned wages."
Companies who refuse to pay their workers often use the excuse that they don't have the money at the moment to pay in full-or at all. The wage theft executive order calls their bluff by requiring any city contractor bidding on a contract to purchase a wage bond for one year-an insurance policy that ensures they have the money to pay their workers.
Any company currently in a contract with the city cannot have had any reported violations in the past three years; if so, they also are required to buy a wage bond. In addition to withholding wages, the ordinance counts violations such as nonpayment of overtime pay and paying workers less than the minimum wage. Contractors also are held accountable for the behavior of their subcontractors, extending additional protection to workers who would otherwise have been ineligible for back pay.
"Wage theft is a far bigger problem than street and highway robberies, convenience store robberies, bank robberies and gas station robberies combined," said Rich Rogers, executive secretary-treasurer of the Greater Boston Labor Council. "In Boston, thanks to the dedicated efforts of the city's progressive and labor communities, paired with courageous leadership from Mayor Walsh, perpetrators of this crime will finally face the consequences of their actions."
Rich Rogers is the Greater Boston Labor Council executive secretary-treasurer, and Darlene Lombos is the executive director of Community Labor United. The above article and photo appeared in the AFL-CIO Now Blog.