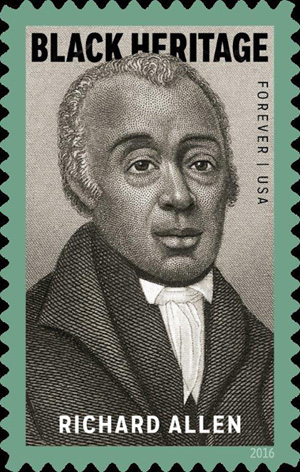 With his legacy of determination, charity, and faith, Richard Allen (1760-1831) was an inspiring figure whose life and work helped shape American history. After purchasing his own freedom from slavery and making a name for himself as a traveling minister throughout the Mid-Atlantic, Allen quickly rose to prominence as a civic leader, successful businessman, and pioneering church official.
In 1794 he founded the African Methodist Episcopal Church (AME), the first independent black denomination in the United States. He opened his first AME church that year in Philadelphia.
Elected the first bishop of the AME Church 200 years ago in 1816, Allen focused on organizing a denomination where free blacks could worship without racial oppression and where slaves could find a measure of dignity. He worked to upgrade the social status of the black community, organizing Sabbath schools to teach literacy and promoting national organizations to develop political strategies.
The new stamp from the United States Postal Service in its Black Heritage series coincides with the 200th anniversary of Allen's election as bishop of the AME Church, which continues to thrive today with more than 2.5 million members. The stamp was issued on February 2, 2016, in Philadelphia.
For more information on Richard Allen, see here.
Sources including photo: USPS and Wikipedia.