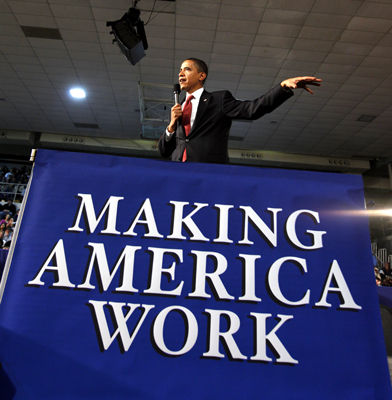 CHICAGO — Cindy Green, 41, is a clerk at Citibank. Her husband, who repaired air conditioners and heating units, lost his job 28 weeks ago. "I am scared to death about this," she said, "because everything we have worked so hard for seems like it can fall apart. What if my husband can't find another job? My son graduated with a BA last June and so far landed jobs only at Old Navy and Starbuck's."
The story of the economic crisis engulfing this city and the nation is in the homes of millions where a family member has lost a job, where parents are struggling to pay a mortgage and where college tuition is now an impossible dream.
The story is in the lives of people interviewed by the World Feb. 9 at the Van Buren Street Metra Station here who were simultaneously scared to death and angry but also hopeful, ready to fight back, and confident that things can change. They lent their voices to a rising national chorus in support of the president's economic recovery plan.
Green said she supported the president's economic recovery package and that she was angry "beyond the words you can print" about Republican attempts to water it down. "I don't have much faith in Obama's ability to bring along most of the Republicans," she said, "because it was them and their ideas that got us into this mess in the first place."
President Obama went on a week-long barn-storming tour across the country to Indiana and Florida and held his first press conference where he stressed the plight of families like the Greens and, in sharp tones, tore apart GOP claims that his plan would just create more government jobs and wasteful spending.
"It's a little hard for me to take criticism from folks about this recovery package after they presided over a doubling of the national debt," he declared at the news conference. "I'm not sure they have a lot of credibility when it comes to fiscal responsibility."
Obama jetted into Elkhart, Ind. where problems like those the Greens face are particularly acute – the unemployment rate there tripled to more than 15 percent in the last year.
Tired after his shift as a traffic controller on Michigan Ave., Horace Wilson sipped a container of coffee as he waited for his train at Van Buren Street. "I am not afraid," he said, "but I'm mad as hell about the politicians who say we don't need the stimulus deal. They are on another planet out there in Washington. I'm 22 years on the job and I'm having trouble with my mortgage. My best friends have no health coverage. This station needs to be fixed – leaks all over the place – and they condemned the school building on my block. Obama is talking about a plan to rebuild right here and now in our neighborhoods and streets and that is where we need to be putting that money."
Doris Kelly, a 19 year-old student at DePaul University, and a first time voter this year who backed Obama, said she, as a student who wants to become a social worker, was unhappy about the "ability of some power brokers to remove from the Obama plan much of the money that was supposed to go to state governments and for education. I hope that some of that can be put back in."
Some saw the reductions as the result of too much emphasis by the president on "bi-partisanship" at the expense of pushing hard for a stronger stimulus bill but most said they trusted that Obama "knows what he is doing." Jeanette Marshall said, "We're in a mess but at least we have someone good in the White House. I think he will stick to his guns."
The presidential barn-storming came after the Labor Department released figures that showed the economy shed 600,000 jobs in January, with more than 3.7 million jobs lost so far during this recession. Half those losses occurred in just the last three months.
After the figures were released Lawrence Mishel, president of the Economic Policy Institute, said, "Eighteen or 19 percent of workers are unemployed or underemployed. And it's far worse for African Americans, who are 18 percent unemployed and 30 percent underemployed. That, of course, means lower wages and less income for everyone."
Mishel said the Obama plan "will generate spending and create jobs, especially where it puts money into infrastructure repair or into the pockets of people who will spend it." He warned against increasing business tax breaks because, he said, "they don't really generate much spending or create jobs."