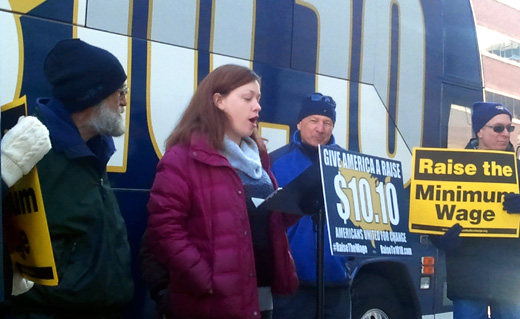 PORTLAND, Me. – As the America Needs a Raise bus pulled into Portland for its second stop on a ten state tour, Mayor Michael Brennan stood at City Hall, flanked by local business owner Anne Rand and minimum wage earner Tabitha Weyland, to welcome the effort.
"I believe the people of Portland need a wage increase to make sure the people who are going to work here can live here," he said. Nearby, one woman held a sign, "Can't Survive on $7.25."
The 18-city tour began in Bangor that morning where Rep. Michael Michaud spoke on behalf of the raise exclaiming that hard working Mainers "should be able to make ends meet."
According to a recent study, a family in Portland needs $56,643 to be self sufficient. Full time workers earning the state minimum wage of $7.50 an hour only bring home $15,600.
Increasing the federal minimum wage to $10.10 would give a raise to 121.000 workers in Maine – the majority of them women – would generate over $97.3 million in economic activity according to a new report released to coincide with the bus tour by the Center for American Progress Action Fund.
The report includes extensive research on the economic impact of raising the minimum wage, It shows that the increase would benefit the entire Maine economy by putting more money in the pockets of workers, who would spend it locally and create a greater demand resulting in businesses hiring more workers.
The Maine Restaurant Association disagrees, claiming that the wage increase, which includes an increase in wages for tipped workers, would lose thousands of jobs because owners would hire fewer people.
But the manager at Miguel's Mexican Restaurant in Bangor, who raised the minimum wage for workers there to $10.10 after President Obama's State of the Union address, refuted that claim. "Our doors are still open," said Sean Garceau. "We feel it's up to small businesses like us to not wait and to act now."
"For decades now, America's middle class and working poor have lost tremendous ground due to a lopsided economy that works for the wealthy few," said Lori Lodes, in issuing the Center for American Progress Action Fund report. "Raising the federal minimum wage to $10.10 an hour is a critical first step to giving hardworking Americans a better opportunity to get ahead while giving the economy a much-needed boost."
A report released earlier this month by the Center for American Progress found that raising the minimum wage will not only benefit workers and the local economy, but also will reduce taxpayer costs. It is projected that raising the minimum wage to $10.10 will save the federal government $46 billion in 10 years by reducing participation in the Supplemental Nutrition Assistance Program (SNAP). A state-by-state analysis in the report found that 14,323 to 16,567 Mainers would no longer need SNAP if the minimum wage were increased, saving the federal government an estimated $24.6 million.
The "Give America A Raise" bus tour will end in Washington, D.C., at an event outside the U.S. Capitol on April 3, after visiting New Hampshire, New York, Pennsylvania, Ohio, Illinois, Wisconsin, Kentucky, West Virginia and Virginia. The U.S. Senate is expected to vote soon on the Fair Minimum Wage Act introduced by Democratic Sen. Tom Harkin of Iowa with a companion bill introduced in the House by Rep. George Miller, both of which the bus tour is supporting.
Photo: Outside city hall, Mayor Michael Brennan listens to minimum wage earner Tabitha Weyland with the America Needs a Raise bus tour. Eric Blumrich,