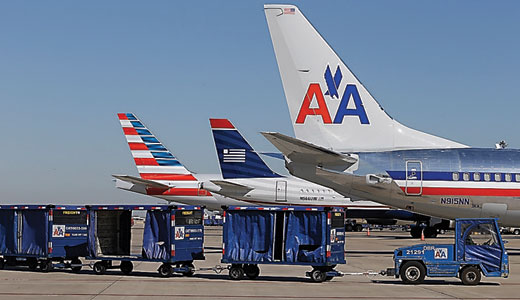 WASHINGTON – Facing questions at federal agencies and in the courts about the planned merger of American Airlines and US Airways, the three unions representing most of American's workers joined an open pro-merger ad campaign.
And one of the three, the Transport Workers, is working closely with a bipartisan group of lawmakers to ensure that workers who got one-time lump-sum payments when the two airlines terminated their pension plans could defer taxes on 90 percent of the cash, as long as workers roll the money over into Individual Retirement Accounts.
The ad campaign is a full-page spread in major publications. Its headline declares that "Workers agree: This is the right direction. 100,000 workers support the merger between American Airlines and US Airways." Newamericanarriving.com, a management-created website, bought the ads.
Texas-based American, which filed for bankruptcy reorganization late last year, would merge into US Airways. The combined carrier would keep American's name. The federal bankruptcy court in New York will hold an August 15 hearing on the merger.
"It's not very often that you find workers in agreement in the airline industry," the ad, supported by American's three unions, continues. "Which is why it is noteworthy that unions representing US Airways and American" workers "support the merger."
"Pilots, flight attendants, and Transport Workers all support industry standard compensation and benefits that will bring more competition to the skies. In the new world of aviation, this is a new airline built for growth," the ad concludes. It refers readers to the website and to the airlines' filings with federal authorities.
The Transport Workers, an AFL-CIO union, and the independent unions that represent American's pilots and flight attendants support the merger. TWU represents ground personnel at both airlines. Unions representing US Airways pilots and the Association of Flight Attendants-CWA, which represents US Airways attendants, also back the merger. The US Airways unions did not sign the ad.
The Justice Department and 19 state attorneys general, including the AG from American's home state of Texas, are reviewing the merger for anti-trust and anti-competition implications. And San Francisco antitrust lawyer Joseph Alioto, son of the city's former mayor, sued in federal court there on July 11 to block the deal. Speaking, he said, for 40 consumers, Alioto said if the merger goes through, it would reduce competition among airlines nationwide, because only four airlines — United, Delta, Southwest, and the combined American – would control 90 percent of the U.S. airline market. Alioto has lost prior suits against other airline mergers, however.
Photo: The merged airline will retain the name "American Airlines." AP