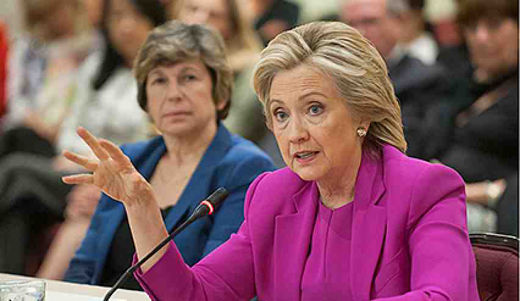 WASHINGTON (PAI) – The American Federation of Teachers executive board endorsed former Secretary of State Hillary Clinton for the Democratic presidential nomination. Its convention, next year, will make a general election endorsement.
The announcement, by AFT President Randi Weingarten during her keynote address on July 13 to the union's Teach 2015 professional development conference in D.C., drew a long and loud ovation from the 2,800 delegates there. The endorsement occurred July 11.
"There are candidates who respect the vital work that we do," educating the nation's kids, Weingarten declared. All three Democratic hopefuls that the board and rank-and-file teachers interviewed – Clinton, Sen. Bernie Sanders, Ind.-Vt., and former Gov. Martin O'Malley, D-Md. – "didn't flinch, nor did they flounder," she said.
"Each of them are great people and each of them said, in no uncertain terms, that elected leaders must respect educators and work with them and their unions.
"One said, 'Where I come from, teachers are the solution'" to society's problems. That hopeful, Clinton, added that "'I strongly believe unions are part of the solution, too,'" said Weingarten. So with a 3-to-1 ratio on AFT members responding to union polls demanding an endorsement now, and the same ratio demanding Clinton, the union's board voted to do so.
AFT's endorsement breaks the barrier the AFL-CIO tried to erect against unions, state federations and other labor bodies making early endorsements for the presidency. AFT, with 1.6 million members, says it is the AFL-CIO's second-largest union, behind AFSCME.
At the same time AFT's board and members interviewed Clinton, O'Malley and Sanders earlier this year, Clinton met with the Lily Eskelsen-Garcia, president of the larger teachers union, the National Education Association. NEA's 7,000-delegate representative assembly, meeting in early July, did not endorse anyone.
AFT said the Clinton endorsement came not only from scientific polling but from town hall meetings, online forums and union calls to one million of its members.
AFT also invited all the GOP hopefuls to participate in its endorsement process, but none of them even responded to the questionnaire, Weingarten said. Their attitude, she said, was dismissive.
The Republicans are part of the crew of "privatizers, polarizers, austerity mongers and deprofessionalizers – and even some public officials, who will remain nameless – who pushed a false narrative by saying you can improve education by starving public schools, criticizing them relentlessly, peddling private alternatives, demonizing those who do the work and marginalizing those who fight back."
As Weingarten gave out that description, pictures of some of those public teacher foes flashed on the wall behind her. They included Gov. Scott Walker, R-Wis., and former Gov. Jeb Bush, R-Fla., both Republican presidential hopefuls.
While the delegates hailed the endorsement, AFT dissenters – including the vice president of the Washington, D.C., Teachers Union – took to social media to object. Among other issues, they said there were no phone calls and questioned whether a poll of 1,150 likely Democratic-voting AFT members really represents the union. Many also said the endorsement was engineered to stop Sanders, viewed as more progressive than Clinton, from gaining further momentum against her.
In a later interview with the three reporters who covered the conference, Weingarten put the union's endorsement in the context of a massive shift in conversation about education in the U.S. – a shift that she declared AFT started three years ago. That shift is centered around scrapping the Bush-era No Child Left Behind federal education law and its teach-to-the-test penalizing of students and schools, she said.
Both the House and the Senate have virtually dumped NCLB. The Senate's bill – which AFT backs – would return federal education law to its original purpose of helping students who need help the most, she said. The House bill cuts education aid and shifts it to richer schools.
The Senate bill also adds "other meaningful measures" of school and student improvement beyond test scores and graduation rates, Weingarten said. NEA President Eskelsen-Garcia says much the same thing, commenting senators adopted "a dashboard" of school improvement measurements.
"If the Senate passes its (education aid) bill" – which Weingarten admits "is not perfect" – then "there will be a lot of pressure on the House," including pressure from teachers, to agree to it, she told the reporters.
In her speech, Weingarten said the shift has seen teachers go from defense a decade ago, against the forces of privatization and the right wing, to offense. Now, teachers stand up, recruit and retain community allies, and campaign for quality schools, sufficient funds and getting a large role in education, working with the community and administrators, in everything from staffing to curriculum to wrap-around support services.
The shift and its impact made up a large portion of Weingarten's speech and the interview. The teachers now "use their professional voice" in Washington, in cities and in states, to agitate for, and win, improvements in schools, she said.
"There's a change in, at least elected Washington, and I've seen it around the country, too," she told the reporters. "You don't see it in the Chamber of Commerce or the Department of Education, which is giving us the 'same old same old'" business-oriented school model.
Photo: AFT website.