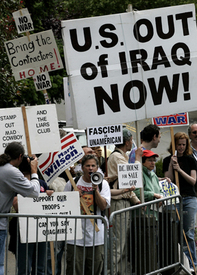 WASHINGTON — The toll of U.S. war dead in Iraq hit 2,500 last week and Democratic lawmakers took to the floor of the Senate and House to demand that the war end and the troops be brought home. They were responding to the surging opposition to the war among their constituents in an election year. The Republican congressional leadership orchestrated a limited debate to expose Democrats' divisions on the war. But the plan backfired as Democratic lawmakers pressed a series of amendments that move toward withdrawal of troops from Iraq.
During a 10-hour House debate June 16, Minority Leader Nancy Pelosi (D-Calif.) branded the invasion and occupation of Iraq a "grotesque mistake." She added, "The administration continues to dig a hole. They refuse to come up and see the light." Rep. Dennis Kucinich (D-Ohio) said, "Only the American people can bring an end to this war. … It is time for an end to our national sleepwalk through the graveyard of the Iraq war."
Rep. Jesse Jackson Jr. (D-Ill.) blasted the Republican leadership for smearing Democrats as "weak" on national security. "The real issues in the debate over Iraq are that we went to war based on a set of lies by the Bush administration," Jackson charged. "Americans are less secure at home and around the world today than they were before 9/11 because of Iraq."
Rep. John Murtha (D-Pa.), sponsor of an amendment calling for withdrawal, decried Bush's "failed policy," adding, "It's time to redeploy and be ready."
Murtha blasted the baiting attack on Democrats by Bush's chief political strategist Karl Rove. Speaking on "Meet the Press" on June 19, Murtha said Rove is "sitting in his air conditioned office on his big, fat backside saying 'stay the course.' That's not a plan. … We've got to change direction."
The Republicans rammed through a resolution against setting a timetable for withdrawal by a 256-153 vote, with 42 Democrats joining all the Republicans.
Nevertheless, the vote showed growing opposition in Congress to the war. "Seventy-five percent of House Democrats voted to set a deadline to end the war," Judith Le Blanc, co-chair of United for Peace and Justice, noted. "It dramatizes the importance of the 2006 midterm elections when we see that our efforts are paying off. We should be involved
wholeheartedly in the struggle to change the composition of Congress next November, pressing every candidate to come out against the war, registering voters and helping get them to the polls."
Significantly, the House voted 376-50 on June 21 against an amendment by Rep. Steve King (R-Iowa) to strip out a provision of the defense spending bill preventing funds from being used to establish permanent bases in Iraq. Rep. Barbara Lee (D-Calif.), author of a similar provision that passed by voice vote last winter but was removed by Republican leaders in a conference committee, hailed the vote, calling it "a vote against an open-ended military mission in Iraq."
In the Senate, Dianne Feinstein (D-Calif.), who voted for the resolution authorizing the invasion of Iraq in 2002, told her colleagues the occupation is "bogging down," adding, "I don't know why we are so afraid to stand up and say, 'Look, we want to see an end to this thing.'"
Democrats introduced a flurry of measures aimed to withdrawal from Iraq.
Sens. John Kerry (Mass.) and Russ Feingold (Wis.) introduced an amendment calling for withdrawal of U.S. troops from Iraq by July 1, 2007. Kerry said he made a "mistake" in voting for the war authorization in 2002. Feinstein joined Sens. Carl Levin (Mich.), Jack Reed (R.I.), Ken Salazar (Colo.) and Hillary Clinton (N.Y.) in introducing an amendment calling for beginning phased withdrawal from Iraq in 2006 and asking the president to submit a plan by the end of 2006 with estimated dates for continued phased redeployment out of Iraq.
Paul Kawika Martin, Peace Action organizing and policy director, said the Republicans' stage-managed debate was "political theater" with many lawmakers "engaged in posturing while our troops and Iraqis are dying every day." He praised those "honest members who are doing their best to get the troops out of Iraq. They deserve our support. We should be putting pressure on the lawmakers to speak out against this war."
In clear violation of the principle of civilian control of the military, the Pentagon sent Republican lawmakers a 74-page "battle plan" filled with "talking points" on why the occupation must continue. Several copies were sent to Democrats by mistake which the Pentagon attempted to retrieve.
"This is the way the Bush administration has been running this country since they took office, subverting democracy, undercutting the Constitution and the rule of law," Le Blanc commented. It shows, she added, that the Republican right is "worried about a change in Congress. They are increasingly desperate to hold on to their slim majority. It should keep us on our toes."
"They may try to pull a July, August or September surprise, unleashing a pre-emptive war on Iran or North Korea," Le Blanc said. "We need to keep up the mass protests in the streets against another military adventure."