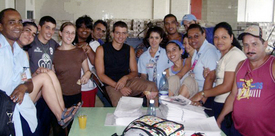 HAVANA — July 14 — A group of 41 tired Americans walked across the International Peace Bridge connecting Canada and Buffalo, NY. These were not your everyday Niagara Falls tourists — when they arrived in Buffalo, banners, people and cheers awaited them. These Americans had just traveled to Cuba with the Venceremos Brigade, against US travel restrictions. This year was the Brigade's 39th solidarity delegation to the Island, a challenge not only to U.S. travel restrictions but also to the U.S. imposed economic blockade of Cuba.
The Venceremos Brigade worked side-by-side with Cuban workers in yucca fields and in the largest publishing house in the country. However, their most important job was learning about Cuba, the effects of the blockade, and the struggle of the Cuban 5 so that we could bring what we learned back to the U.S. where information from Cuba is largely restricted. Brigadistas traveled from Havana to Santa Clara and into the mountains to a community called Jibacoa, along the way meeting with Cuban students, professionals, workers, politicians, soldiers, farmers and doctors.
Youth in Cuba
Ashley Wolford, a 22 year-old Brigadista from Chicago, was surprised by the treatment of young people in Cuba. "Coming from Chicago where youth are criminalized, seeing junior highs with full security teams, police and metal detectors and everything, I found Cuba totally different. When we visited a school for children that had committed crimes, we found out that criminalizing young people is illegal in Cuba. The school even had students that had committed serious crimes, but the school had no bars on windows, no people in uniform, no high fences, no handcuffs, no metal detectors, and students went home to their families on the weekends!"
The Brigade also toured a home for children without parents, a tour that Ashley found very moving. "Again I was shocked to see that children were not institutionalized. The home was not given any name because when the children go to school their friend's homes don't have a name. The home was a home not an institution. Growing up in the foster care system here in the U.S. where there is no space that feels like a home, and where you get kicked out as soon as you're 'too old,' it was amazing to see that the children are given homes after they leave, have access to college, and continue to visit their family for advise and celebrations."
Solidarity
Brigadistas learned a lot about solidarity in Cuba as international solidarity was a theme on the trip. They met with Cuban soldiers who had fought along side their counterparts in Angola and the Congo in their independence struggles. They met doctors who had just returned from volunteering in Venezuela. They also found an incredible amount of solidarity expressed towards the American people and the struggles in our country.
"Something that really struck me was the Fourth of July Celebration we went to," said Benjamin Cline, from Chicago. "It is really cool that even though Cuba has been under a U.S. imposed economic embargo, yet Cubans still show solidarity with the American people by celebrating the Fourth of July, a day which marks our Independence from British rule. They celebrate our independence even though we placed an embargo on them when they struggled for their independence and won," Ben also noted. "It was interesting that the event was a symphony. Most of our delegation had never been to a symphony before because they are not accessible in the United States, but in Cuba tickets are cheap, and working people there see 'classical' art like symphonies and ballets all the time."
Green For All
People from around the world are traveling to Cuba to study urban and organic agriculture which has been perfected there over the course of the last 10 years. Cuba went 'green' early not only out of respect for the environment, but largely out of economic need. After the fall of the Soviet Union, Cuba went through what they call 'the special period.' During that time, Cuba was economically devastated. They did not have access to petroleum-based fertilizer, and lost much of their ability to import food. In order to prevent hunger, many resourceful new methods of agriculture were developed. There was a transition from cash crops to sustainable agriculture (growing what people needed to eat), new methods of organic agriculture were developed, and an urban agricultural movement developed.
Now, in a time of global environmental crisis, Cuba is more consciously developing these and other 'green' designs. The use of solar panels in rural areas has made it possible for rural school houses to run computers, TVs and VCRs. On farms many farmers are now making gas for their stoves from pig poop! These 'green' features are both economically necessary, but also innovative new approaches to sustainability.
There is so much for us to learn from Cuba! Next year is the 40th Venceremos Brigade, and the 50th Anniversary of the Revolution. If you are interested in joining the Brigade next summer (Starting July 19th) email cuba@yclusa.org.