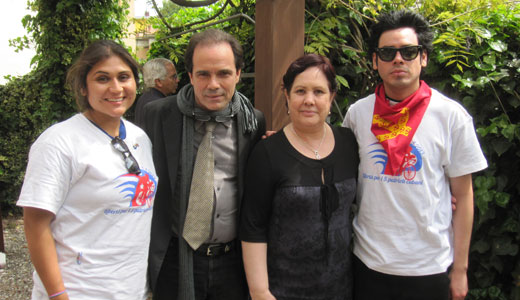 On Sunday, May 5, two Americans rode their bikes in a 40-mile ride that passed through over 20 different towns in the area of Lake Como, Italy.
This year the annual Garibaldina cycling event, in which hundreds of cyclist participate, was co-sponsored by the Italy-Cuba Friendship Circle of Como City.
The riders called on the U.S. government to set free the unjustly imprisoned five Cubans who were active in the U.S. in 1998 to stop terrorist attacks by anti-Castro organizations that are based in Florida.
The five Cubans had provided information to the Cuban government on U.S.-based terror plots by anti-Communist exiles such as the bombings of hotels.
When the Cuban government gave information to the FBI, the five Cubans were arrested. The terrorist groups were not dismantled and are still active.
The event in Como was followed by a banquet lunch where American and Swiss riders were able to meet and speak with fellow Italian riders as well as with the Cuban Ambassador to Italy, Milagros Carina Soto Agüer, and a representative from the Cuban consulate in Milan, Eduardo Vidal Chirino.
Also present were national regional heads of the Italy-Cuba Friendship Association which has organized groups, called circles, throughout Italy.
One of the Five, Rene Gonzalez, has been released and is now back in Cuba.
Photo: Activist bike riders in Italy. Ismael Parra/PW