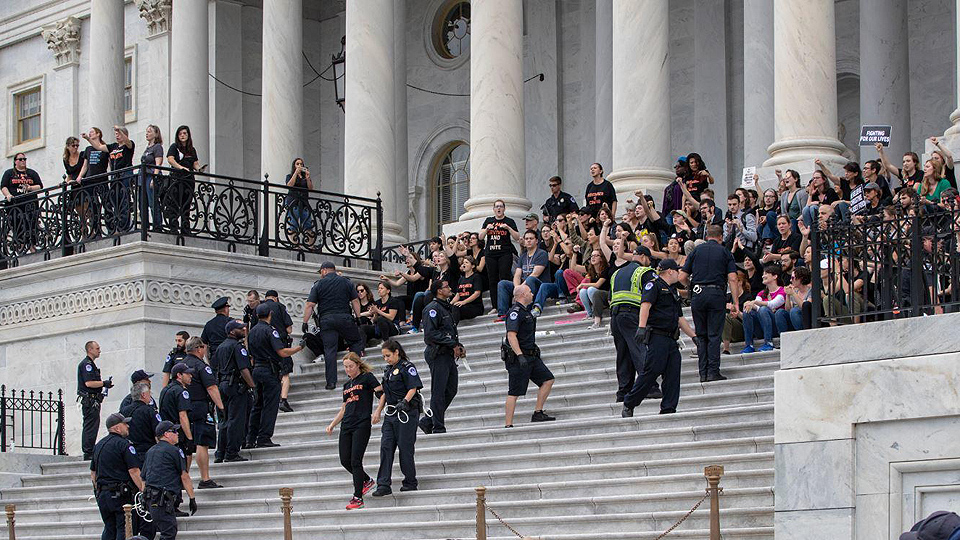 WASHINGTON — Amid protests in the streets nationwide and hundreds of arrests at the U.S. Capitol alone, the GOP-run U.S. Senate put Trump-named federal appellate judge Brett Kavanaugh on the U.S. Supreme Court on Oct. 6, cementing its right-wing majority. As people continued anti-Kavanaugh chants outside, retired Justice Anthony Kennedy swore Kavanaugh in to the court's ninth seat – the one Kennedy had vacated.
The Planned Parenthood Action Fund organized marches and protests in 28 states, aided by the National Domestic Workers Alliance and other organizations. Women and their supporters demonstrated from one end of the nation to the other. None of it moved GOP Senators enjoying a sugar high after they trampled on the will of the majority of Americans with polls showing a majority opposed to Kavanaugh's confirmation. Like all sugar highs, however, it is likely to come to a crashing end in a month if the expected wave of determined voters ends Republican control of the House and perhaps even the Senate.
The vote was initially 50-49, with pro-Kavanaugh Sen. Steve Daines, R-Mont., absent for his daughter's wedding in Montana. But as a courtesy to Daines, the sole anti-Kavanaugh Republican, Alaska's Lisa Murkowski, changed her vote to "present," restoring the bare 2-vote margin the GOP needed. GOP President Donald Trump sneered at Murkowski anyway, declaring that she "will never live this down."
The key votes came from the sole Democrat, West Virginia's Joe Manchin, who abandoned the rest of the party to vote for Kavanaugh, and the other pro-choice female Republican – besides Murkowski — Maine's Susan Collins. Manchin faces re-election this fall in a state Trump won overwhelmingly.
Collins said Kavanaugh assured her, repeatedly, in a private meeting, that "a long-established precedent" – reproductive rights – "is not something to be trimmed, narrowed, discarded or overlooked." She also stated falsely that Dr. Christine Blasey Ford's disclosure of Kavanaugh's sexual assault on her when both were teenagers, along with similar allegations later, was uncorroborated. Countless witnesses with corroborating information were never even interviewed by the FBI investigators.
Despite the rushed confirmation unprecedented issues with Kavanaugh continued to surface yesterday, the most explosive of which was a Washington Post revelation that the D.C. Circuit court on which Kavanaugh sat until today had sent 15 complaints of alleged lies and inappropriate judicial conduct, including lying, to Supreme Court Chief Justice Roberts. The complaints referred to his current behavior on that court. Roberts apparently sat on and failed to refer any of the complaints for investigation.
The vote cementing Kavanaugh into the right-wing GOP-named High Court majority produced outrage on the streets, arrests on the U.S. Capitol Plaza, derision from the spectators in the U.S. Senate galleries and vows of political retribution this November and beyond.
Progressive groups, including the AFL-CIO, promptly jumped to e-mail, blasting Kavanaugh's confirmation and citing the Senate's decision as yet another reason to vote right-wing lawmakers out. Some groups asked for donations, too.
"The Senate willfully shirked its most fundamental responsibility," said AFL-CIO President Richard Trumka. "Instead of giving a voice to hardworking families," Senate Majority Leader Mitch McConnell, R-Kent., "and his colleagues have obediently handed over the Supreme Court to corporate elites."
"Even the most cursory review of Kavanaugh's judicial record reveals a right-wing extremist dedicated to advancing the demands of a few wealthy CEOs at the expense of working families. His hearings before the Senate Judiciary Committee further confirmed that fealty to corporate interests — and demonstrated he lacks anything close to the temperament or character that this position demands."
"However, working people won't allow any politician or judge to dictate the American story. All those who disregard the principles of justice and fairness can expect to hear from us on Election Day."
Iconic retired Farmworkers co-leader Dolores Huerta commented in Huffington Post that pro-Kavanaugh senators – who trashed Dr. Blasey Ford even before she testified against Kavanaugh – "decided to blindly and stubbornly stand by their man." She included Manchin in that lineup.
"There's a word for that in Spanish: It's called machismo," she said.
And in an interview with MSNBC, the Rev. William Barber, co-chair of the New Poor People's Campaign, linked the Kavanaugh confirmation to other anti-worker, anti-woman, anti-minority stands.
"The people that are refusing to hear" Dr. Blasey Ford's details about Kavanaugh's sexual assault on her when both were students at private D.C.-area high schools "are the same people blocking the living wage, the same people that want to turn back the clock on health care," he declared. "These are interconnected, and we must mobilize like never before" to combat those issues at the polls.
Kavanaugh is "unfit to serve in a lifetime position" on the court, Communications Workers Secretary-Treasurer Sara Steffens, a News Guild member, said. He's "unqualified to serve as a Supreme Court Justice with his track record of being in the pocket of corporate special interests and his total disregard for workers, consumers, women, and for fundamental civil rights," she added.
The political fallout could hit Manchin in a month and Collins in 2020. And masses of women and male supporters plan to descend on D.C. in a third Women's March next Jan. 19, after first planning to oust lawmakers – in both houses of Congress — who backed Kavanaugh and dissed Dr. Blasey Ford.
"Women, survivors, and allies have flooded the Capitol this entire month because we are more determined than ever to end the national disgrace that is the Trump agenda," Linda Sarsour of the Women's March said in an e-mail.
"We have mobilized. We organized. We trained thousands of women in direct action. We've built power in every corner of the country. This may hurt now, but we refuse to despair because we created a wave of women too powerful to ignore. And we're just getting started. November is coming, and women are going to fire some members of Congress." Any lawmaker "who supports anti-woman policies gets shown the door."
Progressives in Maine immediately garnered $3.3 million in pledges from small donors for contributions to any progressive who takes on Collins in 2020. The pledges will be redeemed and the money turned over to a credible candidate.
They also asked if anyone was interested. "Me!" tweeted former Obama administration UN Ambassador Susan Rice, whose family lives in Portland. Rice later updated that with another tweet saying she's looking at all options – and expressing deep disappointment with Collins.
Collins' 45-minute speech explaining her decision, the day before, was preceded by anti-Kavanaugh shouts from the Senate gallery and prompted that immediate reaction back home. She responded with partisan sniping, slamming "misrepresentations and outright falsehoods" about Kavanaugh's judicial record. She bought into and put forward the outrageous claim that she believed "something" had happened to Dr. Ford but that it wasn't Kavanaugh who had sexually assaulted her, implying Ford was somehow confused or crazy. Her Republican colleagues gave her a standing ovation at the end.
Manchin may have endangered his chances in now deep-red West Virginia, too. The Charleston Gazette & Mail, the state's leading paper, said state Democratic leaders were silent about his vote.
But the paper quoted Paula Jean Swearingen, a political newcomer who pulled 30 percent of the vote against Manchin – a well-known former governor – in the party primary, as saying his votes for Kavanaugh are "likely to deflate progressives" in the Mountaineer State. Manchin's GOP foe, state Attorney General Patrick Morrisey, an early Kavanaugh supporter, derided Manchin for not disclosing his stand until Collins's speech decided the nomination. In the end, Manchin's cowardice may not be enough to keep the GOP from training all its guns on him in November.
Other progressive groups were also scathing. "A partisan warrior accused by multiple women of sexual assault who spews conspiracy theories against the left and lied his way through his confirmation now sits atop our justice system," MoveOn said. "There will be no justice in America until we vote out Donald Trump and the senators responsible and end Republican control of Congress." It sought donations.
"We believe survivors. We believe women. We will continue to fight this injustice and we will make Republicans pay for their abuse of power. Join us as we do the work to vote them out of office. Pledge to vote in the midterms," said Heather Hargreaves, executive director of the youth-oriented NextGen America. "By pledging to vote, we remind Republicans that we are a democracy and that the three branches of government work for us."
Nor did the Alliance for Justice. "We will continue to fight," pledged executive director Nan Aron.
"The questions still left unanswered about Brett Kavanaugh by the sham FBI investigation and Senate confirmation process are only increasing. We will do everything in our power to see that those questions are answered and that Kavanaugh is held accountable."
"If the House comes under Democratic leadership in the coming months, as seems likely, we will demand Congress do the job the FBI could not do under constraints" Trump imposed. That would include hearings with all witnesses to Kavanaugh's misconduct, who were not interviewed by the FBI, may testify, and a subpoena of White House records on Kavanaugh the Senate never received.
"And of course, we will continue to fight the Trump administration's efforts to pack our lower courts with dangerously ideological nominees…Finally, we will be more forceful than ever in sending the message to all our friends and supporters that when you vote, whether it's this year or in 2020 or beyond, you must prioritize the courts. For years, the right wing has galvanized its voters around the Supreme Court.
"This is our moment for progressive voters to speak up. The Resistance is now in full bloom."