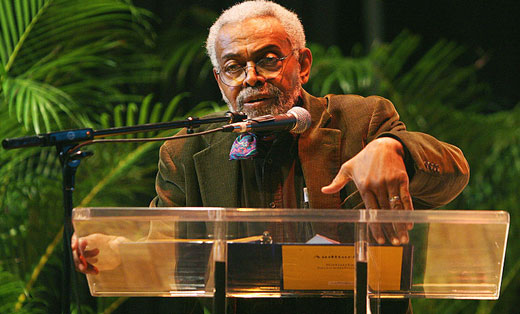 Amiri Baraka, one of the outstanding African American cultural figures of his generation, died last week at Newark's Beth Israel hospital; he was 79. A poet, playwright, critic, and revolutionary activist, Baraka helped shape American political and cultural life since the late 1950s. For over 50 years he and his wife Amina Baraka played pivotal roles in African American culture, thought, and political activism.
Born into a working-class Newark family, Baraka graduated high school with honors and won scholarships to Rutgers and Howard University. After a short stint in the armed forces, where he was forced to leave after being accused, falsely, of communism, he turned his talents to poetry and writing.
A wordsmith of extraordinary power, Baraka helped birth the Greenwich Village beat movement and then founded, along with Ishmael Reed, Larry Neal and Askia Toure, the Black Arts Movement which gave expression to the liberatory impulses of the African American equality movement of the early 1960s. Even more so than its predecessor, the Harlem Renaissance, the Black Arts Movement became the property of a whole generation of writers, artists and musicians whose influence endures.
Baraka was shaped by and helped shape the main currents of his day. Like W.E.B. Du Bois, his views evolved. Close family friend and poet Sonia Sanchez says his wife Amina sparked this process. Sanchez remarked, "One of the things that Brother Baraka told me is that how he really became very much involved … was through Amina. Sister Amina began to question where they were with their politics. She began a very involved study in terms of communism. It was not a movement by himself but it was of the two of them."
His views traversed the political universe, ranging from an early left liberalism to cultural nationalism to a communist outlook influenced by an admiration of the achievements of China. He later criticized the nationalist views of his younger days including anti-Semitism.
A central concern throughout was the equality and dignity of African Americans, which he viewed as taking the form of self-determination. He helped lead the Congress of African Peoples.
Baraka insisted on political action throughout his life and was one of the founders, along with Richard Hatcher, Ron Daniels and others, of the National Black Political Assembly which gathered 3,000 participants in Gary Indiana, in 1972. Electoral activism was an essential part of a wider united front effort that he viewed as essential to social transformation. No single group, Baraka believed, could achieve revolutionary change alone. Touting the effectiveness of united front coalitions, he often in recent years pointed to the election of Barack Obama.
He participated in the new communist movements of the 1970s and was a founding member of the Black Radical Congress which brought together a cross section of left, feminist, LGBTQ, and revolutionary nationalist groups.
Amiri Baraka was a force in Newark politics and helped elect the city's first black mayor, Kenneth Gibson. Baraka later remarked that his embracing of Marxism was sparked by disappointment in Gibson's terms in office and recognizing class struggle in the black community.
His son, Ras Baraka, serves on the Newark City Council and is a candidate for mayor. Amiri's daughter, Shani, and her partner Rayshon Holmes were murdered in 2003.
Baraka's poems, plays and stories span some 30 works relentlessly giving voice to aspirations of the poor and the oppressed. He won an Obie for his "Rolling Dutchman" play and was a two-time recipient of the American Book Award. He was a member of the American Academy of Arts and Letters, which noted, briefly, that he was a self-described "revolutionary optimist."
He was named Poet Laureate of New Jersey in 1992, a position abolished by the New Jersey legislature after one of his poems accused Israel of foreknowledge of 9/11.
Baraka, a writer with a biting wit and a rare intelligence, insisted on a truthful art that reflected and helped challenge the contradictions of real life. If his art was controversial it was because life itself is controversial. But it was art at its best.
Ishmael Reed, remembering him this week, said Baraka was one of those once-in-a-generation writers. "He did for the English syntax what Monk did with the chord. He was an original," Reed said.
Photo: Wikipedia (CC)