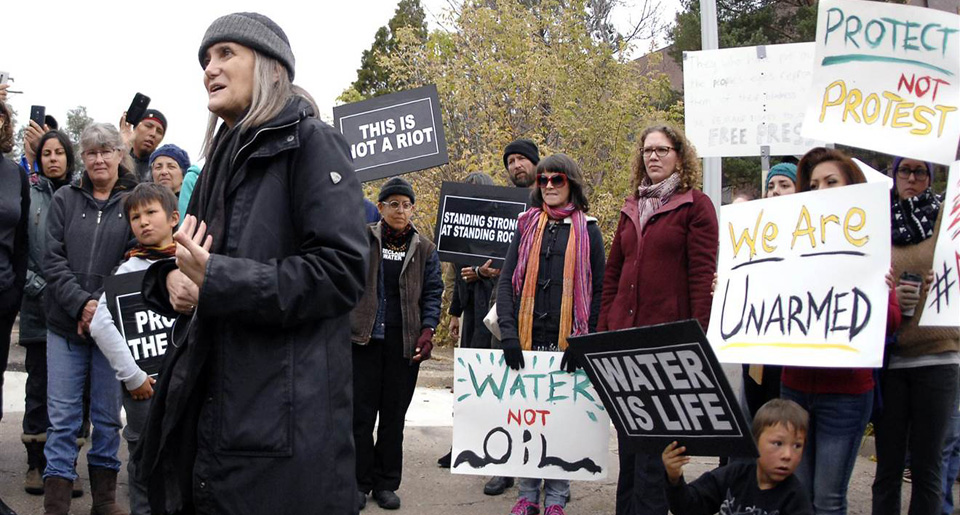 Award winning host of Democracy Now Amy Goodman stepped into a courtroom in Morton County, North Dakota yesterday to face the charge of rioting she incurred while covering the protest against the Dakota Access Pipeline at the Standing Rock encampment.
On September 3, Goodman and her colleagues at Democracy Now filmed as mercenaries sicced dogs on Native American protestors who were encamped in the path of a $3 billion pipeline that they say threatens sacred land and water.
The question of Amy's fate caused First Amendment advocates and members of the media consternation unsure of the implications such a prosecution would have on freedom of the press.
Especially concerning was a quote given to the Bismarck Tribune by State Prosecutor Ladd Erickson which justified the arrest of a journalist by saying "everything she reported on was from the position of justifying the protest actions.
"I think she put together a piece to influence the world on her agenda basically. That's fine, but it doesn't immunize her from the laws of the state."
As advocacy journalists ourselves here at People's World, this kind of justification threatens our ability to closely cover working class movements that challenge the power of the state and corporations.
Shortly after 1:30, those in the media, including yours truly, breathed a sigh of relief after District Judge John Grinsteiner dismissed the charge because of a lack of evidence.
Amy Goodman said in a statement before a crowd gathered outside the courthouse, "The judges decision to reject the state attorney's attempt to prosecute a journalist is a great vindication of the first amendment… Democracy Now has covered climate justice issues for the full twenty years we've been in existence… the important role of a journalist is to go to where the silence is, we should not be alone in the major media coming to cover this historic unification of Native Americans… we certainly will continue to cover this struggle."
State Prosecutor Ladd Erickson has said that other charges may be possible. In an email to the New York Times, Erickson said "I believe they want to keep the investigation open and see if there is any evidence in the unedited and unpublished videos that we could better detail in an affidavit for the judge."
Amy Goodman, while probably the highest profile journalist, is not the only journalist who faces state retaliation for coverage of climate justice issues.
Documentarian Deia Schlosberg still faces three felony charges from an arrest on October 11 in Walhalla, North Dakota. Her crime was recording an action carried out against TransCanada's Keystone pipeline in solidarity with activists at the Standing Rock encampment.
In a video uploaded to her Facebook, Schlosberg thanked her friends, family and colleagues for their support and said she'll "be saying more in the coming days" after seeking legal counsel.