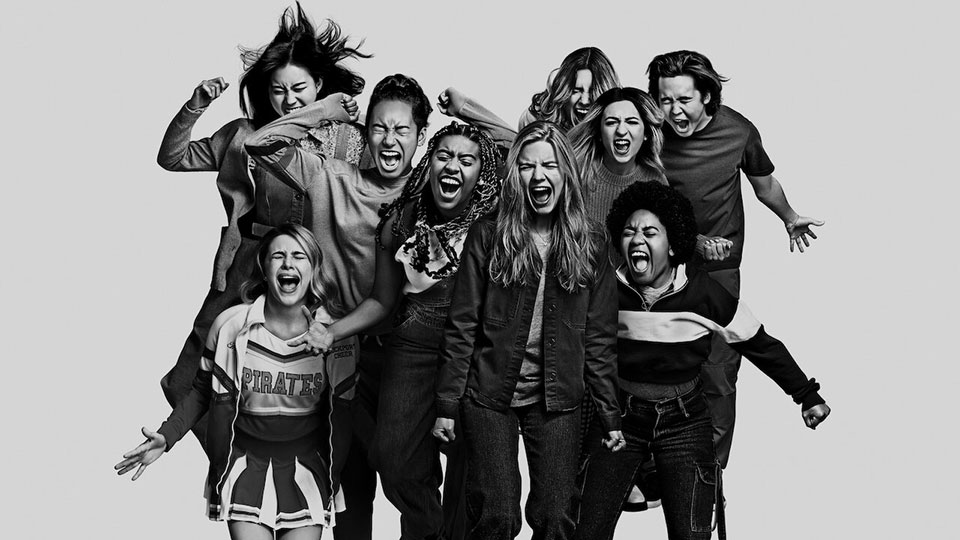 Amy Poehler's new Netflix film Moxie is not perfect. But it is very, very good. It's a smart, funny, entertaining look at how growing up female in 2020 is similar and different from growing up in the Sixties and Nineties, or any other time for that matter.
Now we know what the prolific writer-director-actress Poehler has been doing between hosting Saturday Night Live, the Golden Globes, and myriad television and film projects! She has been crafting a heartfelt, humorous, painful sketch of teen society structured around high school life.
Moxie is not one, but many character sketches set against the backdrop of family and high school. Poehler's film daughter Hadley Robinson and her best friend Lauren Tsai are shy introverts, unobtrusively coasting through school. The meek Robinson has neither the will nor desire to match her mother's reminiscences of feminine rebellion.
Newcomer Alycia Pascual-Pena changes all that. In a stunning discourse on The Great Gatsby, Pascual-Pena serves notice that she's on board for rocking the boat. She is the catalyst and unifying force in a growing rebellion against the high school's acquiescence to male harassment and chronic injustice.
Robinson is moved to action. Modeled on her mother's 1990s riot grrl culture, she writes and publishes a tell-all, critical anonymous zine "Moxie" that in turn rouses other girls to action. She is also roused to romance with comrade-in-arms classmate Nico Hiraga. Some of her rebellion is unfocused, building dramatic tension in her family and relationship, as well as the in-class struggles.
The film has the intensity of a graphic novel, the heartfelt fervor of agitprop. It was actually based on the eponymous Young Adult novel by Jennifer Mathieu. The characters are distilled to represent points of view, detailed by broad brush strokes. Notable turns are Marcia Gay Harden as the supercilious high school principal, Ike Barinholtz as a burned-out English teacher, and Patrick Schwarzenegger (son of Arnold) as a villainous football captain. The plotting has a few clever turns steered with a sure hand by Poehler.
Does the film have a point of view? Thankfully, it does! While it does not contract to be an in-depth, finely nuanced look at teenage angst, it does deliver a spirited and much needed call to action for social change.
Moxie is available live streaming on Netflix. The trailer can be viewed here.