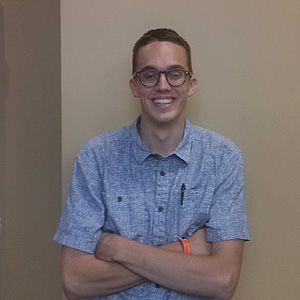 On Sunday, August 10th the People's World sat down with the newly elected president of the United States Student Association (USSA), Maxwell Love. USSA, the nation's oldest and largest student organization, convened its 67th National Student Congress August 7-12 in Irvine CA. Nearly 200 students from 22 campuses, representing thousands more, attended.
IRVINE, Ca – Maxwell Love, a 23 year-old graduate of the University of Wisconsin-Madison told the People's World, "I have mixed feelings" about the role of student governments on campuses.
While he firmly believes that student governments can act as "a tool to serve students' needs," a space where "students can govern themselves," too often they play a more benign role and mostly deal with "student programming, internal campus issues, academic affairs and text-book buy-back programs," for example. He added, "There is a lot of money involved and we have to fight to make sure student governments are not co-opted by administration."
For Love, student government associations should "participate in the stewardship of the universities larger affairs, students' rights and social and economic justice," to "bridge the gap" between what happens in our communities, in our workplaces and on our campuses.
"We want to build autonomous groups of students" who collectively decide "what's best for them."
He said USSA's larger strategy is "visionary, yet tangible."
"USSA is a structural organization. We approach organizing by challenging structural power on our campuses. We apply pressure on elected officials. We facilitate legislative change" that benefits students, workers and the larger community, and "we work with unions."
Love is no stranger to campus controversy. While a student he helped to organize and participated in a sit-in at UWM's chancellor's office over Palermo Pizza's unfair labor practices. Police eventually arrested Love. Protesters then surrounded the police van and refused to move until he was released. Ultimately, the police released Love with a citation.
According to Love, students need to build "relationships with unions – on and off campuses. To show solidarity and support, to build bridges off the campus and in the community. Students are workers."
While Love believes that higher education can and should be a human right, he's pragmatic. He sees the student debt crisis as one of the toughest challenges facing student at this time. Basically, students have to "put their lives on hold due to student debt," he said. "Students are literally trapped between trying to pay off debt and starting their lives." Additionally, the estimated $1.2 trillion in student debt has "stunted our economy," adding to the anemic economic recovery.
Furthermore, "debt and unemployment," unfortunately, often afflict the same people, "a burden that can be very suffocating and heart wrenching." Love believes that all student debt should be forgiven.
"School should be free, without a doubt," Love added.
He called the student debt crisis, "the wet blanket of austerity." "There's no new money," he added, "which puts a chokehold on students. We need to challenge the broader paradigm. The higher education system is completely broken."
"Many private, for profit schools are literally government funded enterprises. They only keep their doors open due to government funding," Love added. "It's basically a voucher system for private, for profit institutions, while our piece of the pie keeps shrinking."
According to Love, "we need a better system of taxation. We need progressive taxation. We need to take the existing money and redirect it into funding public, state colleges. There is no reason why private schools – with their billions in investments, managed properties and endowments – should get that money."
Love also took-on the up-surge in right-wing sponsored think tanks and professors and their "explicit indoctrination" of students. He called out the Koch Brothers and their "very deliberate attempt to de-politicize campuses."
I was struck by Love's pragmatism and vision. Front and center in our discussion were the questions: "What are the immediate steps? How do we get there? How do we win?" Love indicated that he believes in a balanced approached between student and campus needs. He's more than willing to work with Republicans, take part in Congressional hearings and help develop bi-partisan plans that tackle the issues from a students' perspective.
If anyone has his finger on the pulse of student sentiment, it's Love. He has served two terms in student government. He's been an active participant in workers' right campaigns and students' struggles.
This past year, he visited 26 campuses and met with hundreds of students, hearing directly from them their concerns. Prior to being elected USSA president, Love served as vice president. He has been a USSA member since 2010.
Photo: Maxwell Love. Earchiel Johnson/PW