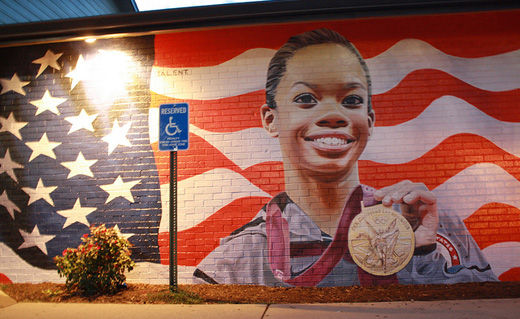 Dear Gabby,
We've never met but, like so many others, I've been thinking of you lately. By lately, I mean for the past four years and also the past week. I'm an enormous fan of yours and today, amidst days of petty criticisms about you and at you, I felt compelled to express to you the positive impact you've had on me and my family.
I have two daughters, 10 and 7. Four years ago, they sat and fell in love with you just like I did. We closely followed your journey to the Olympics - holding our breath, soaking in and sharing every Gabby update with our friends and family, playing and replaying your competitions, internalizing your joy that oozed from your smile and trying it on as our own, watching nervously through our fingers as you went for Gold. The moment you won the all-around, we screamed, we cried, we cheered. My daughter, then 6, asked to take gymnastics classes. We signed her up that fall. She was inspired by your undeniable skills, your strength, your drive, and your skin - which is brown like hers.
The next day we carefully laid The New York Times - documenting your feat - in our storage trunk, right on top of the historic President Obama inauguration edition of the same paper. There it remains.
Four years ago, when you were medaled the best gymnast in the world and then had to answer for…your hair…unbelievable…I could not bang away on my keyboard fast enough or long enough to express my upset. Yes, I wanted to defend you. Not because I doubted you could handle it, but because it was an oh-so-common attempt to chop away at the rising confidence and success of a black girl. It was petty and it failed. You have continued to climb, grow, strengthen and shine.
I was again drawn to criticisms of you this time around. This time, the haters went after your character and your patriotism. I can relate. I'm no Olympian. Far from it. But, once upon a time, 13 years ago, I played Division III college basketball for Manhattanville College in New York. In a smaller venue, under different circumstances, I, too, was criticized for my conduct during the playing of the National Anthem. I was 21, just a tad older than you are now. You've made it clear that your stance during the National Anthem was not a protest. Our stories differ here. My stance was a protest. Yet the backlash was the same - cruel and very public. I'm sorry you've had the added burden of experiencing fame in the era of social media. I was spared in this regard. But bullying and ostracization hit hard whether etched with a pen or a keyboard, whether delivered with a stamp or a hashtag. The hundreds of letters and articles, and thousands of emails, still rest in my closet. Many are hateful, demeaning, and crude, and a few indicate desire or plans to end my life. But the majority are not this. They are eloquent and kind and supportive. They are inspiring and hopeful and thankful. It is these I referred back to in moments of fear and sadness to keep me grounded. These letters were my gold medal. You have earned three actual gold medals and I won't pretend this letter comes close to matching in significance. But, a small angry minority is often effective at appearing to be the majority opinion. And the truth is, they aren't. They don't represent me and millions of others who support you. There was then, and still is, so much love, inspiration and joy for you and because of you - as an athlete, a person, a black girl, a black woman.
Patriotism is often a peculiar thing in this country. There is often a strict prescription for how connection, pride, and love for one's country must be felt and displayed. One of the most common criticisms I got in 2003 was that I dishonored the U.S. by protesting the symbol that granted me the right to protest. I surmise that the foundational belief here is that our relationship to our country is one of obedience rather than a partnership where we are equal contributors to its growth. I saw this criticism renewed on you. These critics seem to believe you owe a debt to your country, to all of us, which you must repay by not being a fully expressed, fully accomplished, whole human being, and instead by being grateful always and apologetic constantly, as though your gold medals are charity. A more fitting truth to me is that it is not you who owes us. We owe you. We owe you for breaking open doors that black girls aren't given keys to. We owe you for bearing the burden of racism so that our little girls bear it less. We owe you for gracing us with your smile when you have every reason not to. We owe you for apologizing to critics when you shouldn't have to. Finally, the critics owe you for demanding - and receiving - your participation, your emotional labor, in the healing of their own fears, their own hate.
There is no separating athletic greatness from the toil that goes into the creating of that greatness. You have earned every non-smile, every hairstyle, and every non-heart holding podium stance. Always remember that. Those of us who cheer for you and love you don't define you by how your hand meets your heart on cue. Because our hearts were already beating with pride, watching you make history, yet again, seeing possibilities expand for all who follow your tracks.
If there is any definition of patriotism, surely it is this - to be so great that the country must expand and evolve to keep up.
No, Gabby, you don't owe us. We owe you. We thank you. I thank you.
This article appeared on medium.com and reposted here with the author's permission.
Photo: Gabby Douglas mural |Vic Damoses/CC