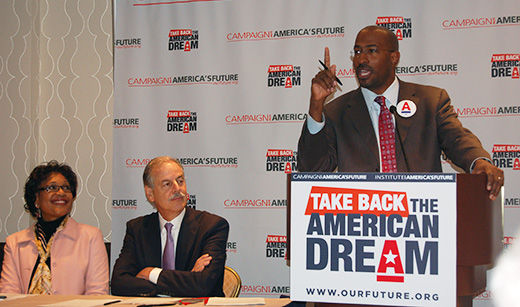 WASHINGTON – The Take Back the American Dream conference this week was inspiring, optimistic and uplifting. Grass roots activists from all corners of the country say they are answering the nationwide call for unity and empowerment in the urgent fight for jobs.
Lawmakers, labor leaders, religious leaders, civil rights organizations, immigration reform advocates, students, gay and lesbian groups and thousands of multi-racial progressive activists have joined together to reclaim the American dream and build an independent political movement for change.
Organizers of the conference say plans are underway for a massive campaign for jobs and against cuts, with hundreds, if not thousands, of actions across the country.
Partnering with state and local progressive groups is also a priority, they add, to identify, recruit and help elect candidates in 2012 that champion the needs of the middle and working class.
"Americans all over the country are dreaming and they are dreaming about jobs because America wants to work," said Arlene Holt-Baker, vice-president of the AFL-CIO. "The conference is being held at the perfect time because we know what's happening in our economy to so many people that live in the communities that we care about," she said. "It's happening to workers, it's happening to people of color. And this promise of America for a good job is being threatened. And so as we gathered here with labor support and broad community support including environmentalists and others saying its now time to move our country forward."
People are disheartened due to the effects of the economic crisis, said Holt-Baker, "but we need to mobilize them to support President Obama's jobs plan, which labor applauds.
"It's very clear that Obama is being bold now and he understands that it's the economy and it's about putting people back to work. It won't be difficult for right-thinking people to see who is absolutely on the side of all of our communities," she noted.
"The 2012 presidential election will be difficult but people understand what's at stake and they understand clearly who wants to put this country back to work and who is on the side of the middle class and the poor. And they understand who's on the side of Wall Street, the billionaires and the millionaires," Holt-Baker said.
She said she is "super-excited" to see young people leading the Occupy Wall Street protests in New York City. "They have been standing up, sitting down, and speaking out and saying Wall Street got us into this mess and they need to help get us out of it. It's their future and they want to live the American dream."
Speakers at the event say the American dream movement will abide by a people's contract that was written with the suggestions of over 130,000 progressive activists.
The contract calls for clean energy, ending the wars overseas and investing at home, better funding for public education, crafting a new manufacturing strategy and curbing Wall Street with a progressive taxation plan, protecting Social Security and Medicare for all.
Leaders of the AFL-CIO, Change to Win, the Service Employees, the Center for Community Change, Campaign for America's Future, MoveOn.org, Rebuild the Dream and many others claim the country is at a turning point. The struggle for justice in America is more visible than its ever been in recent history and so much is at stake, they say.
It began with the teachers, firefighters and other public workers and supporters who stood up for their collective bargaining rights in Wisconsin, they say, and it continues with the students on Wall Street and millions of unemployed across the country.
"Conservatives have taken a wrecking ball and are trying to smash America down in an unopposed demolition," said Van Jones, president of Rebuild the Dream. "We're going to stand up against their despicable crimes and say enough is enough. The American people are sick of defeat after defeat and heartbreak after heartbreak. We are better than this."
The 99 percent of us, compared to the one percent of this country's wealthiest elite, which run Wall Street, now have something to join, said Jones. "And its called the American Dream Movement," he declared.
"This is a big deal and people have been waiting for a long time," said Jones Wednesday during his closing remarks on the third and final day of the conference.
"Our movement needs to be people powered, people owned, and not beholden to any political party or politician," said Jones. "We have to rescue America's middle and working class. It's time to start walking our talk and folks at the conference are leaving here under orders."
Jones said the dream movement aims to engage one million leaders nationwide and that 600,000 have already signed up.
"We're fighting to have a democracy against those that want us to have a plutocracy," he argued.
Jones said liberty faces "two threats," excessive concentration of political power and economic corporate power. "It's exactly the excessive and corporate domination by Wall Street on the American economy that the tea party movement refuses to address," he said. "and we are here to stand up and oppose that excessive threat to our liberty and justice for all."
Photo: From left to right, Arlene Holt-Baker, Robert Borosage and Van Jones at the Take Back the American Dream conference Oct. 4 in Washington D.C. Pepe Lozano/PW.