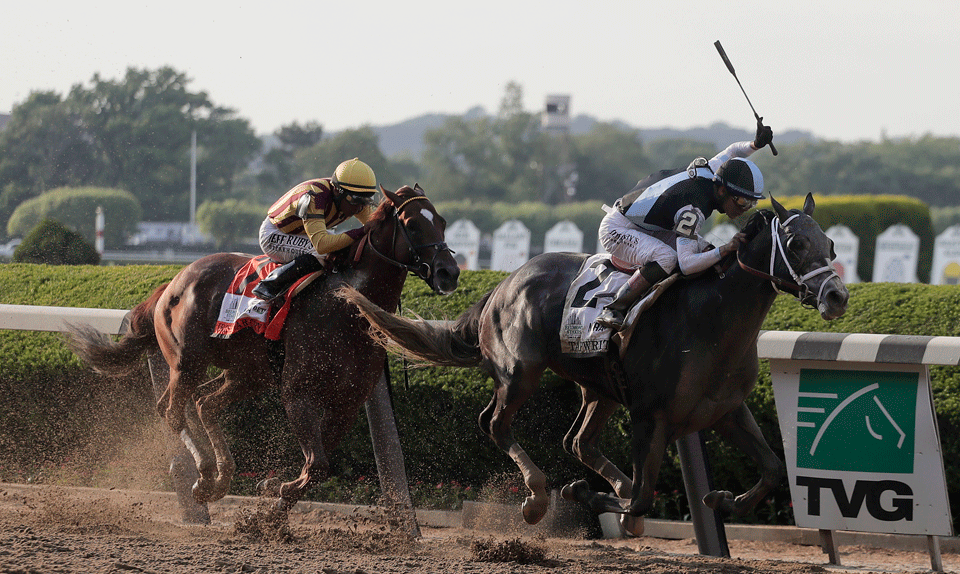 It is a sound akin to thunder. Followed by the hoots, howls, and cheers as loud as a barreling freight train bellowing from the racetrack stands. With the scent of a mint julep in one hand, a paper fan or event program in the other, topped off by wearing Sunday's best—"Southern Belle" wide-brim hats and brightly colorful seersucker suits—derby fans settle in to watch the greatest two minutes in sports.
Since the first running of the Kentucky Derby in 1875, the speedy hooves of thoroughbred horses have entertained and wowed sports fans nationwide. In fact, the ancient sport of horse racing, dating back to around 4500 BCE, has long captivated our imaginations with stories of epic Greek chariot races, long-distance races across the Sahara, and the legend of Frank Hopkins and his mustang Hidalgo.
Before film was available for review by race stewards, jockeys would do almost anything for a win—leg-locking other riders, smashing opponents against the rails, whipping other horses across the face.
And while those tactics are long gone and now in the history books, there are still a few others raising eyebrows.
The use of riding crops is one of them.
The California Horse Racing Board recently voted to severely limit the use of whips on horses statewide following the death of 22 horses at the Santa Anita Racetrack.
The new rules prohibit using a crop on a horse's head, flanks, or any parts of its body other than shoulders or hindquarters, and that a crop would only be used when necessary to control the horse for its safety or that of the rider. Suspensions and fines can be expected by any jockey riding in violation of the newly approved rules.
"Going after a horse with a whip when it was obvious that the horse in question had nothing left to give is something I never want to see again," said Madeline Auerbach, the racing board's vice chair, following a heated meeting where the Jockeys Guild argued against the changes, saying the deaths at Santa Anita were unrelated to the use of crops.
While jockeys are not required to use riding crops, the Guild stressed its belief that crops are "still necessary for encouragement, communication, and control."
The Guild went on to say that retired rider Ramon Dominguez is currently developing a new crop with input from current jockeys.
"With these new cushion crops we have these days, you're not hurting a horse regardless if you know how to do it (whip) right or not," said Triple Crown winning Jockey Mike Smith.
Those changes might not be enough for People for the Ethical Treatment of Animals, which is calling for an end to horse racing and has consistently pushed for changes in the use of whips.
PETA made it clear at recent board hearings that tracks looking to stay in business should get behind the rule change.
"People inside racing might think that not striking the horse is a radical move, but the public sees it as visible and obvious cruelty," said Kathy Guillermo, PETA's senior vice president. "They see horses dying and they see horses being hit.
"The racing industry is constantly talking about improving its image to the public. You can't do that if you keep whipping horses who supposedly love to run."
With the issue weighing on my mind over the weekend, this reporter decided to reach out to fellow sportswriter, and derby aficionado, Christian Holmes.
"Certainly a (crop) restriction could be a good thing," said Holmes, "but it's more to change the public's perception of the sport than anything.
"The safety and well-being of the horse is the most important thing, and if this helps improve it, in the long run, it's a good move," he continued. "That said, I think there are deeper underlying issues that need to be fixed, not caused by riding crops—the use of race-day drugs, overtraining of juvenile horses. These cause more horse breakdowns and fatalities compared to being whipped by a rider."
I pressed him a bit on the public image comment and asked his thoughts on PETA's campaign to end horse racing: "Groups like PETA show the sport in a bad light. In all seriousness, thoroughbreds get better treatment than non-race horses— and most human athletes.
"The sport is fruitful when it's done right, and like all other things, change will happen and that's a good thing for the sport."
The 2019 Kentucky Derby is a little under two weeks away, and I want to ask you, our readers: What are your thoughts on horse racing and the use of riding crops?
Is it an outdated tool, or needed safety measure?
I'll be looking forward to your thoughts before race day.