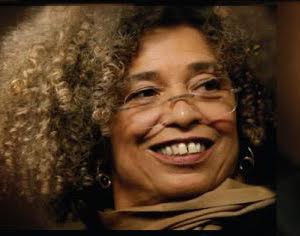 ST. LOUIS – As the one year anniversary of Michael Browns' murder nears, St. Louis area residents gathered for the Violence in America: Exposure through Truth Telling presentation keynoted by Angela Davis, a long-time activist and outspoken critic of police violence. The event, held on June 27, was sponsored by the Truth Telling Project at Cardinal Ritter College Preparatory High School.
The sold-out event focused on building political activism and fighting institutionalized racism. Davis briefly reminded the audience that she had once been on the FBI's ten most wanted list, that people actually feared her. Today, however, things are much different, she added. Perceptions have changed. Referencing Fidel Castro, the former Cuban president, she said, "History will absolve you."
Davis is considered an icon by many today, a symbol of political resistance promoting radical, unapologetic social change. She, however, said she looks upon the protestors in Ferguson in admiration for their dedication to the struggle against racism.
Prior to the event, Davis, her sister Fania Davis (civil rights trial attorney and restorative justice practitioner) and event moderator Pastor Cori Bush, visited the site where Mike Brown was killed and touched the ground where he lay almost one year ago.
Throughout the event, the names of the black men and women who have suffered tragic deaths due to police brutality were echoed in remembrance. An outpouring of love was extended to the families of those who had been lost to racism and an unjust system.
Davis spoke of her global travels and how the people she encountered were inspired by the actions of the Ferguson protesters and the Black Lives Matter movement. Ferguson echoed throughout the world, as a "symbol of resistance" for oppressed people, she said.
"For me, as well as for people throughout the world, the very mention of Ferguson evokes struggle, perseverance, courage and a collective vision of the future."
Due to the leadership of the Ferguson protesters, she added, many others have developed a much clearer understanding of systems of oppression and how people can assemble collectively to challenge and dismantle institutional racism and oppression.
Davis spoke directly to the female leaders of Black Lives Matter: "I love Martin. I love Malcolm. But this is the 21st century and we have learned that leadership is not a male prerogative. I know many of the brothers in this hall today know that women have always done the work…women should also be in the leadership!"
"When black women stand up as they did during the Montgomery bus boycott, as they did during the Black Liberation era, earthshaking changes can occur," Davis concluded.
Davis also spoke in terms of strategy. She emphasized that entire systems of oppression must be challenged in order to bring about radical social changes.
She said, "…we also need to learn how to talk about race and racism. We don't even have a vocabulary that permits us to engage in insightful conversations and it is precisely this lack of a vocabulary and the shallow consciousness of racism that is promoted by society that makes it possible for us to assume that for example changes in the law automatically bring about changes in the real world…"
Davis added, that a short paragraph in the Constitution does not do away with the hegemony of a country so incredibly saturated with racism. "The vestiges of slavery are still with us. Slavery was never fully abolished," she continued.
On violence, Davis said, "…we could talk about multiple modes of violence, but a major mode of violence is the rearing of generations of black people who have not been allowed to imagine a future, who have not been allowed to have access to education that would encourage them to imagine a future."
In conclusion, Davis added, "as radical activists we really have to begin to learn how to demand what we really want, not only what we think we can get," to not lose sight of our goals. We have to learn to refuse to settle.
Photo: Angela Davis Facebook page