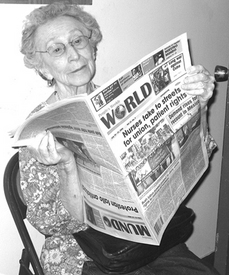 The PWW has a tremendous team of distributors of all ages, races and ethnicities. As our distributors are part of the battles for a better world, they all have stories to tell. With this article, we begin a series spotlighting PWW builders.
NEW YORK — "I remember," says Angie Lebowitz, "giving the paper out in Jamaica, Queens, when it was still the Daily Worker." This was decades ago. Today, Lebowitz still distributes the People's Weekly World every week like clockwork.
Lebowitz has a route around her neighborhood in Chelsea, Manhattan, where she drops papers off at local newsstands, that sell the papers. The newsstands keep 50 percent of the proceeds and Angie takes 50 percent — which she either uses to buy more PWWs or donates to the Fund Drive.
But there's more. "We do street distributions once a week," Lebowitz says, noting that "sometimes it gets so unbearably hot, it's hard." She mentions this in off-the-cuff way, without a hint of complaint. Complaints would be understandable though —Angie is now 87 years old.
"We always ask for money and have a can," Lebowitz adds. The money is always enough that Lebowitz and her fellow distributors in Chelsea are able to pay for the PWWs that they sell, and, additionally, to buy extra to distribute for free. "People give us money, because they're glad that we've stayed around all these years."
Angie has led an eventful life. Her earliest memory was when she, as a toddler, discovered her mother's suicide. The woman had taken her life over misplaced feelings of guilt: Angie's sister, the first-born, was mentally handicapped. Angie's mother went to heroic lengths to care for the child, but, after leaving for a moment to get a cup of sugar, Angie's mother returned to find her first born, who had gotten too close to the stove, engulfed in flames.
Angie's mother was traumatized, and "they didn't have programs in those days to help." Her suicide, says Lebowitz, "could have been prevented."
Angie decided to spend her life helping others. After becoming a nurse, she worked at Bellevue Hospital, where, at the age of 19, she was in charge of a ward of 60 patients — in the infectious disease unit.
"I'll never forget the patient that died on me," Lebowitz recalls. "It was a Chinese man who didn't speak English — all he did was look at me, that pathetic look saying 'Help me.' I'll never forget that man." Lebowitz condemns the efforts to curb multilingual care, noting how hard it was to help a desperate man simply because no one spoke his language.
In 1942, Lebowitz joined the Army, where she served in Africa as a nurse. "I read all the stories about the Holocaust, and how the government was turning away refugees from Eastern Europe — many of them died as a result in Eastern Europe — which was a terrible thing."
Lebowitz has endured the pains of McCarthyism — FBI agents would check on her home and she was questioned by government officials at work — and witnessed most of the 20th century. However, she never stopped her involvement with the World.
One of Angie's heroes, Howie Goldberg, distributed the paper for many years.
"He always collected money," Lebowitz recalled, saying that he knew the value of the paper. "He was well-known, and very well liked. I'd like, somehow, to contact his wife, and tell her that we still remember Howie."