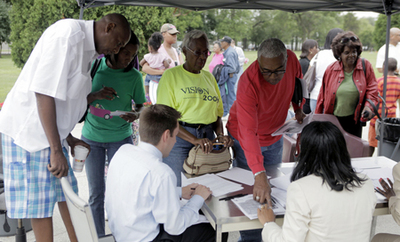 The message on the website is terse: "If you have family or a loved one buried at Burr Oak Cemetery, please email your information or call our designated hotline. All inquiries regarding the Burr Oak Cemetery Investigation will receive a personal response, but we ask for your patience, as the requests have been overwhelming."
Today Cook County Sheriff Tom Dart said about 2,000 families have come to the Burr Oak Cemetery in Alsip, Ill., trying to determine the status of loved ones buried there. Dart says the families have reported about 30 disturbed graves.
Investigations continue at the cemetery where three gravediggers and a cemetery manager are accused of unearthing hundreds of corpses in a scheme to resell burial plots. Two of the accused are being held in a maximum security division at Cook County Jail, one is in the jail's medical unit, and the woman who allegedly organized the scheme is in the jail's psychiatric unit.
The Burr Oak Cemetery, a historic Black cemetery, is the final resting place of murder victim Emmett Till, whose 1955 lynching at age 14 shocked the country. Images of his battered body galvanized many into struggle in the civil rights movement. Investigators reportedly found Till's original glass-topped casket rusting in a shack at the cemetery.*
It's also the final resting place of singers Dinah Washington, Willie Dixon, and Otis Spann, as well as former world heavyweight boxing champion Ezzard Charles, Harlem Globetrotter Inman Jackson, and several Negro League baseball players.
'For many years, this was the only cemetery where African-Americans could be buried,' said Spencer Leak Sr., of Leak and Sons Funeral Home, noting that Burr Oak once was owned by Ebony Magazine publisher John Johnson.
The cemetery is reportedly now owned by Perpetua Holdings of Illinois, Inc., a subsidiary of a Tucson, Ariz.-based funeral home and cemetery development company.
'All of us who were working on this for the last week were pretty distraught,' Sheriff Dart said. 'You start with the premise of your own loved ones and how they are cared for after they are buried, but there is also a true significance to this particular cemetery.'
The Cemetery Care and Burial Trust Department, a division of the Illinois Comptroller's office, has received complaints in recent years about poor upkeep at Burr Oak.
Today Comptroller Dan Hynes ordered his staff to begin license revocation proceedings against the owner of Burr Oak Cemetery, Perpetua Holdings of Illinois, Inc. The revocation actions will remove the cemetery's authority to accept funds for the care of a cemetery and to conduct pre-need cemetery and funeral sales.
'While the owner of Burr Oak alerted authorities and has been cooperating in the investigation, as the owner, he's ultimately responsible for the actions of his employees and those egregious actions warrant this revocation,' Hynes said.
According to the website , the Comptroller's Office is continuing to work with the sheriff's office to compare records regarding the trust funds with the documentation his office is collecting from consumers and individuals who have family and friends buried at the cemetery.
'To the best of our knowledge, monies that consumers gave Burr Oak for future cemetery needs are safe,' Hynes said. 'Given the criminal conduct at the cemetery, we are investigating further.'
The Comptroller's Office has limited legal authority over cemeteries, specifically focusing on consumer funds accepted by the cemetery that may be held in trust.
*Clarification: Emmett Till's remains are in a burial vault. This casket was to be part of a special memorial to Till. It is the same glass-topped casket that in 1955 held Till's body for viewing, at his mother's insistence, so that the thousands of mourners who filed past could see how terribly he had been beaten.