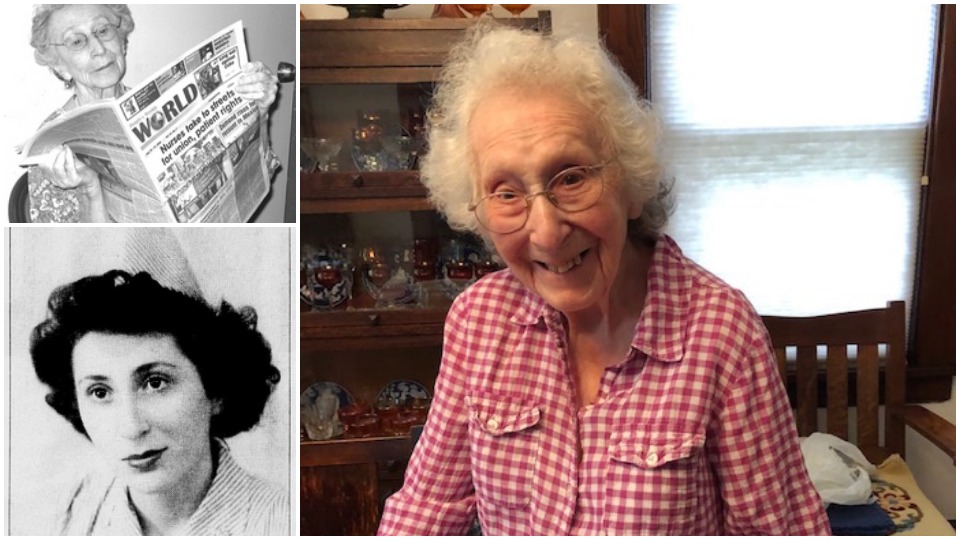 Angy Lebowitz, a tiny, energetic fighter for peace, racial equality, universal health care, and socialism, died Feb. 18, 2022, at the New Jersey Veterans Home in Paramus, N.J. She was 101 years old.
I served as editor of People's Weekly World for 11 years and got to know and love Angy for her unswerving devotion to keeping this beacon of truth burning. She was a member of the Communist Party USA (CPUSA), and first started distributing the Daily Worker in Jamaica, Queens as a young woman back in the 1930s. Half a century later, she was distributing the paper in Manhattan's Chelsea neighborhood, a block or two from our PWW office, rain or shine.
There is an old Party saying that describes Angy: "Leading from the ranks." She never aspired to any leadership role yet her understanding of the class struggle, of racist and sexist oppression was razor-keen. Blunt and outspoken, she never hesitated to tell us if she thought we were running astray or missing a story that needed reporting. She was a leader without a title.
Born in Brooklyn, N.Y., on Aug. 5, 1920, Angy's earliest memory was the death of her mother when she was five years old. Her mother had left her older sister alone for a few minutes to borrow a cup of milk. The child's clothes caught fire, and she died. Her mother was so traumatized by the accident that she took her own life. Angy said that the tragedy made her decide to devote her life to helping others.
Angy graduated from nursing school at 19 and began working at Bellevue Hospital. She was assigned to an infectious disease unit with 60 patients. In an interview with PWW, she said she would "never forget the patient that died on me. He was a Chinese man who didn't speak English. All he did was look at me, with a pathetic look that said: 'Help me.' I'll never forget that man."
She condemned the efforts to curb multilingual care, which resulted in the failure to have caregivers fluent in other languages who could help desperately ill patients communicate with their doctors and nurses.
In 1942, Angy joined the U.S. Army Nurses Corps, where she served as a nurse in North Africa and Italy. She rose to the rank of First Lieutenant and received a Bronze Star for her service. She was assigned to care for soldiers who suffered severe facial wounds. She told PWW, "When a part of your face is blown away, a very real part of what is you goes with it. I did my best, both as a medical professional and as a human being."
There were happier moments. She met Captain Hugh Mulzac, the first African American captain of a U.S. merchant marine vessel. Coincidentally, her neighbor, Bernie Kassbaum, was the Chief Engineer of that ship. On another occasion, she met fellow CPUSA members, fighters with the Office of Strategic Services, who had served as Abraham Lincoln Battalion volunteers in the Spanish Civil War fighting Franco Fascism.
"They were heroes," Angy said. Ultimately, the OSS units were disbanded and many Spanish Civil War Vets and OSS volunteers were targeted in the anti-Communist witch-hunt in the 1950s.
After the war, Angy worked as a nurse in public hospitals in New York City and earned her Bachelor of Science degree from Hunter College. She endured FBI surveillance and other repression during the Cold War but never yielded to fear and remained active in all the struggles of the Communist Party.
Angy was very close to her sister, Rose, and was embraced by all her family, which included her niece, Ellen (Zackin) Schwartz, nephew-in-law Al Schwartz, grandnephew Ben Schwartz, grandniece Anya Schwartz, and all the members of the Schwartz, Lidsky, and Montz families.
In 2008, at the age of 86, Angy moved to Teaneck to live with Ellen and Al. She enjoyed a vibrant and warm home life for nearly 15 years. She attended a daily senior program at the Jewish Community Center and spent many summer days in Harriman State Park. She made annual visits to her grandniece, Anya, in Vermont, where she enjoyed a kind of "celebrity status."
On these "Camp Angy" visits, she enjoyed lots of gatherings, where she was the guest of honor and the star of the show. Whether taking a canoe ride on Lake Champlain, visiting Bernie Sanders' office (and leaving a donation), singing labor movement songs around a campfire, or telling stories to a multi-generational crowd, Angy made a lasting impression on everyone she met. And well before gay characters appeared on television or anti-discrimination laws were passed, Angy's message was: "Anyone you love, I love."
We celebrate Angy's life: a good, long productive life well-lived and well-loved. A memorial in honor of Angy Lebowitz is planned, with time and place to be announced. In lieu of flowers, please contribute in Angy Lebowitiz's memory to Medecins Sans Frontieres (Doctors Without Borders).
Gabe Falsetta, Ellen Schwartz, and Anya Schwartz contributed to this article.