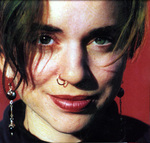 As months, weeks, hours, even as nanoseconds haul by in this day and age, making that metal against concrete screech, there is nothing like the relief of the annually anticipated Ani album. No need to clear the dance floor, no need for dancin' shoes, actually no need for shoes at all — this album is for your introverted listening pleasure. There're no crazy beats, no pumped up rocky-road ice cream, just Ani's stoned outcry, which tops any cherry on my menu.
Since she had to flee her recording studio in New Orleans three days before the levees broke, she had no time to retrieve her instruments, and improvised the rest of this album in her hometown of Buffalo, N.Y. There, the hellishly handsome, and hopefully single, bassist Todd Sickafoose helped her out with acoustic bass, piano, Wurlitzer, pump organ and some trumpet and strings. And although there were only "two" tiny peeps working on this album, it came out sounding incredibly intricate yet enriched in simplicity.
Partners in crime, her voice and guitar, sing of relationships that can never be, politics that can never see the light of day, and a society that has so much to offer. On the title track she speaks of reprieve for us girls, but on the next song over "half of divinity is trying to make harmony with only one voice," and she shouts out to the other half that we have to be "up to the task of turning the wheel of human history at long last." So, support the revolution: buy the damn CD — it'll make you think a little; it'll make you breathe a little deeper, subconsciously knowing there might not be as much air left for your next breath.
My old, shabby radio had been wrecked for years now; skipping CDs, ruining countless cassettes, and giving me "false security" whenever I had the sudden urge to — rock out! Despite failed attempts, though, I wiped the dust clean, and popped in Ani's "Reprieve." Now, this is but one event in a string of many, many others that leads me to believe that despite her modesty, or rather, her intentional confidentiality, Ani is using some psychogenic, psychedelic — psycho powers to control the universe, 'cause in seven years my radio hasn't budged.
Yes, ladies and gents, for only $16.95 (prices may vary), you too can have the healing powers of Ani nicely packed on an interactive compact disc all to yourselves.
Enjoy.
CDREVIEW
Reprieve
Ani DiFranco
Righteous Babe Records, 2006