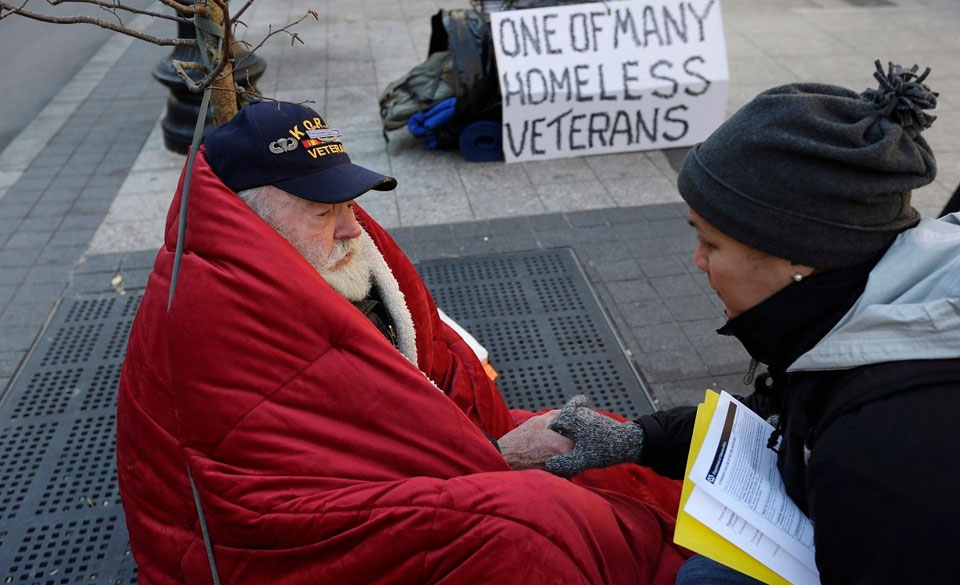 WASHINGTON—"Promises made, promises kept," GOP President Donald Trump likes to brag.
Oh, really? Try feeding that line last week to more than 14,000 GM workers – half of them unionists – who will lose their jobs as their plants close in Ohio, Michigan, Maryland and Ontario.
And now try feeding it to the nation's veterans, who lost part of their congressionally mandated housing and education aid – for the last several months and for at least another year – and may not get it back any time before many actually lose their homes.
On the campaign trail in 2016, Trump made a big deal about restoring U.S. factory jobs. He even promised Ohio plants would not close. GM put the lie to that on Nov. 26 saying it's going to shut the Lordstown plant by March 1, and four others in the U.S., plus Oshawa, Ont., after that.
Trump also tooted his own horn about supporting veterans. In the most celebrated case, his foundation held a fundraiser for veterans' causes days before the key Iowa caucuses in 2016. It raised $5.6 million.
Donors gave half the money directly to veterans' groups. The foundation gave the rest to the campaign. That's an illegally excessive corporate contribution under campaign finance laws, but it let Trump travel the state doling out $100,000 checks to vets groups, and currying favor and votes, too.
Now Trump's Veterans Affairs Department says its antiquated computer technology and a bungled shift to a new processing system, including new addresses for vets who use college benefits, shortchanged housing and education aid for thousands of veterans. One estimate, by Sen. Brian Schatz, D-Hawaii, puts the number at 360,000. The VA's also not going to have the mess fixed until December 2019.
Veterans groups and lawmakers of both parties are not happy. Most of the traditional vets groups complained in private to Congress. The biggest one, the American Legion, did not post any comments on its website. The exception: VoteVets. It went public. Left unsaid: Veterans, in heavy numbers, vote.
"For several weeks now, veterans all across the country have sounded the alarm about missing or inaccurate GI Bill benefits," Jon Soltz, chairman of VoteVets, a pro-labor progressive group of Afghanistan and Iraqi War veterans, emailed.
"Last night, news broke that Donald Trump's Department of Veterans Affairs would NOT be repaying veterans who received less than the benefits they earned for their service.
"It is an absolutely stunning display of incompetence from an inept administration. But more to the point, it's a moral abomination," Soltz declared.
"There are veterans out there who will miss car payments, mortgage payments, who will struggle to feed their families because of these missed payments. The GI Bill, including the Forever GI Bill housing allowance, is a lifeline for veterans. And now it's gone."
"And Trump's response? Thoughts and prayers…Well that is not good enough," Soltz declared. VoteVets posted an online petition demanding Trump's VA pay the lost benefits. And VoteVets said it would take the same message to Capitol Hill, appealing for personal stories to illustrate the harm.
Paul Lawrence, the VA's Under Secretary for Benefits, testified in early November that the new Forever GI Bill ordered the VA to change locations assigned to vets for their benefits, particularly housing and education benefits. Then the problems started.
"Development and deployment of the new software" to make that shift "has not gone as planned," Lawrence, a Trump political appointee, admitted. He said VA might not have the new software ready for the spring 2019 college semester. Congress allots $4 billion yearly to VA to update and improve the agency's benefits software.
Lawrence also promised the shortfalls would eventually be made up – though he gave no date for that – and that if vets were overpaid, they wouldn't have to give the money back. VoteVets was skeptical.
But things got even worse.
VA announced that "because of continued information technology difficulties in implementing new monthly housing allowance calculations," VA's benefits administration "will reset its implementation efforts to give the department the time, contracting support and resources necessary to develop the capability to process Spring 2020 enrollments in accordance with the law by Dec. 1, 2019."
In plain English, Trump VA Secretary Robert Wilkie said, that means the agency is scrapping the information technology for doling out education and housing benefits and starting over from square one. Wilkie compared the situation to "flying a plane while trying to build it."
Lawmakers were upset, too.
"This administration, the Trump administration, promised to clean up the culture of bureaucratic incompetence inside the VA," said Rep. Mike Coffman, R-Colo., before he lost his re-election bid when the party abandoned his race. "And, based on this testimony today and other hearings we've had, I don't think they've made a lick of difference."
Rep. Mark Takano, D-Calif., is "skeptical the VA will be able to meet the new deadline they put in place." He may have some say in the matter as incoming chair, when Democrats take over the House, of the House Veterans Affairs Committee.
"We are demanding the Inspector General investigate underpayments and missed payments to 360,000 veterans. This is a full-fledged scandal that harms people who put their lives on the line for our country, and it's against the law as well," Schatz tweeted.