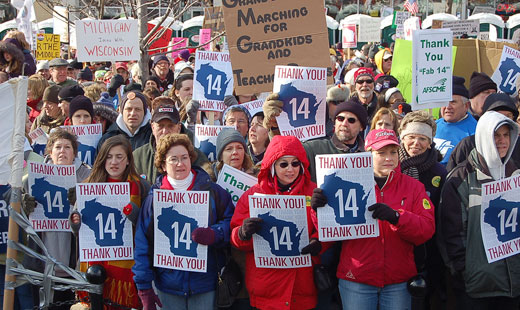 MADISON, Wis. – Wisconsin workers are flocking to the polls today to defend two state senators who challenged Gov. Scott Walker's attack on union organizing rights.
The two senators, Democrats Jim Holperin and Bob Wirch, are battling recall elections financed by Republican tea party money.
Labor's mass mobilization in defense of the senators is making history again, only a week after unions and their allies were able to unseat two Republican senators who had backed Walker's attacks on unions. Today marks the first time in state history that unions have gone all out in an election to defend lawmakers who, as a result of fighting for the labor movement, are themselves the targets of right-wing recall campaigns.
"They took bold and courageous action for the working people of Wisconsin last February," declared Wisconsin State AFL-CIO President Phil Neuenfeldt.
Holperin and Wirch were among 14 state senators who, in an effort to prevent Walker from ramming through legislation that killed collective bargaining rights, left the state to prevent a vote. Eventually, the GOP rammed through the legislation anyway by separating the collective bargaining measure from the rest of the larger budget bill to which it was attached.
"As members of the 'Fabulous 14' Jim Holperin and Bob Wirch have a proven record of fighting for Wisconsin's middle class," Neuenfeldt said.
Following last week's successful recall of two Republican senators, if Holperin and Wirch keep their seats tonight, the Republicans will hold just a 17-16 edge in the Wisconsin state Senate.
Voters going to the polls today and those who voted on Aug. 9 turned out, in large part, as a result of an unprecedented mobilization by unions and their allies. Some 12,000 volunteers labored for months in the contested districts, engaging more than 1 million voters.
In the seven days leading up to the Aug. 9 election volunteers knocked on more than 125,000 doors.
Holperin seems to be in the tighter race today. His opponent is Kim Simac, founder of the extreme right Northwoods Patriots, a group affiliated with the tea party.
Just two weeks ago Simac admitted to comparing American public schools to Nazi concentration camps. She posted her remarks on a tea party website last October. They recently disappeared from the site but were found by activists who located a cached version.
"I'm done raising my kids," wrote Simac, "but if I were a young parent today I would take my kids out of public school. At what point do we stop talking about the comparisons to what is occurring today and what actually happened by the regime of the Nazis in the past?"
In response to questions about her remarks, and their disappearance from the Patriot Action Network's website during this election campaign, Simac told Wisconsin public radio that "officials must be careful of what is being taught in schools. I mean we can't deny the world is changing and we need to stand up for our American values."
Last month, the Milwaukee Journal Sentinel reported that she came out in favor of teaching creationism alongside evolution in public schools.
Despite a right-wing blitz of ads and leaflets in favor of Simac, unions are hoping that her extreme positions will turn off independents and allow Holperin to hold on to his seat.
Photo: Madison, Wis., March 12. John Bachtel/PW