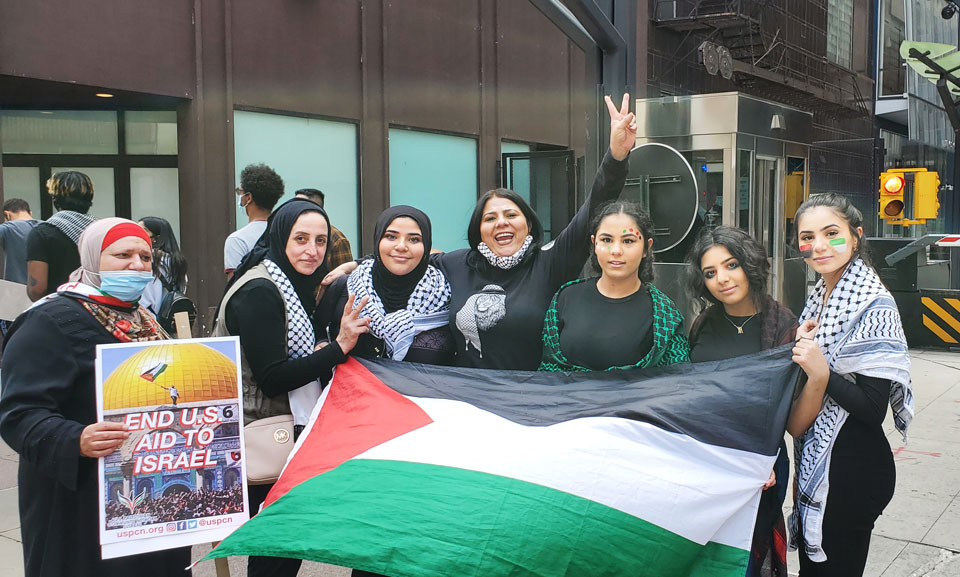 For the second time in a few days, thousands protested in Chicago over escalating Israeli strikes against Palestinians in Jerusalem, Gaza Strip, and other Palestinian occupied cities. The first protest was held on Wednesday, May 12, and the second was on Sunday, May 16, 2021, in conjunction with the occasion of the 73rd anniversary of the Nakba Day "Palestinian Catastrophe."
Nakba comprised the destruction of Palestinian homeland and society, the expulsion and displacement of Palestinians, and the establishment of the State of Israel on Palestinian lands it occupied in 1948.
Both protests were sponsored by the Coalition for Justice in Palestine and called for an emergency rally to condemn Israeli violence and to defend Palestinian rights, call for an independent state, and advocate for justice and peace for everyone in the region.
Several thousand gathered here around 1:00 p.m on Sunday. Marching along Michigan Ave to State Street and Walker, they wore Palestinian black and white headscarves, "Kufiyahs," and carried hundreds of Palestinian flags and signs.
"To stand with Palestine is to stand with humanity," "We can't breathe since 1948," "73 years of segregation, displacement, and expulsion," and "Existence is resistance," read some of the banners.
"It is not anti-Semitic to oppose ethnic cleansing," read a sign carried by a demonstrator who wanted to point out that it was Israeli military policy, not the Jewish people, who were the problem.
Other signs focused on the U.S. funding of the Israeli military. "Our U.S. tax dollars are funding the occupation," "Stop U.S. aid to apartheid Israel," and "Fund healthcare and education, not occupation," were among them.
Protesters also raised up photos that showed Palestine as a young woman locked behind bars begging for help, as well as portraying the mass destruction the Israeli attacks have caused.
Protesters chanted
Protesters were chanting "Free Free Palestine," "Long live Palestine," "This is not acceptable, Jerusalem is our capital," "Killing children is a crime," "No justice, no peace," "Gaza Gaza don't cry, Palestine will never die," "Hey hey, ho ho, the occupation has got to go," "Save save Sheikh Jarrah," and "End the occupation now."
The protest's diversity was noticeable,  including children, teenagers, youth as well as adults and seniors from different races and cultural backgrounds.
Accompanied by their father, two young Pakistani sisters, about 7 years old, were carrying a sign that read "Don't bomb kids!" Their father told Peoples World that, "Not only Muslims but the entire world is heartbroken by the attack on Gaza, shooting people while they are praying, and bombing children and women. My message is to stop funding the occupation with billions of dollars each year. But, thank God we have new liberal representatives who are speaking up for us for the first time I have ever seen. I don't hide injustice from the kids; they need to know now what's going on in the world. So, I am educating them."
Haneen Abdelkader, a 16-year-old activist, participated in the protest along with her family and peers. She said "I am happy seeing thousands of protestors from different religions and races standing for my people in Palestine. This is a historical movement, this time we won't be ignored.
"Nowadays, everyone is tired of world leaders doing harm so they won't sit back and watch anymore, because we all know this is very wrong.  I see many from my generation at the protest and I believe we will be the change we want to see in the world.  I hope that Palestine will be free in my lifetime and that my grandparents' homes and lands will be returned to us."
The protest included seniors like 85-year-old Fathi Abdullah. He was accompanied by some family members including his wife, his son Ayman and grandson Jameel.  Abdullah was 12 when the state of Israel was first founded. He still recalls memories about Nakba and how the Israeli military took over the Palestinian lands, destroyed their villages and cities, expelling and displacing the people. them.
Despite their age and their wheelchairs, the couple said they were compelled to demonstrate.
A Bosnian youth group was carrying signs saying "Bosnians for Palestine," "Stop the genocide," "No more dollars for Israel's crimes," and "How many more kids will die?" The young woman leading the group, Almira Ahmetovic,  said "Our people survived genocide, so we know what it is about. We are hoping for free Palestine. One of our goals is to defund Israeli occupation and we need the public to know where our tax dollars are going." Another in the Bosnian group said, "We want Palestinian people to know that although it seems like the world is silent, it is not, there is a lot of us supporting their rights and freedom."
In addition, a Chinese group raised signs in both English and their native language saying, "Free Palestine"  along with "The Nakba is ongoing.
Jewish protesters held signs saying "Jews against apartheid," "Jews for a free Palestine," and "Not in my name. My Judaism rejects Zionism, ethnic cleansing, and apartheid." "This is not a Muslim issue, this is not a Palestinian issue, it is a human issue. If you are human, this is your cause," one Jewish protestor said.
Tareq Khalil, of the Coalition for Justice in Palestine, said, "This is not a war between two armies, but an ethnic cleansing campaign that began in 1948 and continues today. This is not an issue of Israeli self-defense, but rather Israeli aggression and systematical oppression imposed by one of the most powerful militaries in the world funding with our tax dollars. Israel is targeting civilians which is a crime against humanity."
Sheikh Jamal Saied, president of the Mosque Foundation in Bridgeview, said, "God gave freedom to everyone; neither Israel nor any other can steal it from Palestinians. Oppression will never last. I demand justice, equality, and peace for all. Injustice feeds in other injustice and we must refute it, we must reject it."
U.S. Rep. Jesus "Chuy" Garcia (D-IL) said, "We must end the bloodshed and the U.S. must do its part to bring a cease-fire. The death and destruction must end. The violence and aggression over the past week displayed desperation and the need for just a two-state solution, but at this moment the killing must end. Netanyahu's aggression must be called out by the United States and the global community. It is time to stand up in solidarity with our brothers and sisters in Palestine. Today we demand equal justice, equal freedom, and the right to self-determination for the people of Palestine."
At the end, organizers listed demands they protested for, including U.S. intervention to stop Israeli attacks on civilians and sacred places, an immediate ceasefire, defunding Israel until it ends violence against Palestinians, including pausing the recent $735 million in missile funding, freedom of religious practices in Jerusalem and entire Palestine, creating a fair and permanent peace, and applying the two-state solution.