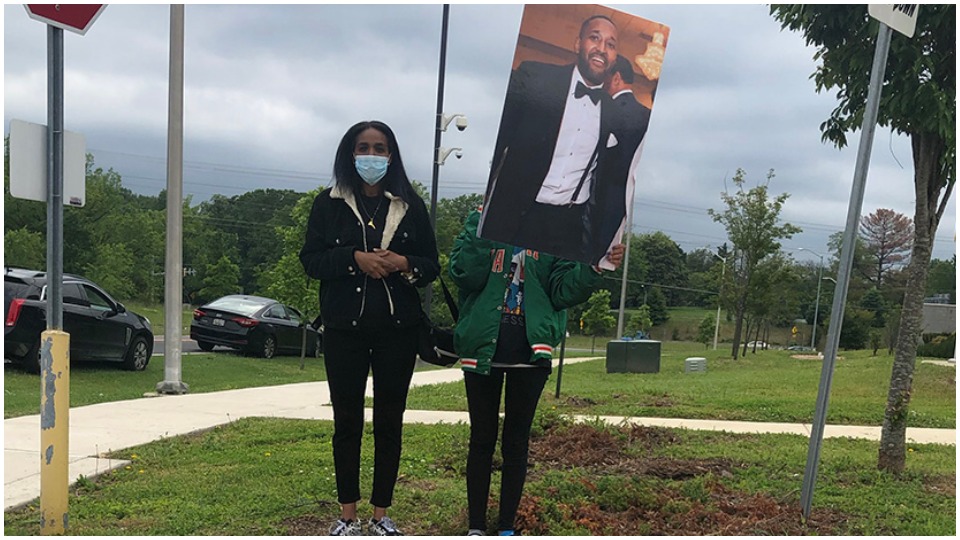 SILVER SPRING, Md.—On May 7, 2020, a 30-year old Black man was killed by police in the White Oak suburb of Silver Spring, Md., outside his home. His name was Finan Berhe, a member of the local Eritrean community. Berhe was only armed with a knife and likely under distress, but his life was tragically ended by what some are claiming could have been a trigger-friendly cop.
The shooting involved Sgt. David Cohen, a 17-year veteran of the Montgomery County Police Department, who has been placed on paid administrative leave during pending an inquiry, according to a press release from the department. After a preliminary investigation, authorities learned that officers were called to Hadden Manor Court, where Finan lived, following the report of a knife-wielding man in a neighborhood parking lot causing a disturbance.
Body camera footage (without audio) shows the officer pulling up to the neighborhood where Berhe lives and confronting him with his gun drawn. He gets out of the vehicle and faces Finan, who is holding a butcher knife, with gun drawn. Once the audio is turned on via the body camera, Sgt. Cohen screams, "Put the knife down," after which it appears that Finan rushed toward him. Eventually, Finan stops and backs away while Cohen screams for him to get on the ground and tells observers who are off-camera to get inside. Finan appears to back away behind some vehicles but then rushes toward the officer with the knife again before he is gunned down with multiple bullets.
This story sounds all too familiar. One case that comes to mind is that of 17-year old Laquan McDonald, who was gunned down in Chicago in 2014. Police accounts at the time of the shooting said McDonald was acting strangely and lunged at officers with a knife before he was shot 16 times. After the video was released, it was shown that he was walking away from officers when Officer Van Dyke opened fire, emptying his entire clip into McDonald's body.
Another is the case of Mario Woods, who was shot 15 times by five officers of the San Francisco Police Department in late 2015. The press release from the SFPD at the time stated that officers were responding to a reported stabbing when they confronted Woods, who was armed with a knife. Late San Francisco public defender Jeff Adachi spoke after video footage had gone viral stating that the officer was not in immediate danger of being killed. This is just another example of police officers not de-escalating situations and resorting immediately to fatal measures by unloading their weapons.
The family and the local community are demanding answers while they mourn. The local Silver Spring Justice Coalition (SSJC) and progressive groups such as Showing Up for Racial Justice (SURJ), the NAACP, local church groups, and others have worked together to present a set of demands to the police department and ask for the officer's removal for using excessive force.
The coalition is demanding personnel shake-ups at the police department, including consequences for not just Sgt. Cohen, but also some of his superiors, Commander Darren Francke and Chief Marcus Jones. They also want a number of important items of evidence released, including the May 7th 911 call that brought police to the scene, communications between Cohen and dispatch during the incident, and video of the killing that was captured by one of Finan Berhe's neighbors.
Further, the coalition is pushing the department to adopt protocols for safely responding to crisis calls immediately in all districts, including related policies, training, and accountability. They want community meetings between police and the SSJC coalition members, as well as question-and-answer sessions with the general public.
The full list of demands can be found in  SSJC's press release.
A demonstration was held on Sunday, May 24, on behalf of Finan Berhe seeking justice for his death. It began with a vigil in celebration of Berhe, which included speakers from the community, including local pastors, Tebabu Assefa (representative of Berhe's family), Sylvie Bello from the Cameroon American Council, leading an ancestral prayer, Amouzou Maickel, who was a close friend of Berhe, representatives from the SSJC, Comfort Oludipe, the mother of Emmanuel Okutuga who was killed by MCPD in 2011, Cherri Branson from the NAACP, Marsha Coleman Adebayo and Robert Stubblefield of the Bethesda African Cemetery Coalition, and also included musical and poetic performances from Luci Murphy of the D.C. Labor Chorus and Maceo Kemp of Jammin' for Justice.
After the vigil, the participants drove their cars to the MCPD station and circled around the parking lot in protest while honking their horns.
This extrajudicial killing involving police could be seen as yet another example of the need for a re-evaluation of law enforcement training when police respond to mental health situations. The escalation that usually results in these situations has led to a number of fatalities involving working people.
A report in 2016 by the Ruderman Family Foundation estimated that up to half of the people killed by the police in the U.S. are disabled in some way, and a good number of them suffer from some sort of mental illness. Approximately 56% of state prisoners, 45% of federal prisoners, and 64% of county or municipal jail inmates have been diagnosed with a mental illness.
As criminal justice scholar Alex Vitale has noted, "Many departments lack adequate training to show cops how to deal safely and effectively with someone experiencing a mental health crisis. Officers are frequently forced to rely on general training and previous experience. Unfortunately, much of that training relies on a command-and-control approach that can lead to dangerous escalations in the use of force."
Vitale also talks of how police departments in Great Britain went further with "Street Triage," which put nurse practitioners in police vehicles to help respond to calls that involved a mental health crisis. In this arrangement, medical professionals provide remote support for officers, and nurses access patient records while guiding police action. This program was a success, leading to fewer detentions and less excessive force by the police.
Further, Vitale says that if we want to avoid tragic outcomes for people with mental illness, "We must build robust community-based mental health services that work to stabilize people and respond to their problems, relying on police in only the most extreme circumstances. Adequate training and support, while necessary, will not be able to overcome the lack of mental health services and will invariably result in arrests, detentions, and deaths that could otherwise have been prevented."
The fight for accountability in Finan Berhe's death continues, as the hashtag #Justice4Finan is spread far and wide, with organized efforts for some semblance of justice.