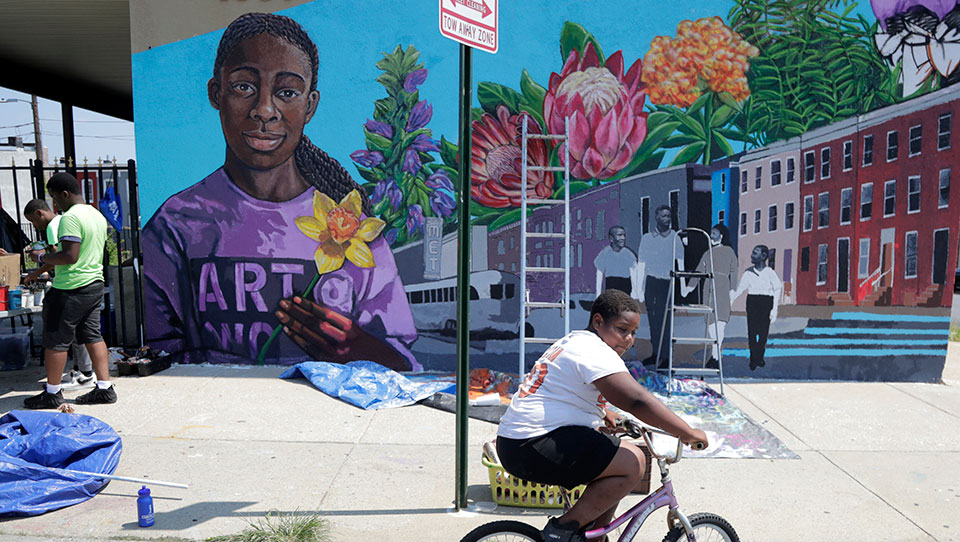 Of all the cities I know, the one I love the most is Baltimore. It is the city where my wife Joyce and I lived for nearly 40 years, owned a lovely home, raised our three children, befriended hundreds of decent hardworking neighbors—African-American, white, and other races and nationalities.
Baltimore's nickname, "Charm City," is well deserved. The Chesapeake Bay crabs are delectable and so is Eastern Shore sweet corn on the cob with slices of succulent tomatoes. The music, dancing, and culture are inspired. We had scores of cookouts in our backyard on sultry evenings with lightning bugs glowing in the dark.
It is a city graced with lovely parks, neighborhoods of row houses with marble steps kept gleaming and immaculate.
We lived in the 7th Congressional District and doorbelled to help elect Rep. Parren J. Mitchell, our first African-American congressmember. Later, we cast our ballots for Rep. Kweisi Mfume and in 1996 cast our ballots for Elijah Cummings. We doorbelled for Barack Obama for President in 2008 and 2012. He carried the 7th CD in an overwhelming landslide.
So my hackles rose when Donald Trump tweeted that Baltimore is "filthy, its dirty, it's so horrible…disgusting, rat and rodent infested….No human being would want to live there." He smeared Rep. Elijah Cummings as a "brutal bully" and branded the 7th CD as "the worst in the nation."
I felt this as a personal attack on me, my family, and my neighbors. I groped for words to express my outrage. The Baltimore Sun carried an editorial that expressed how I felt: "Better to have some vermin living in your neighborhood than to be one." Vermin. That is Trump, a rat. Trump's mouth is filthy!
The neo-Nazis, Klan elements, and other white supremacists in Trump's "base" cheered as this modern-day Goebbels whipped up lynch-mob hate against my hard-working Baltimore friends. Joyce toiled as an elementary school teacher in Baltimore for 38 years, gave her all to teach youngsters, nearly all of them African Americans, to read and write. I was a reporter for the Daily World, now the online People's World, commuting from Baltimore to cover Washington, D.C., for 25 years.
I wrote many articles about the struggles of the working people of Baltimore to lift themselves and their children out of poverty, to provide decent housing, living wage jobs, sanitation, to end the industrial pollution that too often befouled the air.
Baltimore is a union town. Once it was United Steelworkers Local 2609 and 2610 in East Baltimore with combined 30,000 steelworker members. There were the Shipbuilders union, Hospital workers 1199, AFSCME, International Association of Machinists, IBEW, and many other building trades unions.
That diverse economy was wiped out by plant closings turning Dundalk, South Chicago, Pittsburgh, and a hundred other cities and towns into "rustbowls." The aim of the billionaire class was then—as it is today—to smash unions and export jobs anywhere in the world with cheap "union-free" labor. It was Donald Trump's billionaire class that inflicted this catastrophe on Baltimore and our nation. Bethlehem Steel's Sparrows Point mill is gone. So is the Beth Steel shipyard. GM's Broening Ave. plant, Western Electric's telephone factory. All of them closed down.
The billionaires are hard at it today, too. Jared Kushner, Trump's son-in-law, is a slumlord who owns vermin-infested apartments in the Baltimore area cited 200 times for violations of the housing code. Kushner reaped $90 million in annual revenue from these "filthy, disgusting, rat-infested" properties, to use Trump's own words.
Mass struggle against this vicious exploitation continues today. It's the real reason Trump has such loathing for the working people of Baltimore. Hillary Clinton carried Baltimore in the 2016 presidential election by 85.4%. The city is 63.7% African-American, so a large percentage of white working-class people also voted against Trump.
Rep. Elijah Cummings is a constant thorn in Trump's backside. He is the chair of the House Oversight and Reform Committee that is holding hearings exposing Trump's crimes, for which he deserves to be impeached and put in jail.
Cummings is reflecting the views of a large majority of his 7th CD, which is 53% African-American, 47% white and other racial backgrounds. The median family income of the district is $60,000 annually, above the national median income. It has a higher percentage of college-educated residents than the national average. It is a diverse district that also includes parts of Baltimore County and Howard County.
House Speaker Nancy Pelosi also has her roots in Baltimore. Her father was Tommy D'Alesandro, mayor of Baltimore. She grew up in Baltimore's "Little Italy" and learned at a young age to stand up and fight back against woman-abusing bullies like Trump.
Trump has not forgotten or forgiven Pelosi for the quiet, stinging rebuff she inflicted on him in that meeting at the White House with Sen. Chuck Schumer when she told him not to try to speak for her. The TV cameras recorded every word of her powerful putdown of the self-proclaimed woman groper.
Pelosi is a master tactician. The Senate is in GOP hands and will not convict Trump. He is already counterattacking, depicting impeachment as an inside-the-beltway witch-hunt by liberal Democrats.
Only if the demand for Trump's removal comes from a huge grassroots movement across the nation will it ever succeed. Pelosi got her instincts as a political street fighter on the mean—and kindly—streets of Baltimore. No wonder Trump considers Baltimore enemy territory.
In 2020, African-American, Latino, Asian-American, and white working people of crisis-wracked cities like Baltimore, Birmingham, Detroit, and Los Angeles will give Trump the answer he deserves and vote him out of office.