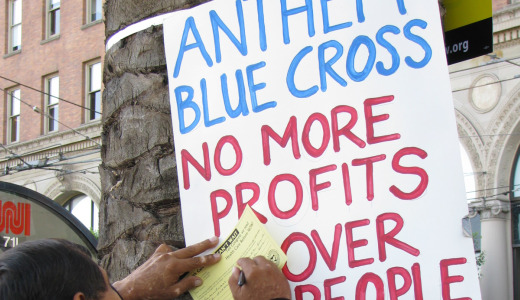 OAKLAND, Calif. – With its latest move to raise premiums on individual policyholders in California, Anthem Blue Cross is becoming a poster child for health care reform.
Last month Anthem – headquartered in Woodland Hills, Calif. and owned by the Indianapolis-based WellPoint Inc. – started telling many of its 800,000 individual, non-group policyholders their premiums will rise by up to 39 percent starting March 1. The rate hikes follow even higher increases last year. Anthem, with the largest number of individual policyholders in California, is also saying it may "adjust" rates more often than once a year.
Reaction was swift and sharp from customers and from elected officials at every level.
Anthem customer and independent health insurance agent Jeff Sher of San Francisco told the San Francisco Chronicle his 38 percent increase, to $530 per month, followed a 41 percent hike last year. Sher blamed the increase on "the illusion there is a free market in this product. But you can't shop for health care, particularly after you're already sick. You can't shop for health care because there is almost no competition."
Los Angeles graphic designer Keith Knueven told the Los Angeles Times, "It's hard for me to understand how anyone can raise rates now when so many people don't have jobs." Knueven's premiums have jumped from $287 to $393 per month.
"If we don't act, this is just a preview of coming attractions," President Obama said of Anthem's action, adding, "Premiums will continue to rise for folks with insurance; millions more will lose their coverage altogether; our deficits will continue to grow larger."
Also in Washington, Health and Human Services Secretary Kathleen Sebelius called on Anthem to provide "a detailed justification" for the increases, since WellPoint's profits have soared to $2.7 billion in the fourth quarter of 2009, and to make public the percentage of individual premiums used for medical care, compared to administrative costs.
California's two senators, both Democrats, also joined the fray. Calling the increases "unconscionable," Dianne Feinstein said in a statement, "I can think of no better example of why we need health insurance reform" with "a rate authority to keep insurance rates affordable." Barbara Boxer urged State Attorney General Jerry Brown to investigate the rate hikes.
Meanwhile, U.S. Rep. Henry Waxman, D-Los Angeles, who chairs the House Energy and Commerce Committee, has set a Feb. 24 special hearing on Anthem's action. He is pressing WellPoint CEO Angela Braly to provide details on the increase, as well as evidence of claims history and profits on individual policies between 2005 and 2008.
California Insurance Commissioner Steve Poizner, a Republican, is urging WellPoint to postpone the increases until May 1 so an independent investigation can be conducted to see if Anthem is paying out at least 70 percent of premiums in health benefits, as state law requires. In a letter to Braly, he said his office has gotten many complaints from individuals who said the hikes "would cripple them financially.
Assemblyman Dave Jones, D-Sacramento, said his Health Committee will hold hearings Feb. 23. He plans to join state Senator Mark Leno, D-San Francisco, to introduce legislation on disclosure and rate regulation for the health insurance industry.
In a blog posted Feb. 10 on the web site of the 200-plus organization Health Access California, Executive Director Anthony Wright pointed out that Anthem "has been a longstanding opponent of health reform" and called its latest rate hike "the strongest message to date about why we urgently need health reform." With reform, he said, consumers would gain the power of group purchasing and insurers would have to do much more to justify rate increases. See www.health-access.org.
Health Access California hosts a web site, www.sickofbluecross.com, featuring extensive background on Anthem Blue Cross, including many stories of people's experiences with the company as well as a history of its opposition to reform and its record profits. The site features a petition calling on the firm to stop opposing reform and regulation, and start putting people ahead of profits.
Photo: A sign at a demonstration at Anthem Blue Cross, Oct. 6, 2009, in downtown San Francisco. (PW/Marilyn Bechtel)